I finally got a decent amount of reading completed this month so I'm excited to share my January 2020 Reading List. My December Reading List was so-so, but January has been full of a good mix of books. I have to say that Know My Name by Chanel Miller was such an incredible read. That book gutted me, but I'm so thankful that I read it. Probably favorite book of 2020 so far.
Have you missed some of my Reading Lists? You can always get caught up by heading to my Book Archive page. I'm doing some updating to Simply Stine, so you'll see all of this updated soon!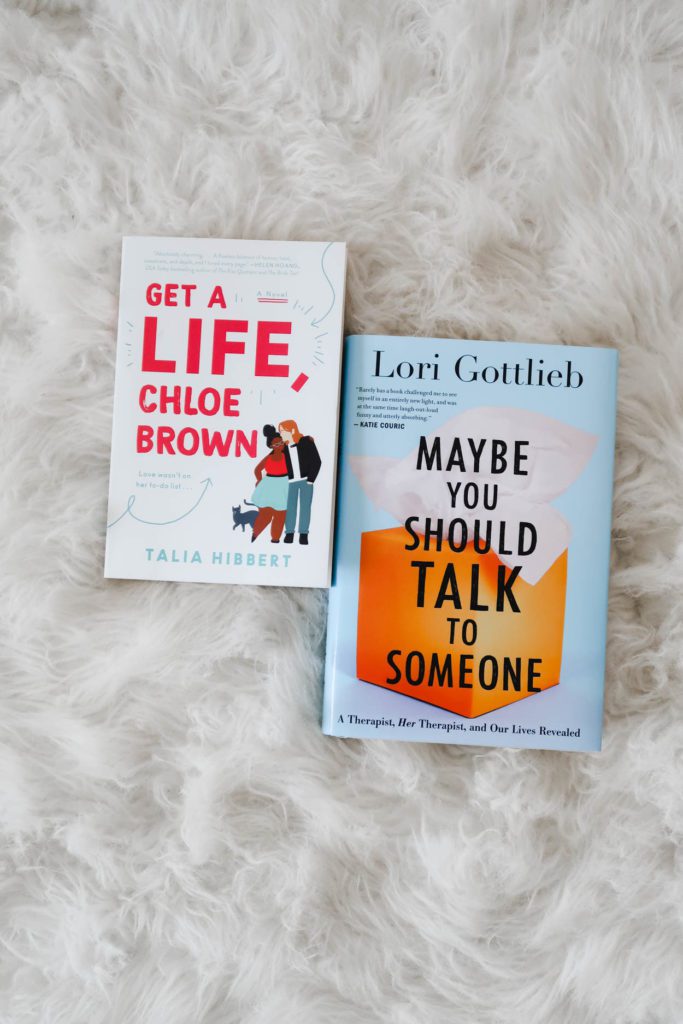 January 2020 Reading List
Maybe You Should Talk to Someone by Lori Gottlieb
This book was an incredible read. I laughed, I cried, and I took a lot of notes because she really, really hit home on some personal things I also struggle with. This is a book about a therapist who goes to therapy and also the story of four of her patients. I felt like this was a great look at what a therapy session might entail and how therapists themselves are real people with issues that they struggle with as well.
I feel like I'd love to sit across from Lori and just speak to her. I loved her approach to therapy and I feel like we could all benefit from having a session (or ten) with her. What I loved most was that she showed how relatable she was when she approached her own need for therapy. She approached therapy as a need to have someone else (a man) validate her thoughts that her ex-boyfriend was indeed an asshole. That's not exactly what happened, but wow, what a learning experience for her.
Like I said earlier, this book will introduce four (real-life) patients that she saw in her own practice. An older woman struggling with continuing to want to live, an asshole who needs help "managing the idiots", a woman struggling to admit that she uses alcohol as a crutch and doesn't have healthy relationships, and last but not least a woman who's dying from cancer.
Grab some tissues, you're going to need them.
I had received this as an audiobook (I'm a libro.fm ambassador and received it for free.) I started listening to this before I knew ANYTHING about the controversy around this book and the author. I've gone back and forth about the review of this book. I understand 100% the controversy around the book and it's story. Should you read it? I'm going to leave that up to you. I'd suggest doing some research before you decide. Here are two books that are being suggested instead if you want a factual, real-life book to read.
*Everyone Knows You Go Home / *The Distance Between Us
American Dirt is the story about Lydia, who lives in Acapulco outside of Mexico City. She's married to a journalist and has a son named Luca. Life is pretty comfortable for her family. Lydia owns a bookstore and one day, a man comes to the counter asking to purchase two of her favorite books. They strike up a conversation and form a friendship. This is how we meet Javier, the newest jefe of a large drug cartel.
When Lydia's husbands writes and publishes a tell-all piece about Javier, none of their lives will ever be the same. I don't want to ruin the story for you, but this is a story of a mother and son who are forced to flee.
Whether or not you decide to read this book is entirely up to you. I actually did really enjoy it, but knowing what I know now, I can't suggest this book to anyone without warning you about the issues behind it. Some of those issues being that the author is a white woman with no real-life experience with this type of story. Yet, she earned a seven figure book deal. There's been said to be a lot of misinformation and a lot of stereotyping about the mexican culture as well as the whole migrant experience also. All things I'm not familiar with.
This is a book of fiction, so if anything, this book makes me want to read real stories of people who had to flee and get an accurate look at their experience. That's my two cents.
I read this book in one day. It's a steamy read for sure, but what I appreciated the most about this book was that one of the main characters was chronically ill. I don't normally see that in a lot of books, especially romance books.
Chloe Brown wasn't really the same after her bout with pneumonia. She suffers from Fibromyalgia. She's tired A LOT and can't do a lot of "normal" daily things without having issues. Her friends left her as well as her fiance, when things got tough. She's extremely close with her family (which I can't wait to learn more about as this is a series) but feels that she needs to "get a life." So she creates a list.
You'll also meet Redford "Red" Morgan, Chloe's Superintendent. He and Chloe don't have the friendliest relationship, but as things change, Red realizes that he's VERY into Chloe. It's the typical love/hate relationship we sometimes see in books.
It's a fun story and I loved the complex issues that these two characters had to work through. I appreciate this story so much because these characters both had issues and the way they come together to resolve them was a lovely story.
I'll for sure be reading the next book in the series, Take a Hint Dani Brown, which will be out in June of this year! It's available for pre-order now.
I'm not sure where to even begin with this book. It's incredible. It's the type of book I want to buy and hand out for every single person that I know. I want them to read it and take notes.
She was known in the news as Emily Doe. The Stanford rape victim whose victim's impact statement went viral, after Brock Turner had been sentenced to just six months in jail for raping her. (He was a total piece of shit and I think even worse of him now after reading this book)
This book will introduce you to Chanel Miller and her story. It is an extremely important look into the trauma that so many sexual assault victims face. It will also show you an inside look at the issues with our criminal justice system.
For me, I learned so much. I cried a lot reading this book. I wanted to give Chanel Miller a hug for being so brave and opening up to the world. I also love that this is a story about healing and being vulnerable. It's incredible. Parts are incredibly difficult to read. I felt sick to my stomach. However, there were also times where I laughed out loud because she was also so funny.
Read this book. If you only read one book this year, read this book.
Also, I'm starting a completely separate Instagram account for my book reviews! I'd love to have you follow along. I used to share the books I was reading on Simply Stine, but decided I'd like to keep the two seperate.
Don't forget that you can shop my books on my Amazon Page as well as at the bottom of this post! What was on your January 2020 Reading List? Anything I need to know about?
Shop The Post