Today, I want to talk about how I use makeup sponges in my makeup routine and why I love them so much. To me, makeup sponges are a complete game changer when it comes to makeup application. You can buy the best foundation on the market, but without a good makeup brush or makeup sponge, that foundation could end up looking a hot mess. I personally love to apply my foundation with a makeup sponge. I love the finish it provides.
Back in 2007, the makeup game was forever changed thanks to a product launch from Beautyblender. You know, those pink, egg-looking sponges that are in every makeup artist's kit. Sure, makeup sponges were around before, but this was the official year that Beautyblender (the OG makeup sponge) launched on the market. I like to think of Beautyblender as THE go-to makeup sponge. There have been numerous makeup sponges launched, but this is still the highest sold makeup sponge on the market today.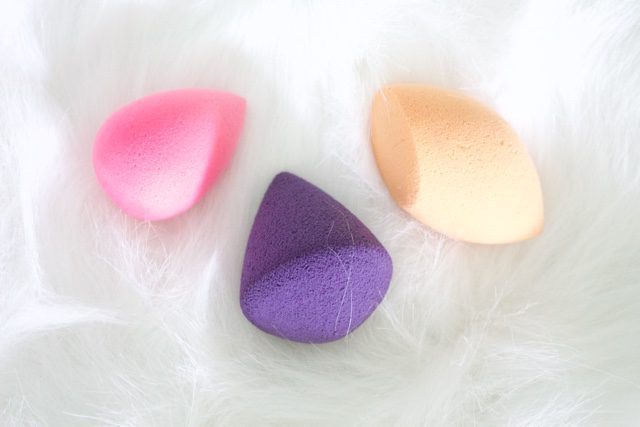 What Exactly Does A Makeup Sponge Do and How Do I Use One?
The Beautyblender is a makeup sponge that absorbs water. You always want to use this sponge wet to apply your products. Traditional sponges, think latex sponges we got from drugstores that looked like triangles, repelled water. A Beautyblender absorbs water, allowing the makeup sponge to double in size. This gives you a super soft sponge and also produces an airbrushed, flawless finish on your complexion. Because the makeup sponge is wet, it also absorbs less of the product you are applying. That means less waste.
Since Beautyblender launched back in 2007, there have been numerous other sponges on the market. We now have flocked makeup sponges specific for powder products, silicone makeup sponges for applying makeup and even skincare, and also mini makeup sponges which help to correct and conceal concealers among other things. Bottom line, there are a lot of makeup sponges on the market.
Powder Sponges
The Real Techniques Miracle Powder Sponge retails for $5.99. This JUNO & Co Microfiber Sponge is another really popular option. These sponges are a different type of texture than your regular Beautyblender as they're a different type of foam. You can also use a product like the Jane Iredale Flocked Makeup Sponge. This is a synthetic, non-latex sponge that works incredibly well to apply powders.
When using sponges to apply powders, I like to gently press the powders into the skin and roll. You can use the sponges wet or dry (some will specify) and I like to really tap the product into the skin. After a couple of minutes I will brush off if there is still any excess product remaining on the skin.
How Do I Apply Foundation With A Makeup Sponge? Can I Use It Dry?
Honestly, this might be one of the top asked questions that I receive. So let's answer it so you can start loving using a makeup sponge once and for all. A product like the Beautyblender, a sponge that you wet, needs to be stippled onto the skin. Stippling simply means to tap or bounce. So I apply my foundation all over my complexion by placing small dots of product. Sure you can dip the makeup sponge right into the product and apply to the face, but I just prefer to do it this way.
I bounce the makeup product, but I DO NOT DRAG the product over my face. By dragging the makeup sponge, you'll end up with streaky makeup all over your face. When you stipple, or bounce, you will end up with a more natural airbrushed finish. I find this works best at giving me an even complexion and also works best when dealing with issues like pores, acne, etc.
You'll notice that most makeup sponges aren't' flat. Instead they're pointed,egg-shaped, and sometimes look like an hourglass. The tapered end, or the point, is great for getting into tricky areas like around the nose or under the eyes. Some makeup sponges are curved or have areas that curve. If you hold the area close to the top of the makeup sponge, you'll get more coverage. If you hold the area at the bottom of the makeup sponge, you'll have a more sheer coverage.
How I Apply My Concealer, Contour, and Highlight With a Makeup Sponge
The great thing about makeup sponges is that you can apply pretty much everything with them. Not just foundation, but also concealers, bronzers, and even highlighters. I also like to use a makeup sponge to buff out the edges when I apply a cream blush.
Some makeup sponges, like the Real Techniques, have a flat end. This is great for apply bronzers and highlighters to the complexion. You can use the flat side for contouring areas like your nose. I have this makeup sponge and love it. I think it's one of the best that I've used.
For using a makeup sponge to apply concealer, I'll apply the concealer where I want it and again, stipple the product into place. Just lightly bounce over and over and work that product into the skin. Sometimes people like to use the mini makeup sponges for areas like this and they're great for that! Smaller sponge means that you can get into the areas like the corner of the eyes and around the nose easier.
For applying products like a highlighter or a cream contour or bronzer, I just apply the product again to the areas I want it: cheek bones, on top of cheek bones, etc and then I blend away. I LOVE using a makeup sponge for products like a contour or bronzer because I can give it a really natural look by buffing the product into the skin. No one wants harsh edges. Just remember to tap, tap away!
Makeup Sponges Are Great Tools To Use To Up Your Beauty Game
The biggest tip I have when it comes to using a makeup sponge like a Beautyblender is to remember to use it damp and bounce it into the skin over and over. Practice makes perfect. The more you use it, I think the easier it becomes.
Also, you need to wash these makeup sponges ideally every time you use them. You can use bar soap, liquid soap or a lot of brands like Beautyblender will sell specialty cleansing bars to use with their products. It's up to you which one you use. To clean, rub the makeup sponge over the soap and lather. I then rinse them under water and allow to dry.
With more and more makeup sponges being release (I just ordered Tati's The Blendiful to try) there are a lot of products on the market. I've been asked if I think the drugstore options are as good as the more expensive ones and it honestly depends. I've used some makeup sponges from Amazon that are supposed to be a dupe for Beautyblenders, that I think are fantastic. They're $9.00 and come in a pack of five.
What has been your favorite makeup sponge that you've used? Share below in the comments and let me know why you've liked using them or not.
Shop The Post