If you've never experienced the Hourglass Ambient Lighting Powders, Blushes or Bronzers before, then this might be the palette for you to pick up.  The Hourglass Ambient Lighting Edit Palette, which a Limited Edition Holiday Palette,  contains 3 Ambient Lighting Powders (one new) 2 Ambient Lighting Blushes and one Ambient Lighting Bronzer.  It retails for $80.00 and is currently available online at Sephora.com for all VIB/VIB Rouge Members and will be released for everyone else I believe either the 22nd or the 23rd on Sephora.com.  It will also be released in store at all Sephora locations, Hourglass Cosmetic Counters and Hourglass.com on October 9th. (It has already been released as this is an older post!)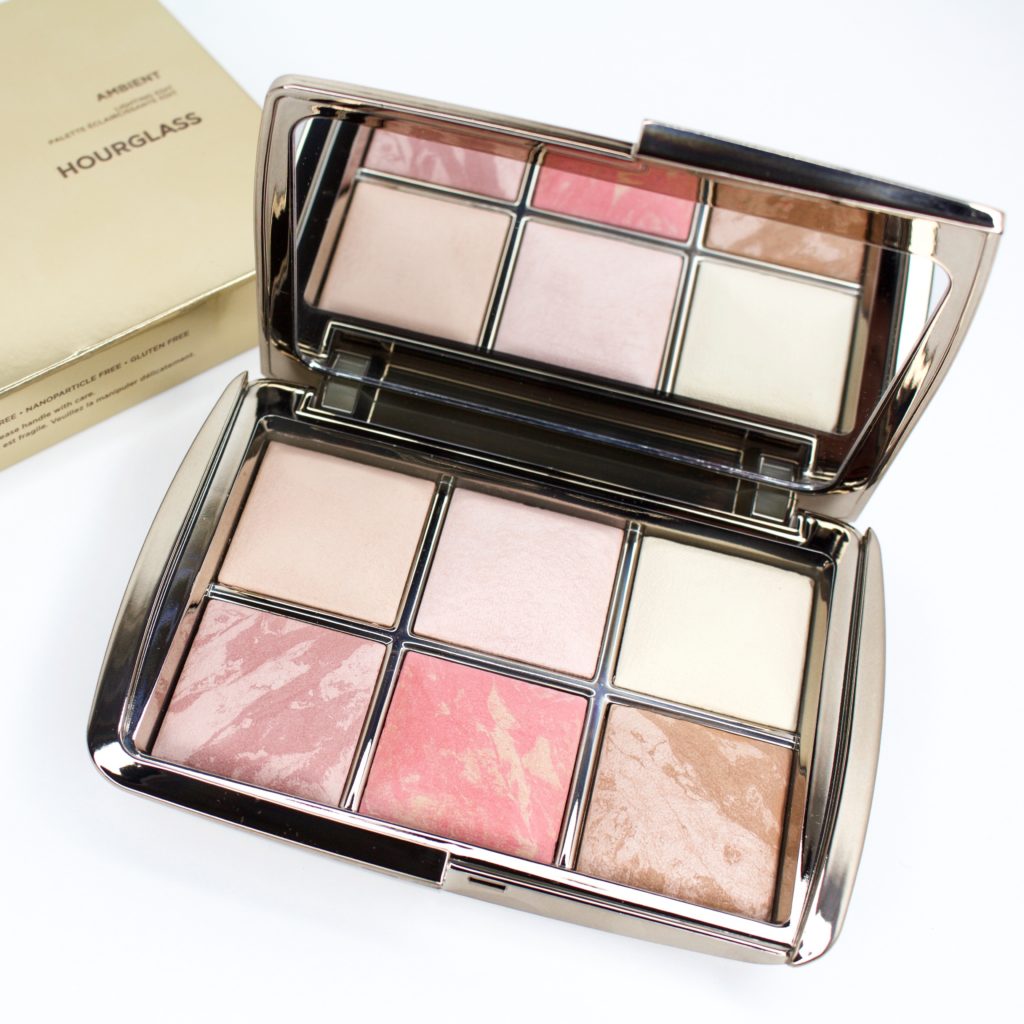 What are the Hourglass Ambient Lighting Edit products? These products capture, soften and diffuse the way the light reflects on the skin.  It gives that lit from within glow.  They are some of the softest, most pigmented powders I have ever used.  If you are looking for extreme sheen and sparkle, these aren't for you.  These offer a soft glow that gives a really natural look to the face.
When I first started using these powders, I felt like I couldn't see the difference, but the more I used them, the more I realized their beauty was that they were so natural that it just gave my skin this glow that other powders weren't offering.  With my enlarged pores, these powders are the only ones that I seem to reach for because they don't make my face scream "HEY, LOOK AT MY PORES." Instead, my face looks luminous and it glows.
Top Row (L to R) Dim Light, Iridescent Strobe Light and Diffused Light
Dim Light (Ambient Lighting Powder) Natural Peach Beige (Can be used all over as a setting powder)
Iridescent Strobe Light (Ambient Lighting Powder) Sheer Illuminating Highlighter (Can be used wet for more intense pigmentation) EXCLUSIVE TO THIS PALETTE ONLY! 
Diffused Light (Ambient Lighting Powder) Soft, warm pale yellow (Can be used all over as a setting powder)
Bottom Row (L to R) Mood Exposure, Luminous Flush and Luminous Bronze Light
Mood Exposure (Ambient Lighting Blush) Soft Plum
Luminous Flush (Ambient Lighting Blush) Champagne Rose
Luminous Bronze Light (Ambient Lighting Bronzer) Medium/Tan Shade infused with Luminous Light, champagne and pearl powder.  Ideal for fair/light skin tones. (Can be used as contour shade)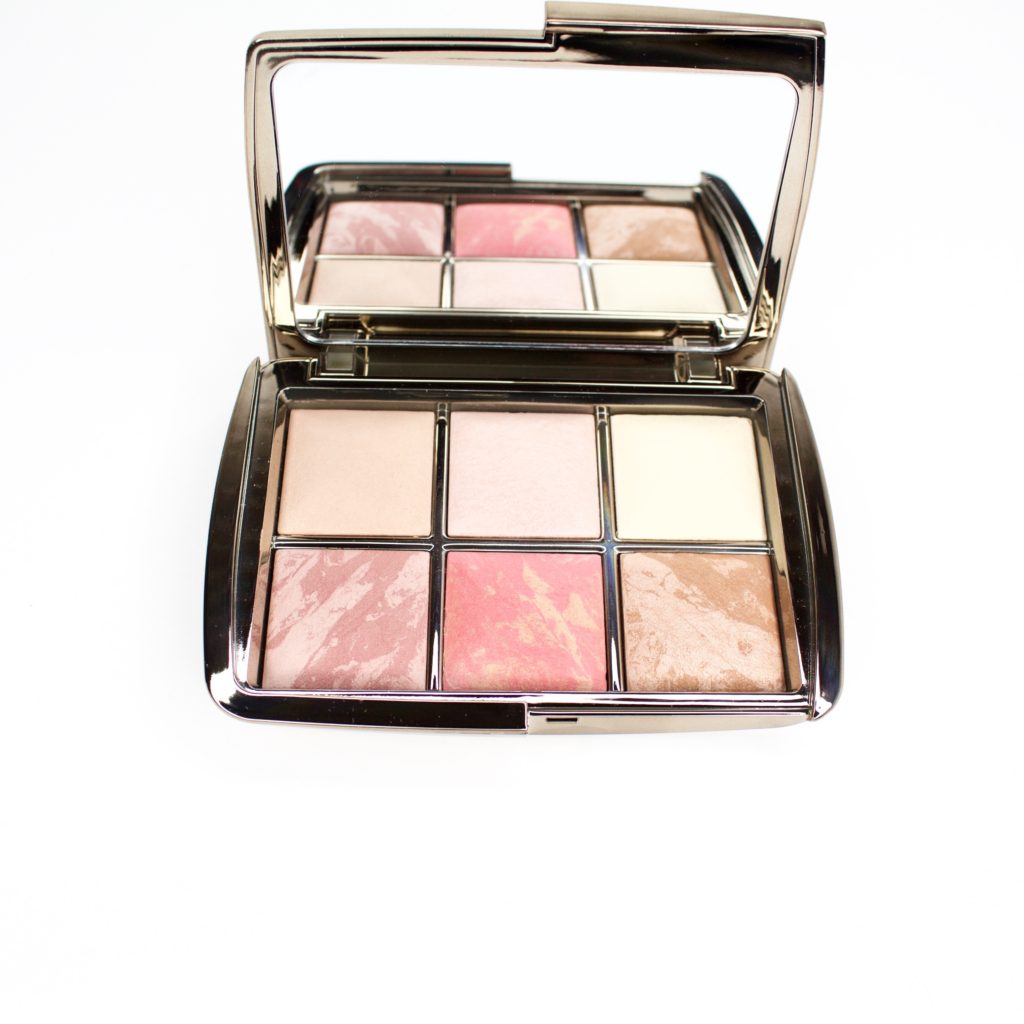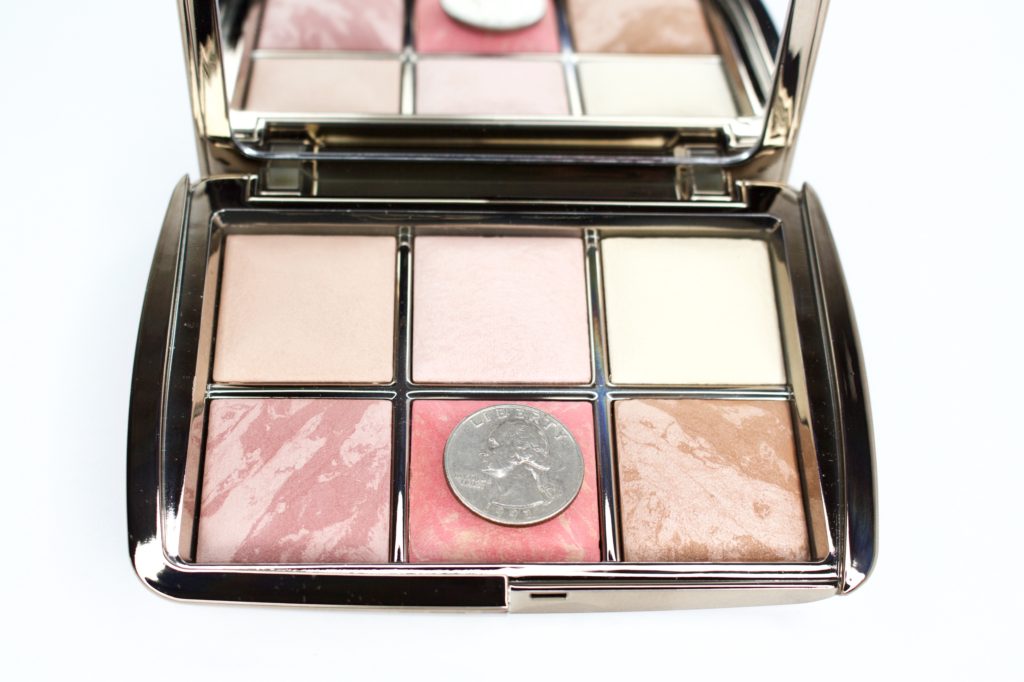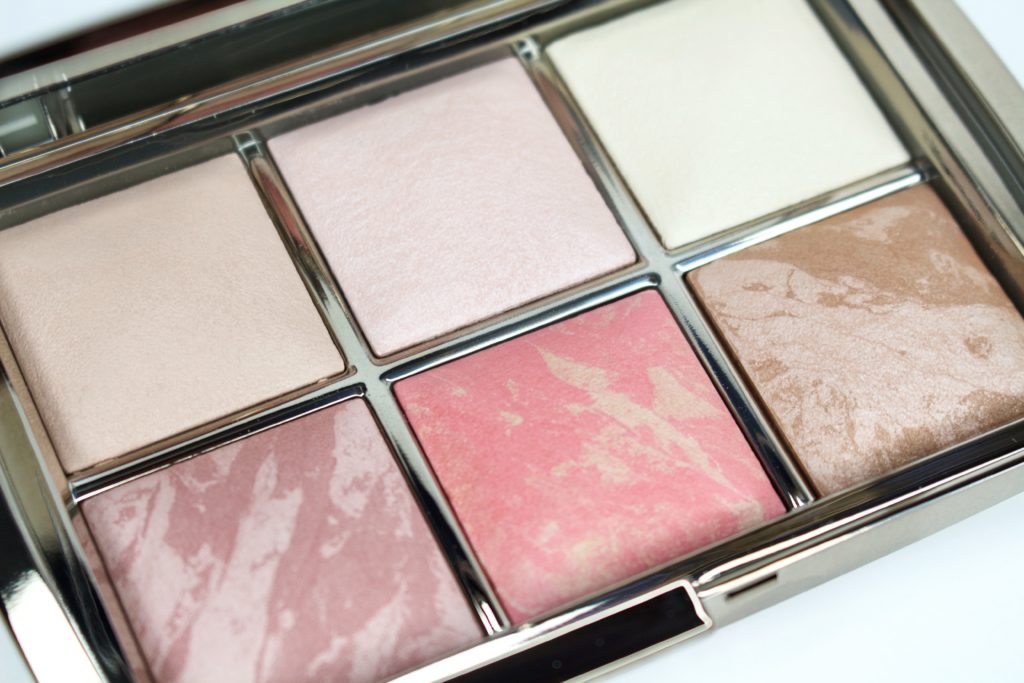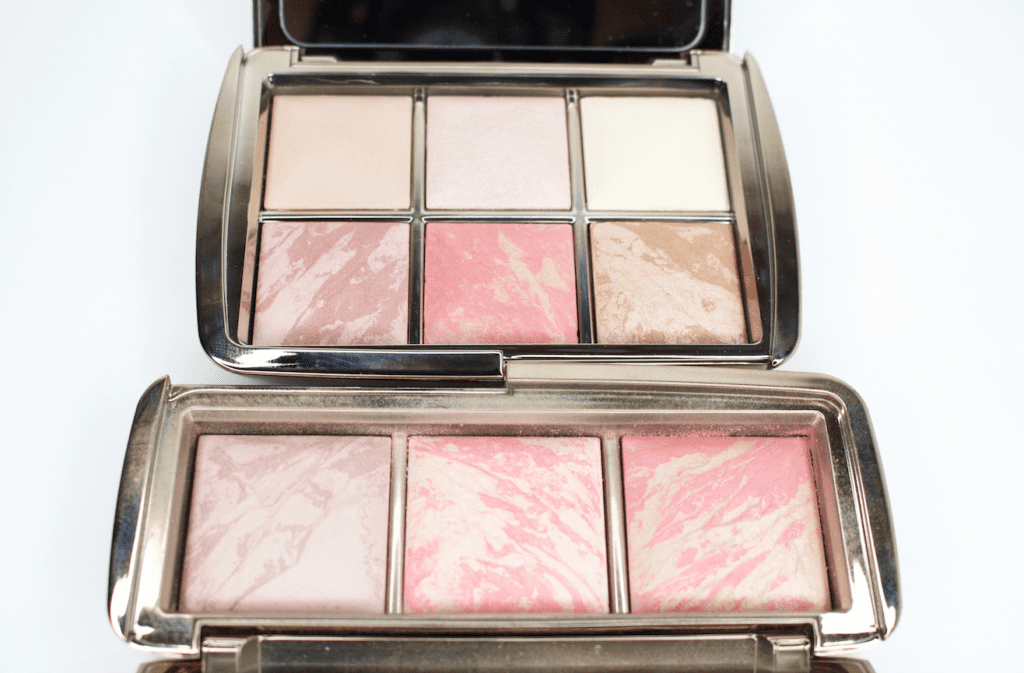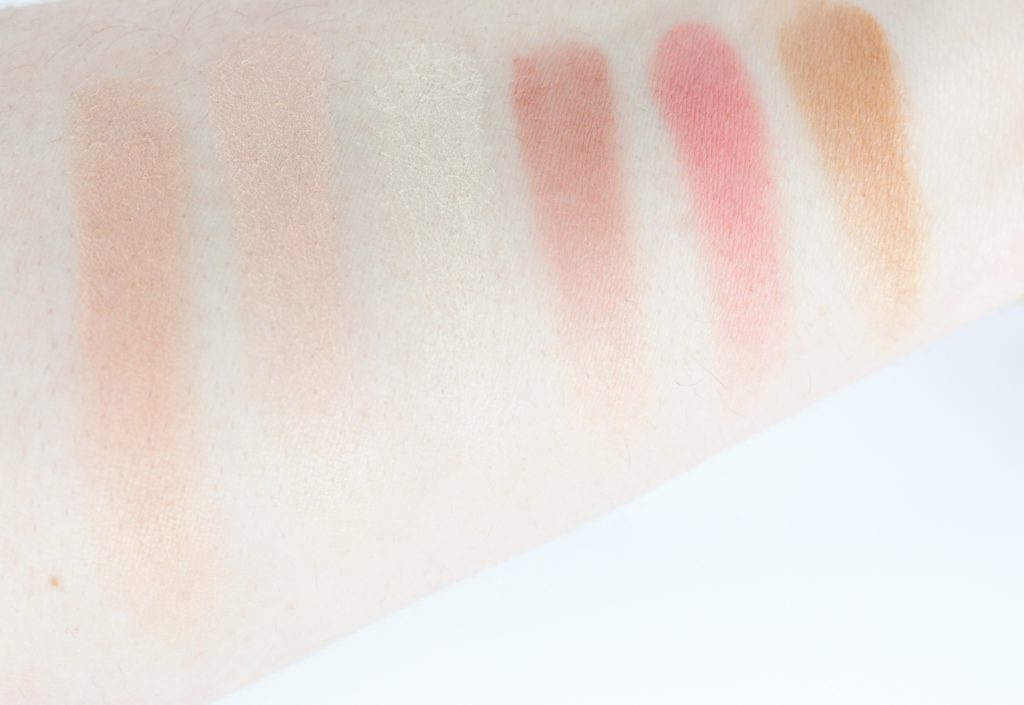 Left to Right: Dim Light, Iridescent Light, Diffused Light, Mood Exposure,
Luminous Flush, Luminous Bronze Light
[line]
PROS and CONS of the Hourglass Ambient Lighting Edit Palette:
PROS
Great variety of colors
New, exclusive shade that is only available in this palette
Palette is great for traveling
Nice size mirror
Variety of finishes (powders, blushes and a bronzer)
One of my favorite brands for powders and blushes
Pigmentation on these are incredible, a little bit goes a long way
CONS
The size of the pans is very small
Price has been a major concern at $80.00
I hate the packaging on this (that's just me and my OCD, it shows fingerprints like crazy!)
Have to use a fairly small brush with this to get individual colors  and not mixed
Star Rating: 
I'd give this 8 out of 10! If the pans weren't so small and they included some different blush colors in this palette, I would have given this a 10 with no hesitations. I only give it that rating because of the fact that I have a lot of these colors already in previous palettes. If you're new to these, you'll love them!
My overall thoughts on this palette are so mixed and I want to explain.  IF you have never used any of the Hourglass Ambient Lighting products before, I think this is a great palette.  If features some of their best selling powders, blushes and a bronzer.  Literally, this could be all you would need for your face when traveling, besides foundation. It features a mirror and the packaging is very nice.  The actual "pans" of color are small (.049 oz), but you are getting six of them to try.  I'm not going to get into the whole price issue regarding this palette, believe me there are plenty about that online if you want to search, but normally these products start at about $35.00 and up.  To get six of them would probably cost you around $270.00.  Yes, they are full size, but if you are wanting to experience these colors for the first time (or you travel a lot) I can see the value of having this palette available.
However, if you are already a fan of the Hourglass Ambient Lighting Products, chances are you probably have these colors already, besides the Iridescent Strobe Light color that is ONLY available in this palette.  For me, I have the Ambient Lighting Blush Palette that already includes the Mood Exposure and Luminous Flush colors.  I use them almost daily and have still not even put a dent in them yet.  If you purchased the Ambient Lighting Powder Palette before, then you already have Dim Light.  So, check what you have already and see if it's worth it to pick up this palette or not.
I do really like this palette.  It's great to have all of the color choices right there available to travel with.  However, this palette isn't perfect.  I think that they could have included some different color options and I would have liked to have seen the actual pans to at least be the same size as their other palettes that they have released.  A lot of people are complaining about the cost of this palette and believe me, I get it.  Hourglass is a luxury product line and with that comes a high price tag for their products.  My best advice is to examine the cost of the colors you would use the most.  Also, do you have any of the colors already?  If not, would you prefer to buy them individually or have them all together in this palette.  That's the best way I can answer the whole "Pass or Buy" when it come to this palette.