I always get so excited when I see that my Julep Maven box has arrived.  This month I was super excited, but realized I had been so busy traveling, that I never got a chance to check out my colors before they shipped.  I was hoping for something cute and super girly for my February Boho Glam Box (Valentine's Day!!), but I guess they had a different idea for me this month…..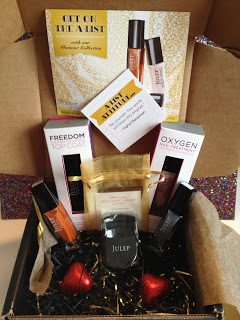 This box is filled with so many products, it was really impressive.  I got two nail colors, a top coat, an oxygen nail treatment, a mini eye lash curler and even chocolates! Julep knows how to wow a girl!
Now about those two colors I got.  I can't say I love them.  This month was all about Hollywood Glamour and the polishes were inspired by leading ladies of Hollywood. My two ladies were Julianne Moore and Ingrid Bergman.  I like the Julianne shade, but the Ingrid just isn't doing it for me.  It's a nice orange color, but it's just not a color I would wear.  They made several different, limited edition, nail colors for these boxes this month and each nail color is stamped with polish name and style profile type.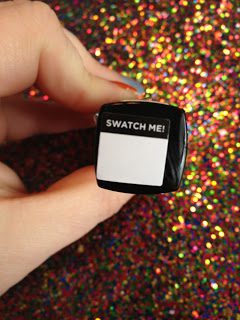 Love this feature! You can now swatch your colors so you can see the color on top of bottle!!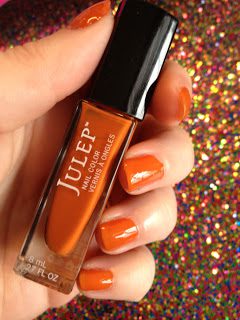 Ingrid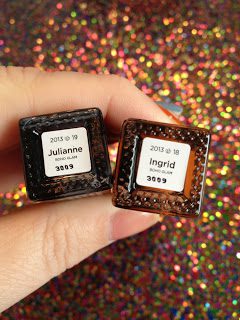 Limited Edition Polishes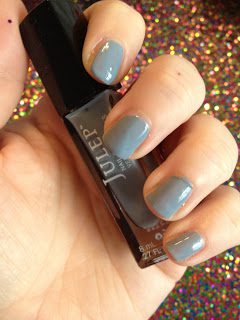 Julianne
The Oxygen Nail Treatment is such an amazing, pink nude color.  I love it!  It's the perfect shade for when I want just a tad of color on my nails, but nothing major.  It's a perfect spring look. Did I mention the benefits?? Read what Julep has to say about the product:
Complete nail care and make-up all in one bottle. Made with a patented Hexanal formulation, nails are restructured to a stronger, thicker, and smoother condition in just one stroke. Advanced plant stem cell complex provides anti-aging benefits, while ground-breaking oxygen technology forms a nonocclusive film on the nail, proving resistant to water penetration and improving the permeability to oxygen. Results are nails that are structurally stronger, and less prone to breakage and splitting. How to use: Apply in layers on clean nails to achieve desired high gloss and subtle "Nail Makeup." Use once or twice a week regularly to promote strong, healthy nail growth.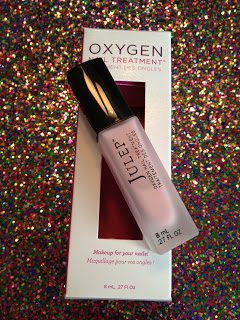 Oxygen Nail Treatment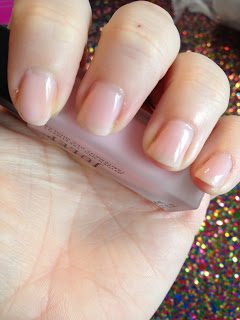 Love the pretty, delicate pink color! Won't think twice about going nude anymore!!
I have only gotten a chance to use this a couple of times, but I will do a follow up blog post and report back with what I think of this.  I can say that after only using it a couple of times, I can feel a difference in my nails already.
The Freedom Polymer Top Coat  is unlike any top coat I have ever used.  Do you prefer gel manicures because they last longer and have a really nice shine? If so, you will love this top coat!  This top coat made my nails feel like I had just gotten a gel manicure and I haven't had any chipping at all!  I simply applied this to my nails and cured under a 60 watt bulb for about two minutes.  I am loving this product!  It's in a dark bottle to help protect the actual product and dries fast and left my nails looking amazing! I loved that I didn't have to put my hand and nails under a UV lamp and all I have to do to keep this up is reapply every two or three days. I haven't taken this off yet, but it does say it can be removed with any nail polish remover.  I will do another blog post about this process later.  Read what Julep has to say about this new product and watch a YouTube video they created: by visiting their website:
Extend the life of your manicure in minutes with Julep's Freedom Polymer Top Coat. Activated by natural light, this innovative formula creates a unique polymer force field that prevents chipping for days longer than regular top coat, leaving your nails with a gel-like shine (but without gel-removal hassle). Any nail polish remover does the job—you'll never pay for painful gel removal or soak your hands in nail-weakening acetone again. Freedom will give your nail color a whole new lease on life. Who knew technology could be so gorgeous?
Polymer force field protects nail color from chips, dings, and dullness twice as long as regular top coats

Quick-dry formula cures under regular light in three to five minutes (depending on brightness and proximity to light source); no UV light required

For best results, cure under a 60-watt light bulb for two minutes and re-apply every two to three days

Remove with ANY polish remover, including gentle, non-acetone formulas

Dark sealed bottle keeps light-curing formula safe and pliable

4-Free formula contains no formaldehyde, formaldehyde resin, toluene or DBP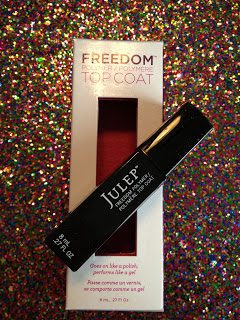 Notice the super dark bottle?? That's for a purpose! It protects what is inside the bottle from sun damage,etc
Julep always throws in adorable little extras and this month was a super cute, mini lash curler.  This is the perfect size for traveling and it actually works pretty good!  They also included chocolate!!! They know a way to a woman's heart for sure!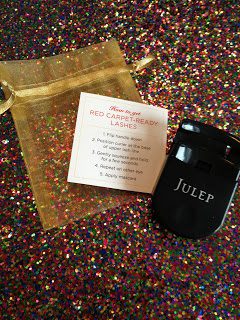 I didn't love the colors this month, but I didn't hate them.  However, I did love the others included in the box.  I'm very excited and have been talking up a storm about the Oxygen Nail Treatment and the Freedom Polymer Top Coat.  Products like this make Julep so worth it.  I never would have known about these products before and now I might not be able to live without them!!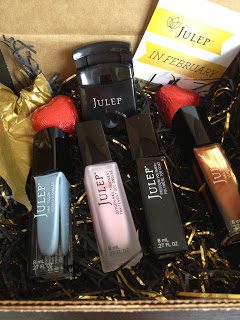 Great box!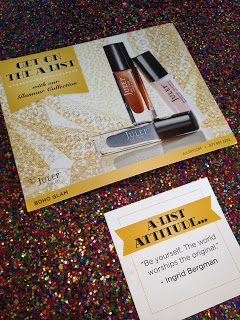 Love this quote by Ingrid Bergman
For more information, visit Julep's Website.  All Julep Maven boxes are $19.99 a month and for your first month, if you are a new Maven, you are able to use the Promo Code JULEPVIP and get your first box for only a PENNY!! Yes, you read that right.  Visit the website to sign up today!!
**With Julep, you can skip any month that you don't want your box…I kinda love that!!**