The new ELEMIS Limited-Edition Pro-Collagen Rose Cleansing Balm arrived on my doorstep the other day and I opened it immediately! I LOVE the original ELEMIS Pro-Collagen Cleansing Balm. It's probably up there as one of my favorite cleansing balms that I've ever used. Should I do a post one my favorite cleansing balms?!?! Add rose to the mix and I'm super excited about this cleansing balm!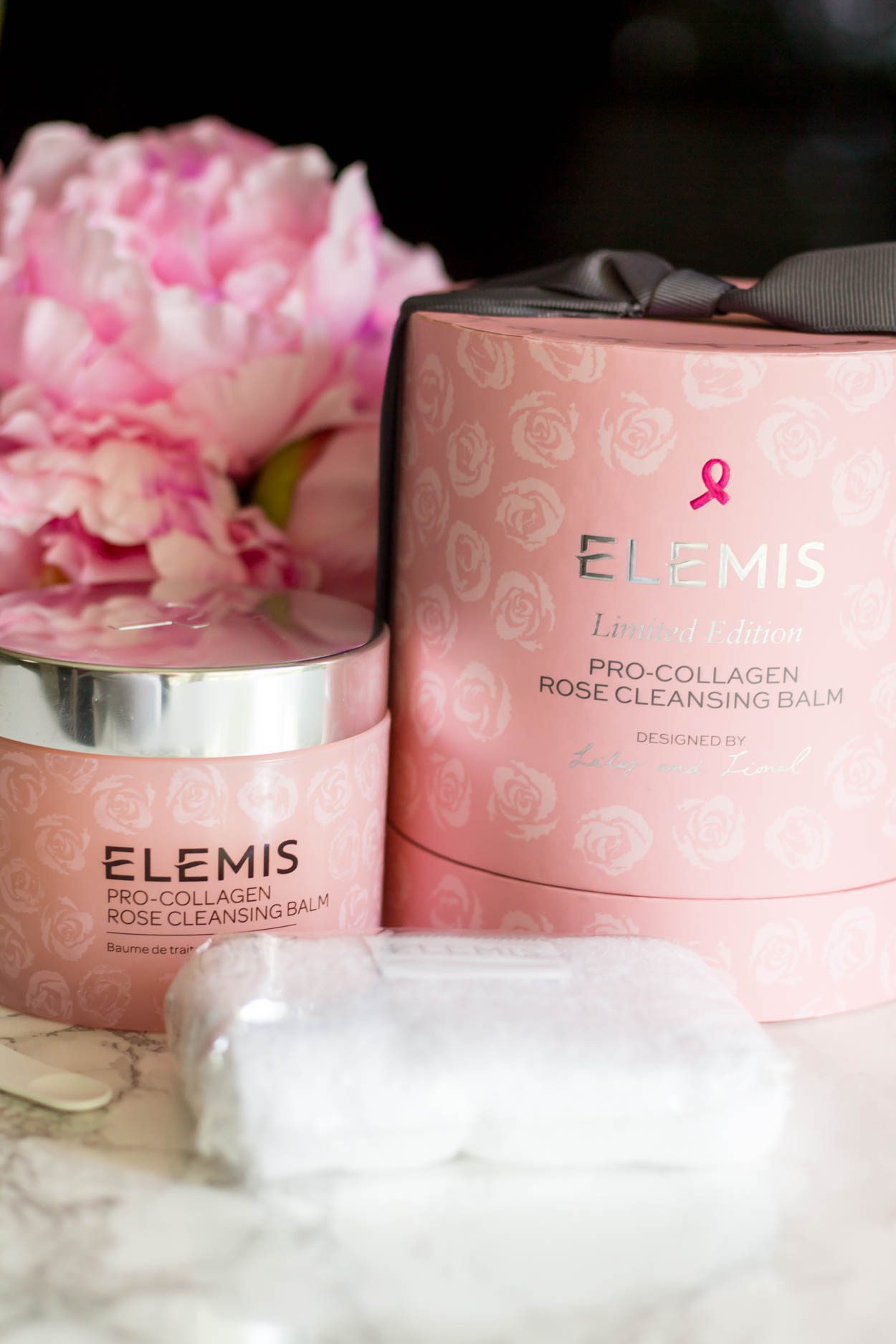 October is Breast Cancer Awareness Month
This Limited-Edition Pro-Collagen Rose Cleansing Balm Set was made to benefit The Pink Agenda. ELEMIS collaborated with the British Fashion house, Lily and Lionel, on a 2018 LIMITED EDITION of their best-selling cleansing balm, now infused with delicate English Rose. Regardless of the sales of the LIMITED EDITION set, ELEMIS will donate $25,000.00 to THE PINK AGENDA, an organization committed to raising money for breast cancer research and care.
ELEMIS Pro-Collagen Cleansing Balm vs. ELEMIS Limited-Edition Pro Collagen Rose Cleansing Balm

The main difference between the original ELEMIS Pro-Collagen Cleansing Balm is that this one is now formulated with English Rose. The formula smells heavenly! Just like the original cleansing balm, the rose cleansing balm will help dissolve your makeup and help cleanse the skin, giving you a gorgeous, glowing and radiant complexion. Not to mention, it will leave your skin butter soft!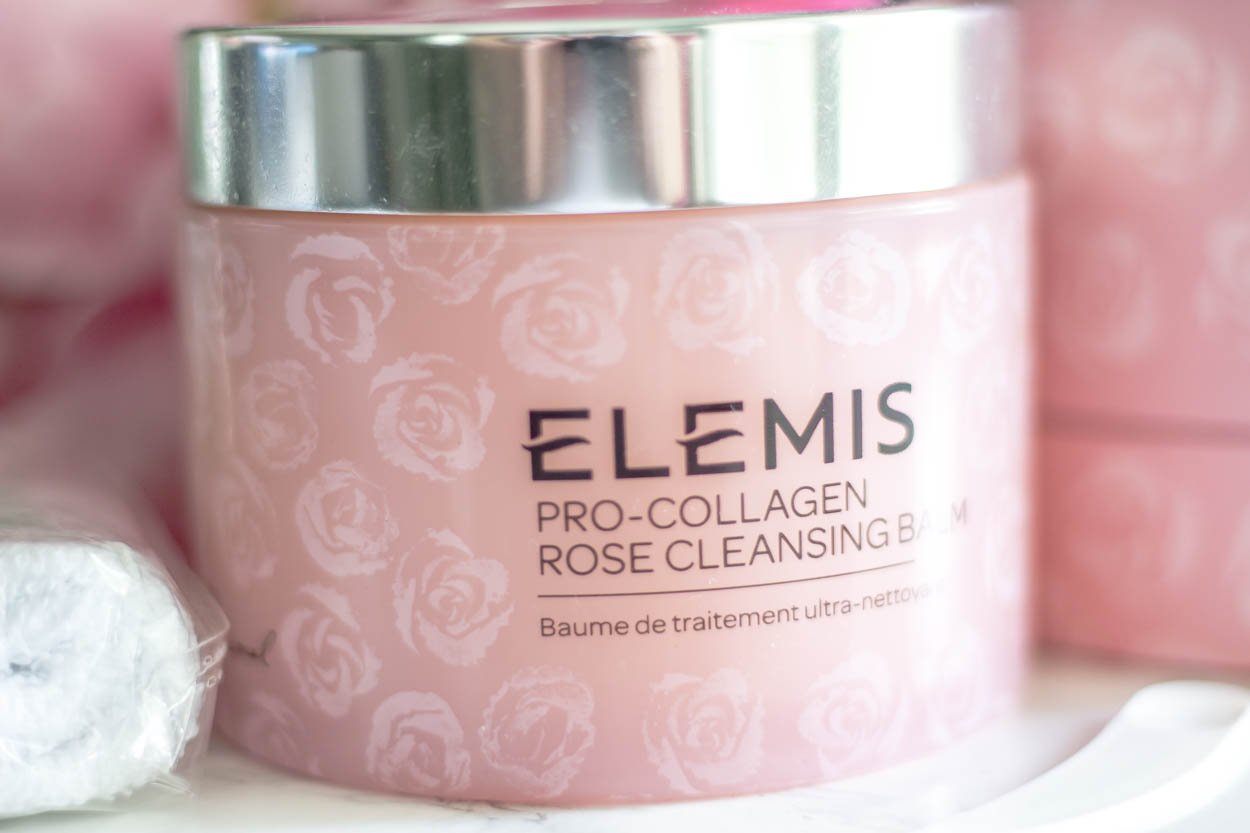 Formulated with 5 rose extracts from around the world, this cleansing balm melts into a rich cleansing oil to dissolve make-up and impurities on the skin.

ELEMIS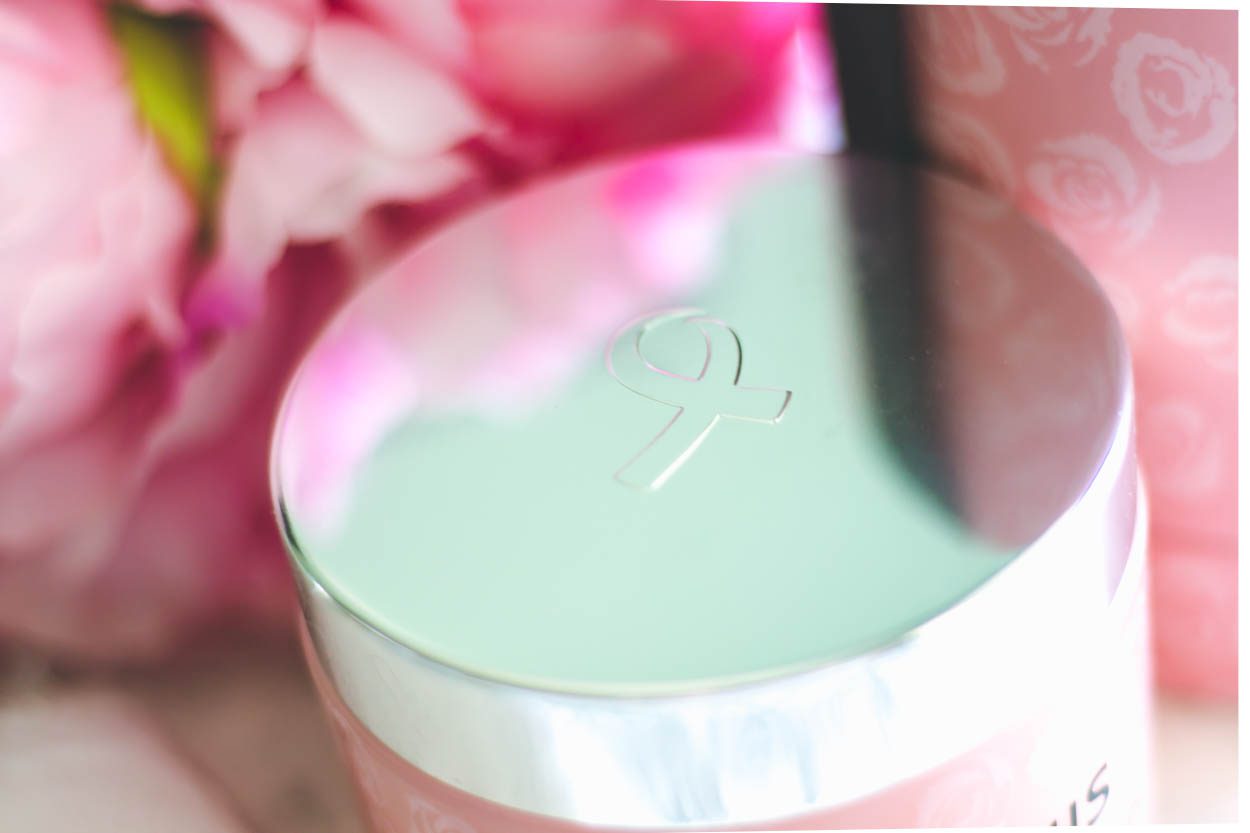 How To Use A Cleansing Balm
The proper way to use a cleansing balm is to first, use the spatula to remove a little bit of the product. For me, about a quarter size is plenty to dissolve all of my makeup on my face. I take the cleansing balm and rub it into my fingertips and apply it all over my skin, using circular motions. Really give your skin a good massage and work it onto the areas like your eyelashes, eyelids, neck, and all over your face.
After you've massaged it all over your face, you'll want to turn on your water and start adding a little bit of water to your hands and apply it to the your face, neck and décolleté.
Upon contact with water, the cleansing balm with emulsify into a milky texture. To rinse the skin, dampen the cleansing cloth that was included, with warm water and remove makeup and the cleansing balm.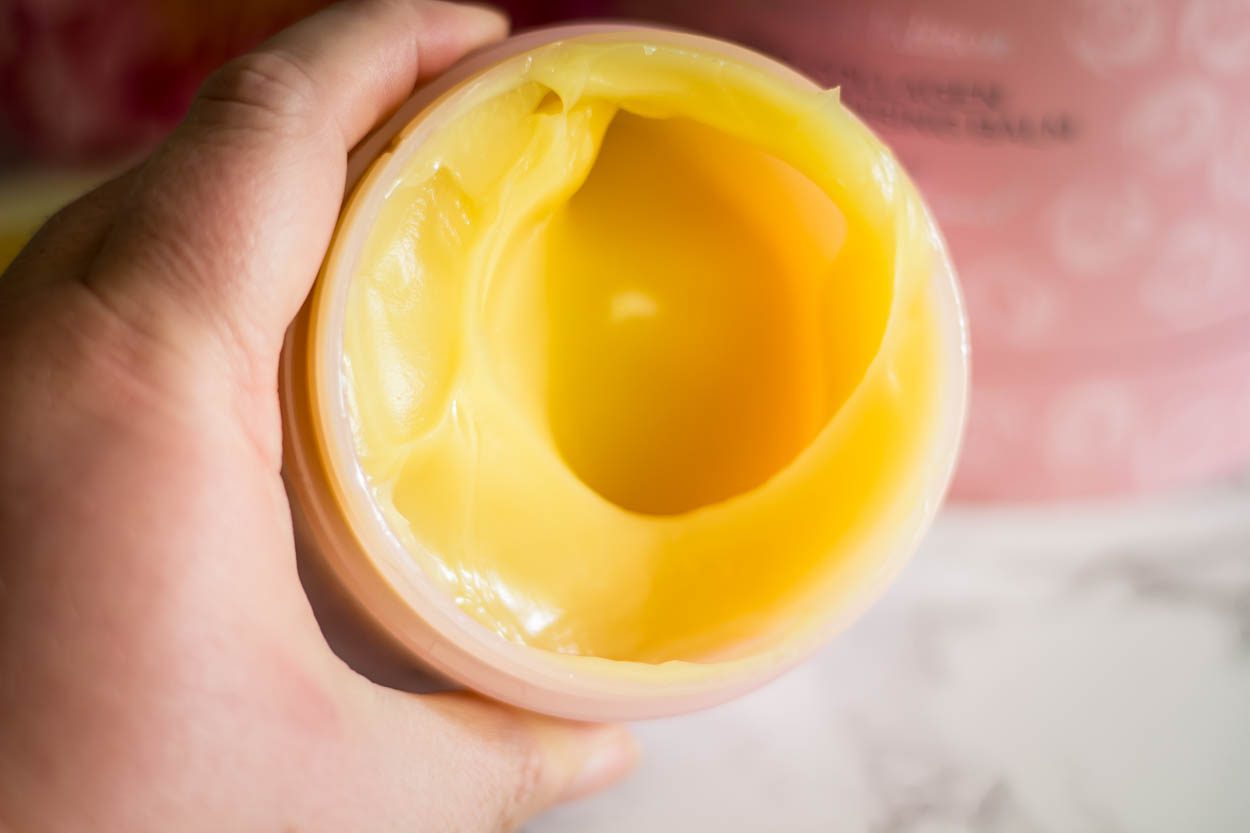 Luxurious Rose and Mimosa waxes are infused with nourishing Elderberry, Starflower and Optimega™ oils and supercharged with hydrating Mediterranean algae, Padina Pavonica. It nourishes the skin's lipid barrier, soothing it with hydration, leaving the skin feeling smooth and looking radiant.

ELEMIS
A Cleansing Balm As A Face Mask?!?
If your skin is feeling extra dry and you want to pamper it a little bit, use the cleansing balm as a facial mask! Apply it all over cleansed skin and allow it to sit on the skin for as long as you like. The balm might melt on contact with the skin after a while, but it will re-set on the skin when the skin's temperature has cooled off. Obviously, do not put around eyes.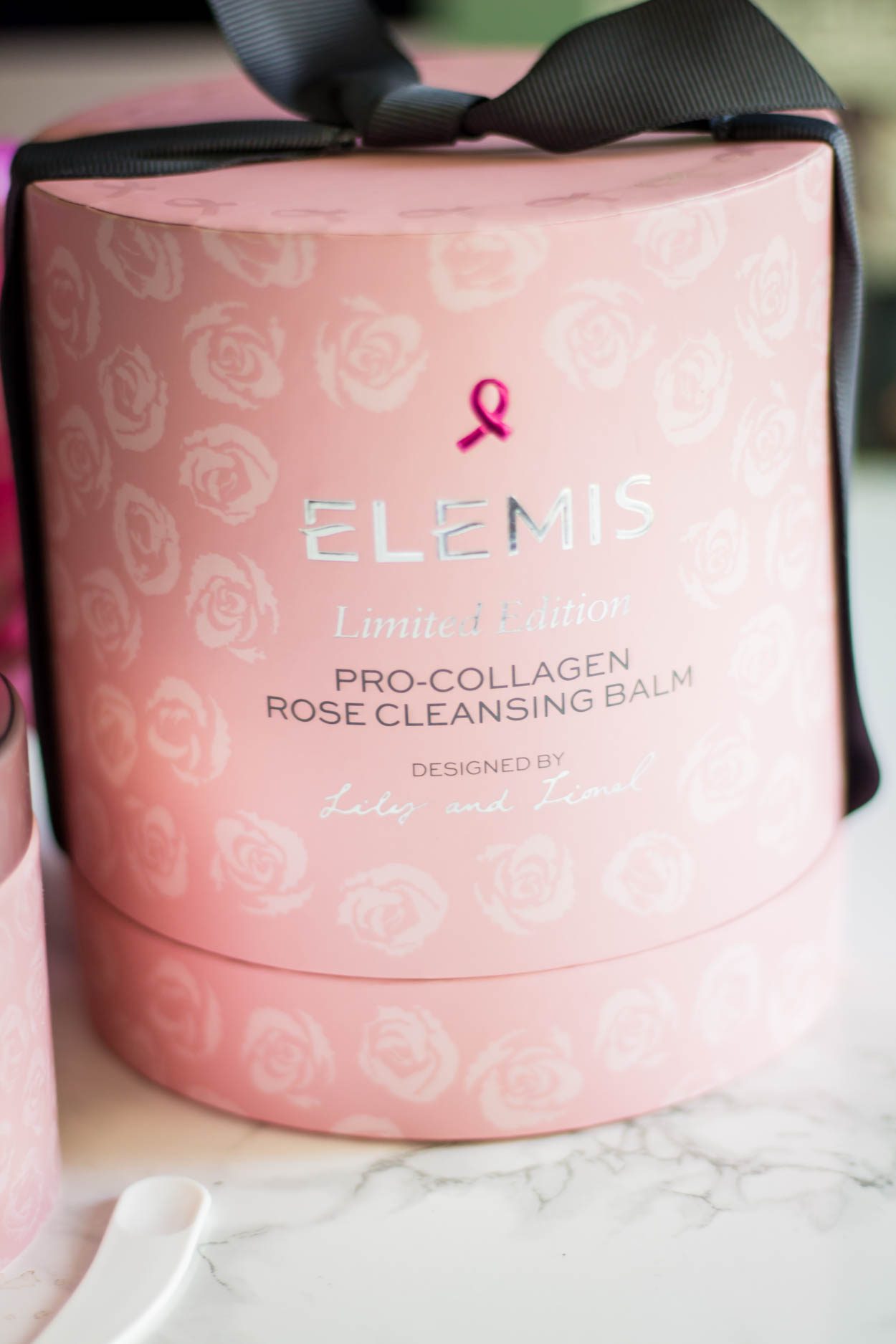 I'm loving the ELEMIS Pro-Collagen Rose Cleansing Balm so much! It leaves my skin super soft and it removes my makeup so easily. It smells so good and if you love the scent of roses as much as I do, you'll love this balm.
The LIMITED-EDITION Rose Balm is supersized as this one is 200g and the original Pro-Collagen Cleansing Balm is only 105g. So go ahead and treat yourself to a fabulous cleansing balm AND help support a brand that is trying to do good deeds for those in need! #CancerSucks
P.S. My Grandmother was a survivor of breast cancer and Breast Cancer Awareness Month is very near and dear to my heart! I plan on bringing more brands and products to your attention who are supporting the cause!
ELEMIS LIMITED-EDITION Pro-Collagen Rose Cleansing Balm