Get excited, Atlanta! I got a chance to visit the new hybrid Dermalogica facility that opened in Atlantic Station and it's beautiful! This is the second "hybrid" facility that Deramalogica has opened.   It's a very open facility that allows the guests to really get into skincare from the moment they walk in the door. In fact, it's encouraged that they try out products and learn more about their own skin! This facility is also home to the International Dermal Institute, so you might see some education happening in the back of the facility.  Need treatments? No problem! This facility features MicroZone treatments. These are perfect for anyone on the go, as they are 20 minute services! Or maybe try the BioActive Peel if you are looking for something more intense. Dermalogica is famous for the Face Mapping, which is a great way for a skin care specialist to get to know more about your skin and concerns you might have.  It was so busy at the event, I didn't get a chance to try it, but I will for sure be back! Not familiar with Face Mapping? Make sure to watch this video!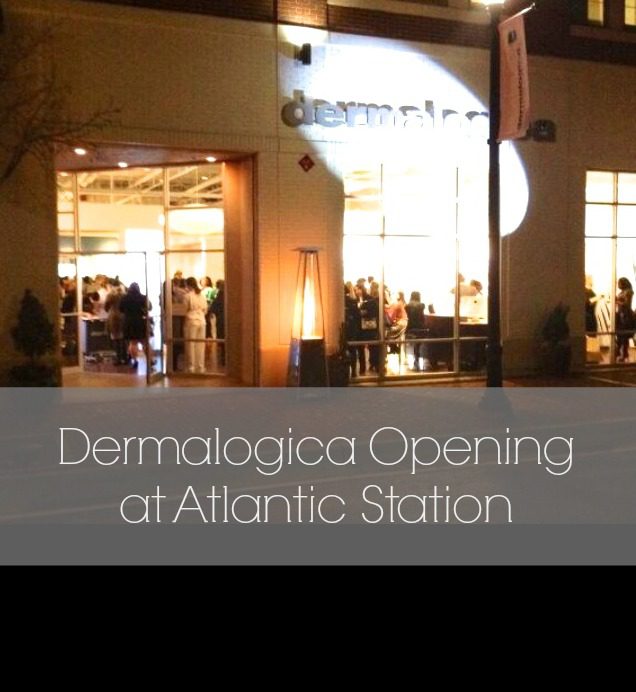 After the opening, Dermalogica invited some of the media guests back to Hotel Twelve, for a private dinner.  I got to sit down and talk with Jane Wurwand, Founder and Owner of Dermalogica as well as the International Dermal Institute. I could have listened to her talk all evening. She is full of information and knowledge and it was really amazing to be able to sit down and talk with such a powerful woman, who knows this industry so well. I never thought I'd be sitting at a fabulous dinner, talking blogging with the president of Dermalogica! To hear her talk about the importance of bloggers to HER business, CRAZY!! I also got to meet and speak with Dr. Diana Howard. She is the VP of Global Education and Research and Development and Heather Hickman who is the Director of Education.  Although I didn't get a chance to speak with her, Annet King, who is the Global Director of Education, was also at the dinner. If meeting those ladies weren't enough, also seated at our table were editors from Day Spa Magazine and Modern Salon. The ladies were fantastic! Can we say dream evening!!
I'm not hugely familiar with Dermalogica, but I purchased a Skin Care Kit while browsing the retail area of the store. I have been using it and trying a few other products I was sent home with (Thanks, Dermalogica for the goodie bag!!).  From what I have read and what I saw at the event, Dermalogica isn't about fancy packaging and marketing. They are about providing skincare that works! Whether that be products or services. They have a very large amount of products available and I spent quite a while browsing the retail area and testing out some of the samples. I MUST get my hands on the Precleanse and the Multivitamin Power Recovery Masque. Both products seem like something I need, ASAP!
For more information and to see how Dermalogica can help your skin, please visit their website and please, if you live in Atlanta, visit their new facility! I can't wait to visit again and have a Face Mapping done as well as a treatment! If you go, let me know what you thought! Dermalogica is carried at thousands of spas all over. For more information on where to get services or products, visit their website below. A HUGE THANKS to Dermalogica for inviting me to such a fabulous event.
I did a bit of research on Dermalogica and Jane Wurwand and I admit, that after watching this video and speaking with her, I'm completely inspired by her! She is just a fantastic person to look up to!
For More Information:
Dermalogica @ Atlantic Station
232 19th Street NW Suite 7130
Atlanta, GA 30363
(404) 876-4066
Dermalogica Atlanta Facebook Page