Since today is National Coffee Day, I thought it would only be appropriate for me to talk about coffee on Simply Stine today! I love coffee. Seriously, give it to me! Have you ever heard of the brand Chemex? Me either, but apparently coffee lovers everywhere have fallen in love with it! So I did what any coffee lover would do and I bought one to see what the hype was about.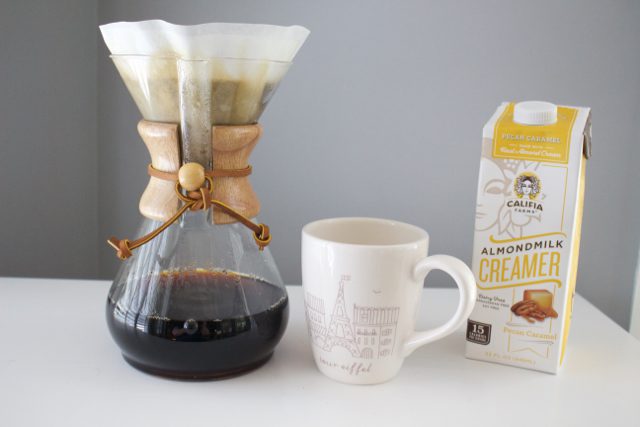 I chose the Chemex 6-Cup Coffeemaker w/ Wood Collar and to be honest, I didn't know a thing about it. The sales lady at Crate & Barrel told me that she loved the coffee that the Chemex produced, but she did say that if I was in a hurry, that this wasn't the coffeemaker for me. Here are a few things that I gathered from my experience using the Chemex:
"The Chemex® coffeemaker, together with Chemex-Bonded® Coffee Filter, makes perfect coffee. Clear, pure, flavorful and without bitterness or sediment every time. The coffee only comes in contact with the scientifically designed filter and non-porous glass. With the Chemex® method, you can make coffee as strong as you like without bitterness. Perfect for iced coffee and coffee flavoring for gourmet recipes. Because of its purity, Chemex® brewed coffee can be covered and stored in the refrigerator for reheating…without losing its flavor!"-Chemex
Made of non-porous Borosilicate glass which will not absorb odors or chemical residues
CHEMEX pour-over allows coffee to be covered and refrigerated for reheating without losing flavor
You must use the filters that they sell for this coffeemaker as they are different than regular ones
This is a pour-over style coffee
It's suggested that you use a gooseneck kettle for pouring the water, but I just have a regular kettle
They also suggest a burr style grinder for getting the best coffee grounds
Get your supplies ready. Chemex, Chemex Filters, Coffee Grounds and something to boil water in.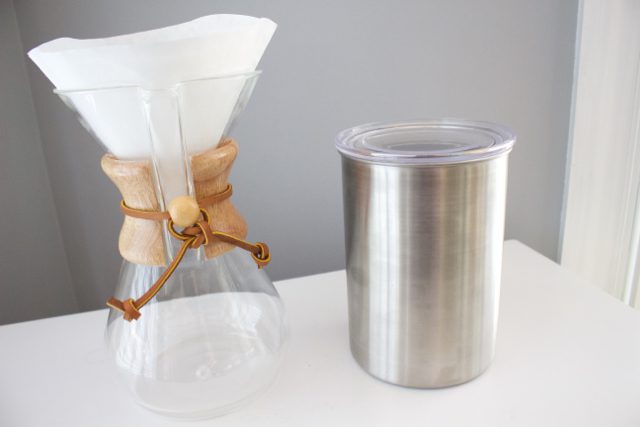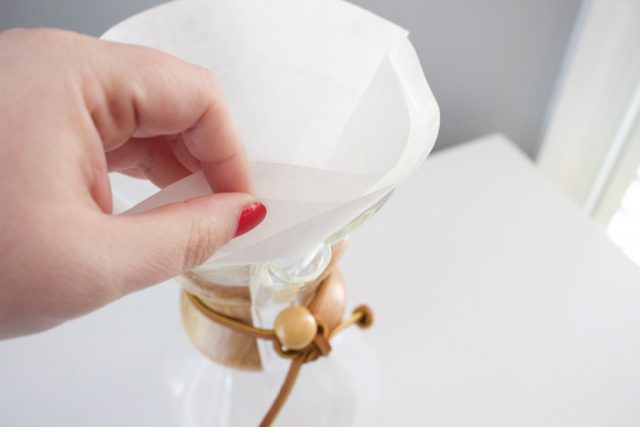 You must apply the filter so that one side has thee layers down. That's the correct way to open the filter for optimal coffee brewing in the Chemex.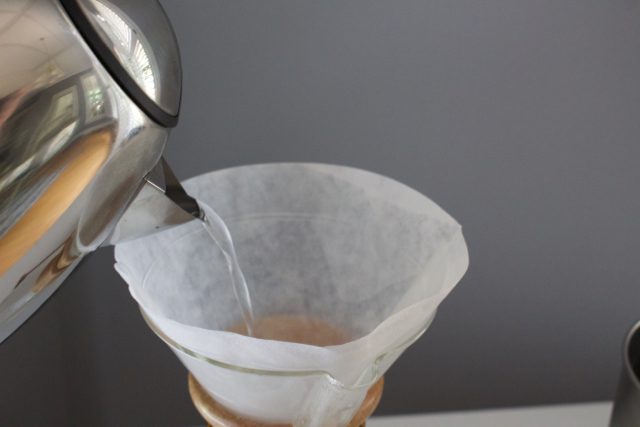 Dampen the filter and rinse the Chemex with warm water. This rinses the brewer and prepares it for the coffee. Drain the water.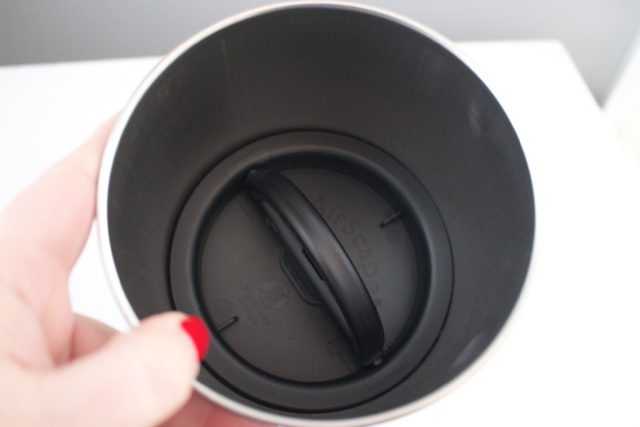 Start boiling your water. Once it boils, let it sit for a bit to cool down. Chemex suggests using water around 200 degrees for the best coffee making experience.
You will need one tablespoon of coffee grounds for every 5 oz cup of coffee that you are going to have. If you like stronger coffee, for sure add more. They also suggest a medium grind for the coffee beans. I keep my coffee grounds in this storage container from Crate & Barrel. It keeps them fresh!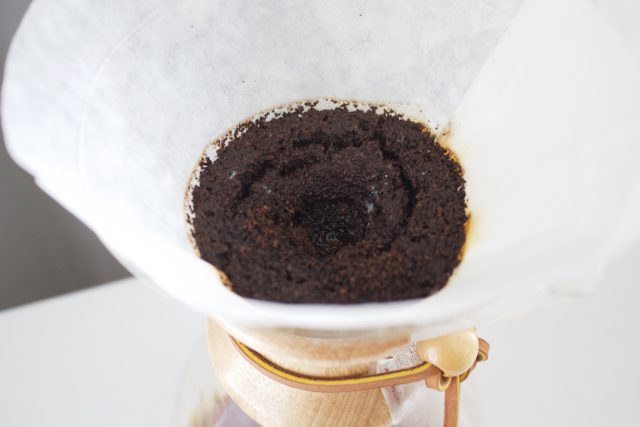 Pour a little bit of the water over the coffee grounds and allow them to "bloom". This releases the elements from the coffee grounds. I poured the coffee in small circles around the grounds at first, just to wet them.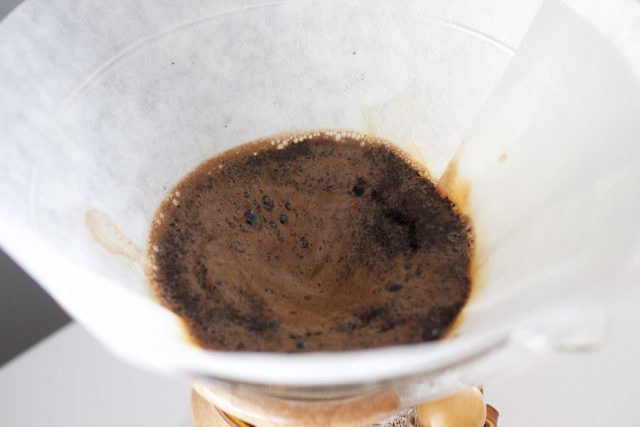 After your grounds have "bloomed" continue to pour the water over the grounds and be sure to not get too close to the top as it will expand. I read that they suggest pouring in the center of the grounds. I also read that they suggest that taking up to four minutes. Remember when I said that this was a slow process!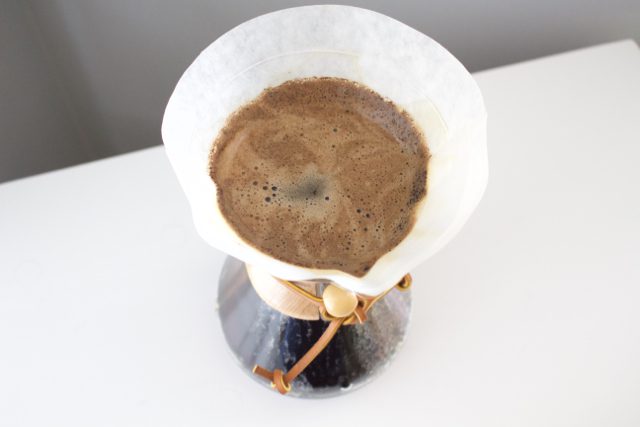 They suggest a pouring method of circular or back-and-forth movements to ensure that all of the coffee grounds are evenly soaked.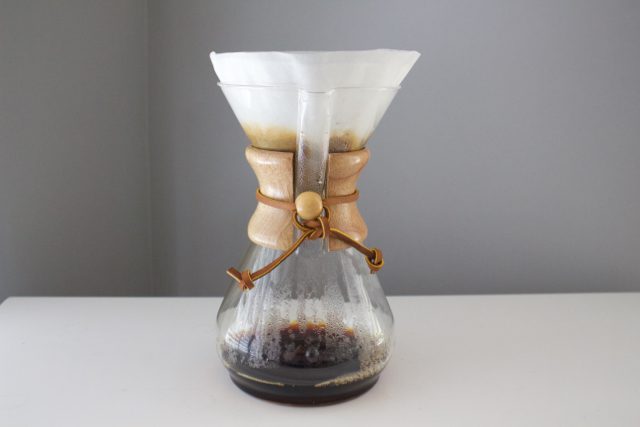 Once you've brewed the amount of coffee that you will be having, toss the filter, pour and enjoy! You can keep the Chemex brewer on top of a glass top stove on low heat or you can refrigerate and enjoy the rest later!
PROS and CONS of using the Chemex
PROS:
I think this is a great brewer if you really like the art of making coffee.
It's no more expensive than other coffeemakers. Pour-0vers, French Press,etc
The coffee I have made has tasted really good
I like that you can choose different sizes. I have the 6 cup, but they go as small as the 3 cup and as big as a 10 cup I believe.
CONS:
This takes some serious patience to make a cup of coffee. I wouldn't use this daily and especially not in the morning when you just want a simple cup of coffee.
You must figure out the proper water to coffee grounds ratio. I'm pretty sure they suggest using a scale for this. I haven't gotten that into it yet, but maybe I should?
I think this is quite the complex little coffee brewer, but I'm not totally against it. It's just more complex than I was prepared for.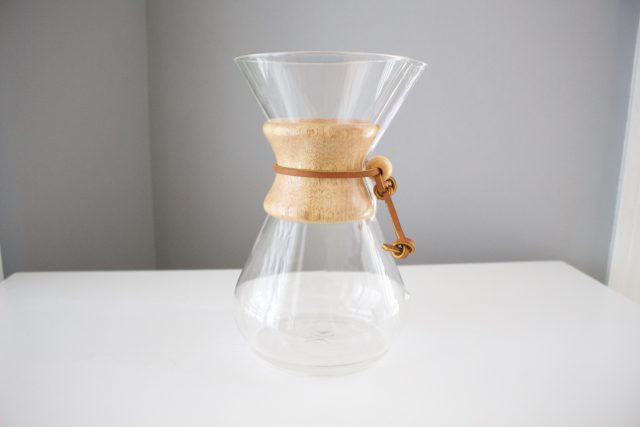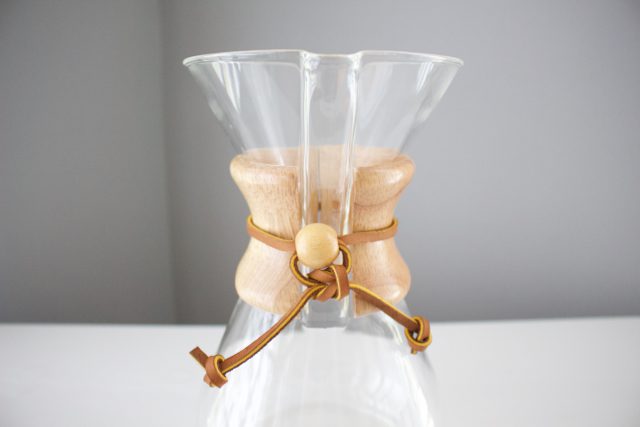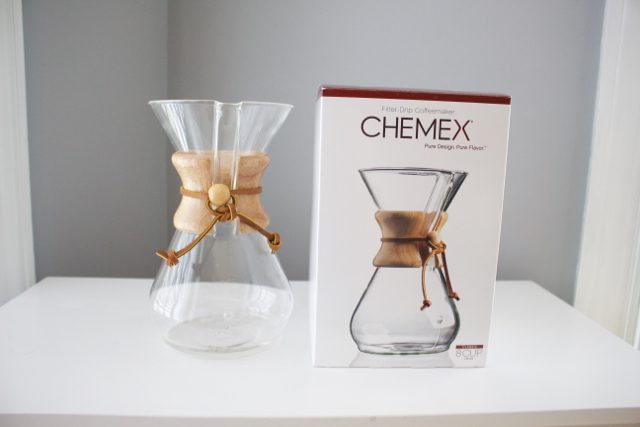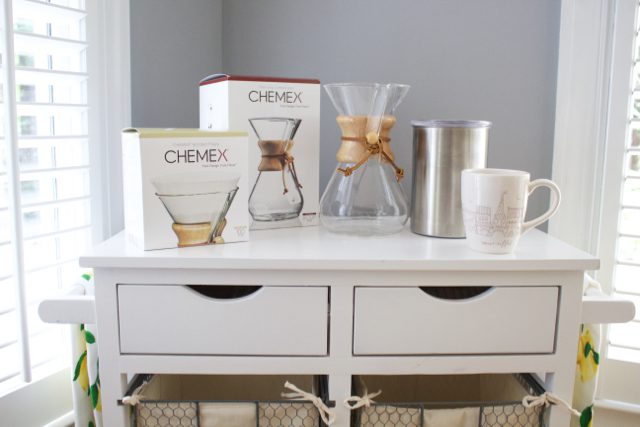 Overall, I think that I need to use this more and with a variety of different coffee grounds and actually with a scale so I can figure out the water/coffee grounds ratio. I asked my husband for his opinion and he said he'd give it 8/10 stars. He agreed with me that this is somewhat of a complex brewer/cofeemaker/whatever you want to call it, but wants to use it more to figure out if it's really that different from other coffeemakers.
Do I think you should rush out and purchase the Chemex? I'm not sure how to answer that honestly. Every cup of coffee I have had with this has been pretty good, but what I'm left wondering is if it's the coffee grounds that I'm using or the design of the Chemex that is making a difference. At this point, I don't think I know enough about the Chemex to fully give my final verdict on it.
If you have experience using the Chemex, I'd love to hear your thoughts on this or if there are tips that you have for making a great cup of coffee!
[show_shopthepost_widget id="1977339″]