I first saw The Husband Makeup Knowledge Tag on Whitney's page over at The Whitney Story (you must be following her) and I thought to myself, "What a great/funny/interesting tag to do!!" The one thing I noticed was that her husband was actually very, very knowledgable about makeup!! So it got me thinking and wondering how many of these Rob would get "right" and how he would describe them. He is around everything Beauty all of the time and he's spent more time than he'd probably like walking with me in stores like Ulta, Sephora, Nordstrom and plenty of other Makeup counters. Let's see how he did!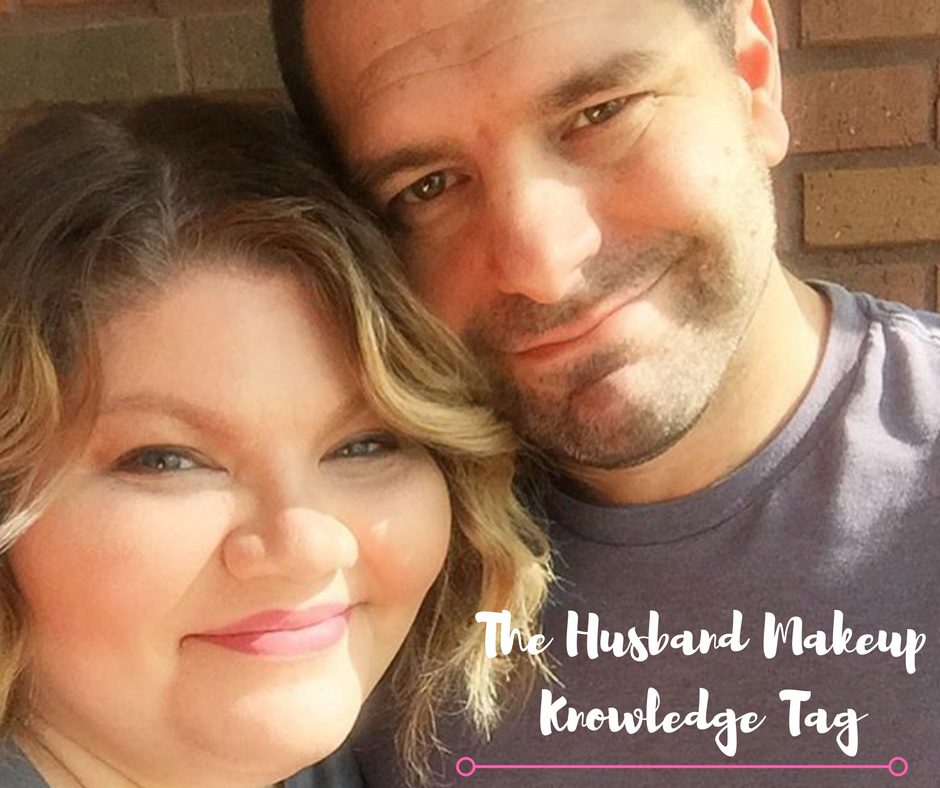 Bronzer: "Umm bronzer obviously would umm…Bronzer. Umm…well obviously it's going to have a little bit of a bronze color. I can see that it would be used to shadowing or highlighting maybe like cheekbones. I think you usually put a little on your nose."
Blush: "Well it brings like a peachy or pink color to the cheeks. I don't understand why you want to have your cheeks pink sometimes."
Mascara: "Mascara goes on the eyelashes. It gives them a heavier look and can add color also. Usually it's black or a dark color."
Eye liner: "Eyeliner is for under the eye and it makes your eyelids more bold and I think it makes your eyes stand out."
Strobing: "Strobing?!! I've never heard that term. Honestly. I'm not even going to attempt that."
Eye shadow: "Eyeshadow is for the….That's still called eyelid right?!? It brings out all kinds of colors. People do smoky eyes, some people do purple eyes. I've seen you do a brownish gold. Sometimes with sparkles."
Powder: "What is powder?!? Powder is, to me, on top of the foundation. Gives it a more even…I don't even know what to say. I don't know what it's supposed to be for."
Foundation: "Foundation is obviously gives you a good foundation to start with. It's the first thing you would apply. Otherwise, they wouldn't call it a foundation."
**He was upset when I told him I don't do my foundation first. He didn't understand that, ha!!!**
Concealer: "Concealers are to hide the wrinkles."
Highlighter: "Oh god. Highlighters…alright so highlight are to highlight certain areas. Cheek bones and I'm not going to mention anything else since I did it wrong in our session." He means our Youtube video! Miss it?? You MUST watch it!!
https://youtu.be/5kXZPsBti5g

Setting Spray: "This would be to help set makeup."
Contouring: "Contouring would be a technique, but I don't know exactly what. Possibly around check bones. I don't know what else."
Primer: "I'm thinking in painting terms, so like before you paint your face. So my guess is I'm getting foundation and primer mixed up, thinking they are the same." What if I told you that there are different primers? "Then you just blew my mind."
He asked for this part to be off the record, HA! He told me that he always thinks I'm beautiful without "stuff" on my face, but he sees the benefits of it, but asked me why there has to be so much of it?!??
Brow pencil: "This would be to probably most cases darken your brows and to add color."
Serum: "Serum. Ummm…this would be a skincare product. Umm (sighs) I wanna say it has something to do with…….the acne portion of skincare."
Cleanser: "Clean your skin."
What cleanser do you use or prefer? "Most of the time I do not use any kind of skin products. Especially cleansers. I have in the past used Aveda, that included cleansers and toners and probably a moisturizer." USED TO……it didn't last long at all.
Micellar Water: "Oh we had this discussion before. It was some type of purified water with nutrients in it. It's used along with skincare and cleansing."
Toner: "Toner I remember when I used it, seemed to tighten up the skin."
Was this test hard? "Anything with makeup is hard. It's very confusing if you don't use it and I still don't see the point in all of the products that you use."
Why? There's so much.
Overall, he didn't do too bad! Honestly, I think I was most impressed with the Micellar Water because even some Beauty lovers don't really know what that is! He might not have answered everything 100% correctly, but he was super close on so many of them!
If you want to take part in The Husband Makeup Knowledge Tag, please be sure to tag me so I can go and check out your answers!!! I'd love to read them!