Herbivore Botanicals Blue Tansy Resurfacing Clarity Mask is a skincare mask that my SIL suggested that I try.  This mask claims to help exfoliate, smooth and resurface the skin with a blend of Fruit Enzymes, Willow Bar, and Blue Tansy Oil. This mask sounded right up my alley because lately, I've had a bit of dry skin happening and I've noticed that my pores seem a little bit congested. So…I put this bad boy to the Simply Stine Test!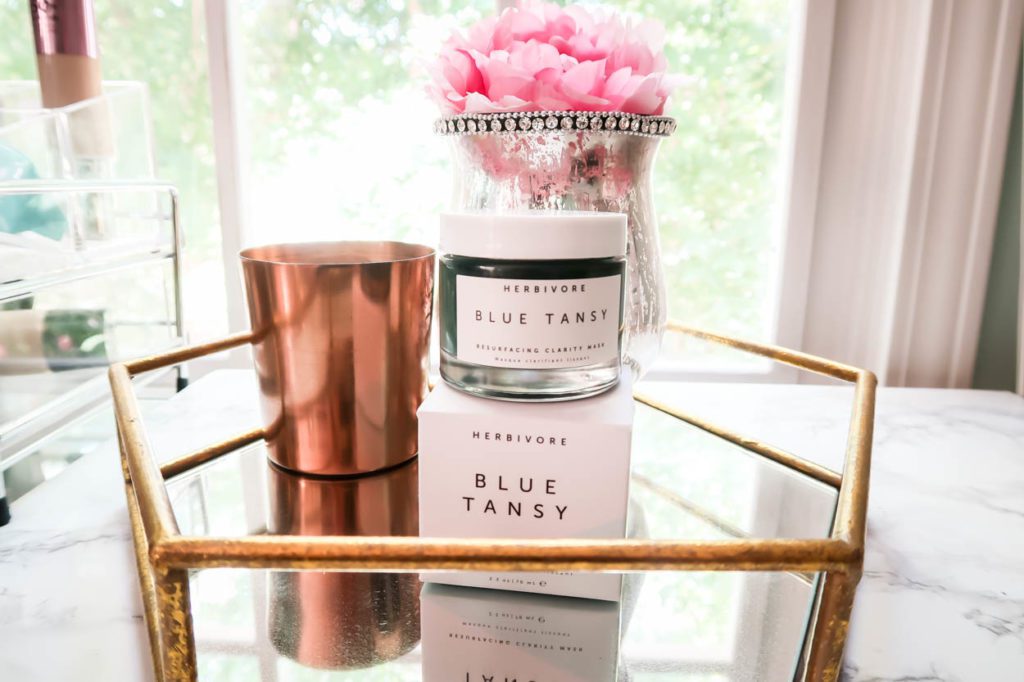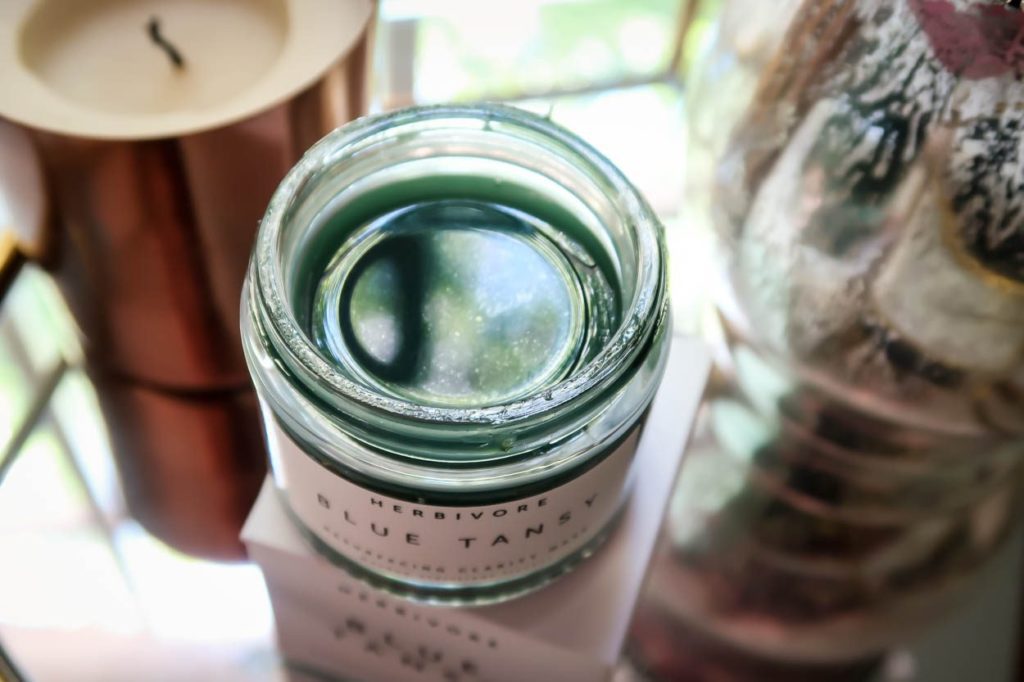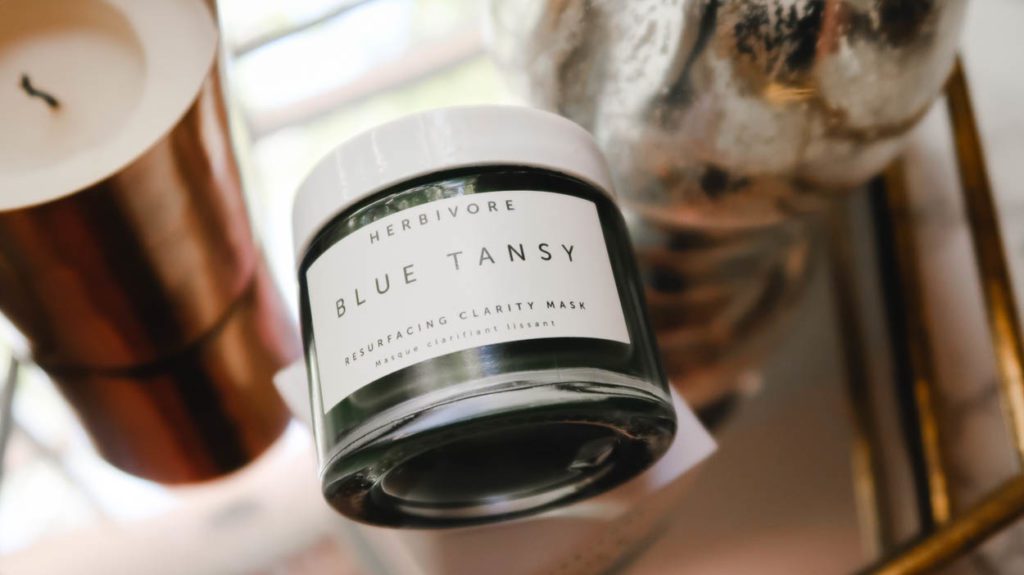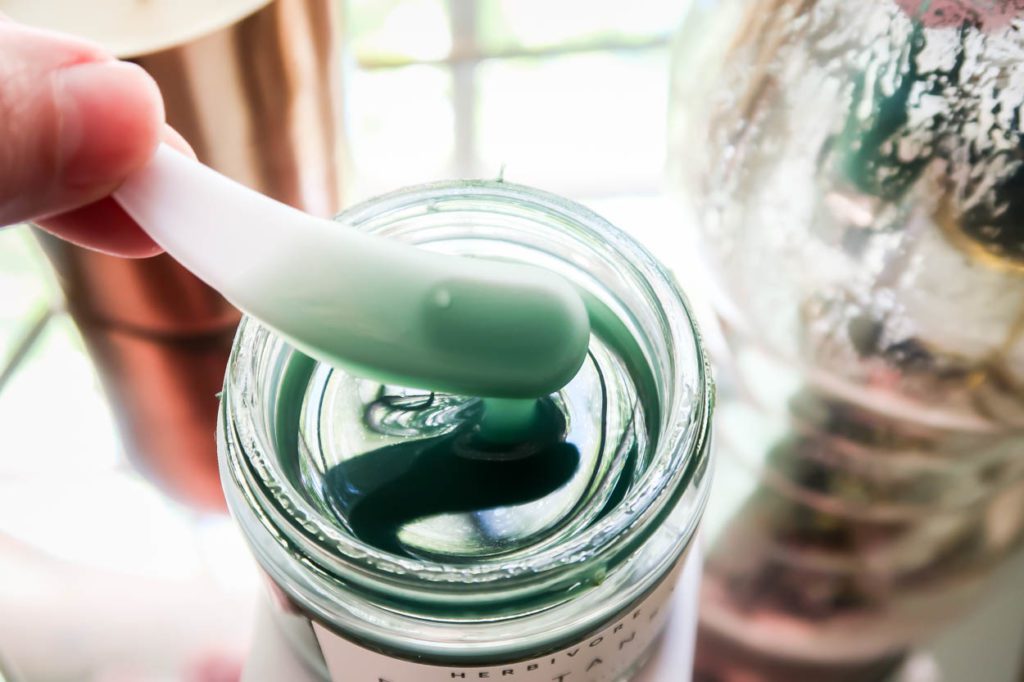 The Benefits of Blue Tansy Oil
This Herbivore Blue Tansy mask smells incredible and when I put it on, I truly find it relaxing.  My skin loved it as well.  It makes my complexion so much smoother. My pores seem smaller, and my redness has for sure decreased.
I did start using a different skin care routine that was a Coconut Oil Based Skincare so I'm not sure which one is to thank for the redness relief, BUT I have been using this mask since the day I got it and I'm 100% loving the way my skin is feeling and looking. I finished the skincare that I was trying and have still been using the mask, so I think that the mask is helping out a lot with the redness relief.
Herbivore Blue Tansy Resurfacing Clarity Mask
I plan on continuing to use the Herbivore Blue Tansy Mask because I've realized that I LOVE products with Blue Tansy! They're excellent for helping with inflammation and redness issues, which I for sure have! 
If you've been a reader of Simply Stine for a while, you'll probably remember my review of the Sunday Riley Luna Oil, which featured the Blue Tansy Oil.  I've noticed that Herbivore Botanicals Lapis Oil Balancing Facial Oil seems a lot like the Luna Oil, so this is another product that I for sure want to check out! Not only does it help with redness and soothing inflammation, but it also helps with pores and delivery fatty acids, antioxidants, and moisture to the skin. SIGN ME UP FOR THIS!
Ingredients In the Herbivore Blue Tansy Mask
Ingredients:
White Willow Bark: This is a natural BHA (Beta Hydroxy) which is high in salicylic acid and works great by helping to get rid of the top layer of skin in order to help open and unclog the pores.
Blue Tansy Oil: This is high in Azulene, which helps give the mask the blue color! This oil is a very powerful anti-inflammatory which helps reduce redness and irritated skin!
Fruit Enzymes: This mask contains AHAs (Natural Alpha Hydroxy Acids) from pineapple and papaya, that help to exfoliate and get rid of the dead skin cells so you have a smoother, softer complexion.
Aloe Leaf: This also contains Salicylic Acid that helps to unclog pores and help soothe the skin.
How To Use This Mask:
They suggest that for the first five days, that you use this mask every other day to get you the best results.  Which is what I did! After the five days, you can use this about 2-3 times a week to keep up with your results.
You need to apply a thin layer of the mask to clean skin.  You WILL feel this mask tingle and almost feel a little bit cool once it's on the skin.  This mask is very runny, so I found it best to use a mask applicator to apply. Totally up to your personal preference.  Leave the mask on for 15-20 minutes or until the mask is completely dry and then rinse with warm water.  IF YOU HAVE SENSITIVE SKIN, they advise that you leave the mask on for 5 minutes and rinse with warm water.
What I Love About Herbivore Botanicals:
Founded by Julia Wills and Alexander Kummerow in 2011 in their Seattle kitchen.
The one thing I will say that I really do love about Herbivore Botanicals is that they use the best all-natural ingredients that are plant-based, organic and even food-grade.  They put every single ingredient into their products for a reason so you don't have to worry about gross fillers or anything else you'd not want in your products.
You're getting strictly active ingredients that are good for your skin! Their oils are cold-pressed and steam distilled. There is absolutely no animal testing on their products or for their ingredients and the products are made in small batches in the USA. This is a fantastic company that I can totally support!

Shop The Post