Have you ever heard of Bib + Tuck? If not, I might have just made your day go from mediocre to stellar in a matter of seconds. This website allows you "Bib" (sell) your own items that you no longer want to keep. I think that there is no better way of passing on your fabulous clothes, shoes, jewelry and other random goodies, than to someone else who might get more use out of them than you are currently, but will still appreciate and love them just as much as you do.  Even better is that you can "Tuck" (shop) other people's items that they are "bibbing" (selling).  I got a chance to look around the website and there are some really amazing finds on this site. From vintage pieces to fabulous labels like Chanel, Kate Spade, Louis Vuitton, Celine and so many more.

It's no secret that I love everything beauty, BUT did you know that I'm also pretty crazy about fashion also?  I'll admit that I am no where close to being considered a fashion pro, BUT I do love to read a ton of fashion blogs  and I love to watch runway shows and see what's on trend for the season. I'm always amazed at the gorgeous outfits people can put together and I always try to make sure that I'm following at least one trend! One of my biggest loves in life would be jewelry. I feel like it's such an amazing way to add a little bit of your personality along with an outfit. It can also take any simple look and transform it into something very major.
Bib + Tuck was so generous that they allowed me to shop their website and I picked up two pieces of jewelry. I had a really hard time picking out just what I wanted to get, BUT these two pieces of jewelry caught my eye and what better way to make your day better than by adding some new pieces to your collection? The first item that I picked up was a Wanderlust Wish Bone Necklace w/ a Blue Turquoise Bead from Trust Jewelry. I've gotten so many compliments on this necklace. It's simple, but really unique. The second item that I picked up are the most gorgeous earrings from Statement And Pearls. They are classy and offer a touch of "wow" with the added hot pink. They are a true statement earring. Shopping was easy and everything I purchased felt like I got it for a great bargain. The items were shipped really quickly to me and I was able to track the items before they got to my home. I'll for sure be shopping on the website again!
I did "bib" an item of my own from my closet. I have been hanging on to these fabulous Rachel by Rachel Roy Purple Sequin Flats. I don't know why I just have never worn them, unlike the black pair I picked up. The process was simple and I listed my item in less than five minutes. I took several photos of my shoes, talked about the condition of my shoes and all of that and listed a price. It was really extremely simple and fast. You DO have to make sure that your item will be able to be sold. They aren't going to allow you to sell your cheap Forever 21 costume jewelry or your Target Jeans that you picked up on a whim. Bib + Tuck allows you to list your vintage, boutique finds and major labels. Honestly, I appreciate that. I like that this is a website that i know I'm getting really unique items  and not some cheap, junk store products that anyone can buy.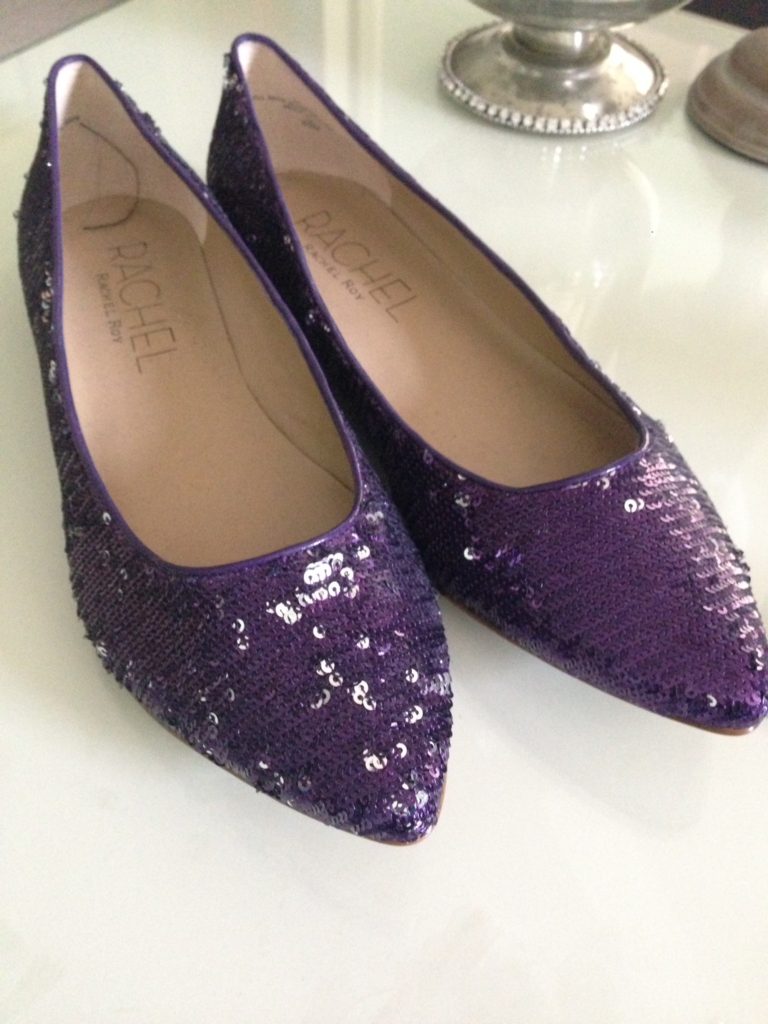 Bib + Tuck is a website you will love if you are into the latest trends, vintage finds and all of the major labels. I'm so glad that I got an opportunity to shop the website and be able to "Bib" an item of my own! We'll have to see what happens next and if the item sells. Make sure you visit their website and see what items you can "Bib + Tuck" for yourself! I put my own personal Bib + Tuck Widget below, so you can easily shop my "closet."  I'll be adding more items soon!

Follow Bib + Tuck:
This post contains items that were gifted to me by the company mentioned above.  All thoughts and opinions are my own.