There are probably a ridiculous number of products you read about that are titled "Must Have's."  I know I've suggested quite a few products myself, but truth is, this is one of those products you must own.  Seriously. Let me introduce you (or remind you) why you must own a Beauty Blender.
The Beauty Blender allows you to have a flawless, natural makeup look.  It takes your foundations and concealers and applies them effortlessly, leaving you with a natural look.  This sponge has a suede like feel and is latex free, non-allergenic and odor free.  Perfect for even the most sensitive skin types! No matter what the foundation, this sponge tackles them all and wins every single time.  Unlike brushes, that can sometimes leave you with a rather "caked on" appearance, the Beauty Blender allows you to cover imperfections, build up coverage if needed and allows you the ease of applying your foundation.  To be blunt, this product is so great, ANYONE could use this and figure it out.  That's the beauty of the Beauty Blender, it's perfect for anyone starting out with makeup and feels that they are clueless, all the way up to beauty experts.  That's why you see tons of makeup artists using these.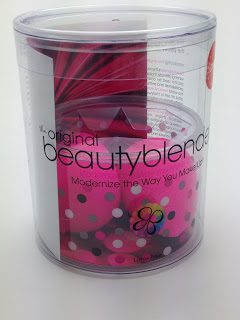 This is how my Beauty Blenders came from Birchbox!
I got 2 for $25.95
To use the Beauty Blender, run it under cool water and squeeze.  This will build up the size (2x) of your Beauty Blender.  I take mine and squeeze it on a towel to remove any excess water.  You want it to be damp, not soaking wet.  I pump my foundation onto the top of my hands and take the Beauty Blender and stipple (bounce) the product all over my face.  I can use the larger side of the sponge to apply it to areas like my cheek or forehead, and use the tip of the sponge to apply concealer to areas like my under eye or around my nose.  I sometimes use the bottom of the sponge to apply cream blushes.  This is one of those products that can be used for so many different products.  It eliminates having to use tons of brushes.  When I'm done, I rinse it using baby shampoo (only because I haven't ordered their cleanser yet, I'm going to I promise!) and squeeze any remaining water out and let air dry.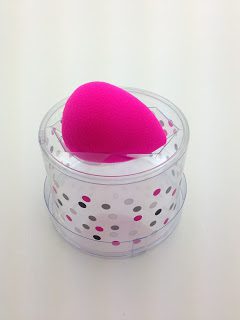 How I keep my Beauty Blender on my
Makeup Desk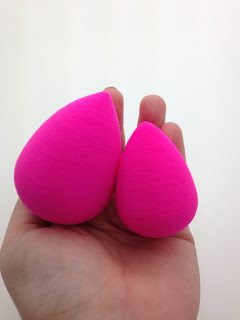 Left: Beauty Blender that is damp
Right: Dry Beauty Blender
Big Difference!!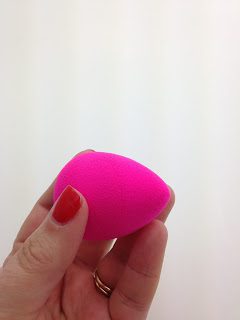 The tip of this allows you to really get into hard to reach areas like
under the eyes and around the nose!
This product is a game changer folks and I know we say that about quite a few products, but if you are going to listen to me at least once, listen now.  I ordered my Beauty Blender from Birchbox using my points and scored the double pack for only $25.00 and some change.  They can be picked up at SOME Sephora stores also (they did have them online and even have the PRO version, but everything seemed a bit more expensive online).  For more information and to order directly from Beauty Blenders website, click here.
I'd love to hear if you have used the Beauty Blender and what results you got!  Have a dupe? I'd love to hear about it because I haven't found a product that works as good as this one…..yet!