It's time for my April Favorites! I haven't done a favorites post in a long time. If I'm being honest, it's because everyone does them so often, I worry they get old.  If you do enjoy them and want me to keep up with them, leave me a comment below. I'll keep doing them more regularly if you would like!
Another reason that I didn't post any favorites posts would be because I wasn't really buying anything new. I went on this huge budget overhaul and it really stopped me from buying new products as often as I was.  I've added a couple new products to my routine and I have received some PR Samples, so I feel like now is a good time to share some of those products to you!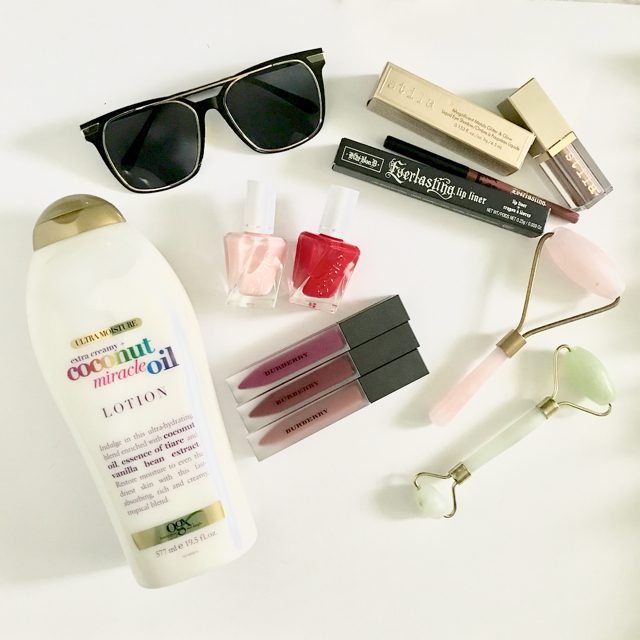 April Favorites | Simply Stine
OGX Extra Creamy Coconut Moisture Miracle Ultra Moisture Lotion
I loved the shampoo and conditioner that I was sent to try and I happened to see this lotion at Target so I picked it up.  I loved the scent, but had no idea if the lotion would work or not. Well folks, it works and this bottle is a steal at under $10.00! It's literally summer in a bottle!
*Burberry Liquid Lip Velvet (Shades Fawn, Oxblood and Bright Plum)
I have been loving these Burberry Liquid Lip Velvet matte-cream lip colors so much. They're not drying at all and they're so pigmented! They're very long-wearing and there are 14 shades available!
Argan Republic Jade Facial Massage Roller/Rose Quartz Facial Massage Roller
I want to do an entire post on these facial massage rollers, but know that I'm loving these so far.  They're very new to me and I've only used these a handful of times, but I'm excited to see how they work the longer I use them and the more often I use them.
*Kat Von D Everlasting Lip Liner In Lolita
Thanks to Influenster, I got to try this for free to review! Let's just say that besides my old standby and favorite, Charlotte Tilbury, this lip liner is incredible! It's very creamy and the color is very pigmented.  I love this color and can understand the craze behind it.  It's amazing!
Essie Gel Couture in Rock The Runway/Sheer Fantasy
I'm new to the Essie Gel Couture Polishes, but decided to pick them up when I (foolishly) had a 20% off coupon from Ulta to use. Psst..unlike Sephora, you can't use these coupons more than once so I wasted 20% off on Nail Polish.  #UGH Anyways, these polishes are nice.  I like the formula and I wore Rock The Runway recently and got about a week out of it.  For a red and for someone who types all day long, this is great! I'm pretty impressed with the formula!  You need to use the Top Coat that goes along with these!
I just recently reviewed some items from Beauty Junkees and I am so impressed! Miss my review? Click here to read it! The makeup, the makeup brushes and sponges are amazing! I can't get over how impressive the products are and especially at such an amazing price point.
My friend Vivienne opened up her online boutique, 53 Kingsley and I had to order these sunnies as soon as I saw them! They're available in numerous colors and they feel so nice! PS My Sunglasses Collection is becoming quite large.  I never knew I had a thing for sunglasses, but I guess I do. HA!
On The Fence About
Stila Magnificent Metals Glitter and Glow Liquid Eye Shadow (Smoldering Satan)
The swatch of this at Ulta was enough for me to place it in my cart in less than two seconds after I tried it.  It is gorgeous.  My problem is that there is a HUGE amount of glitter fall out from it when I use it. I don't know if I need to use a different primer or what. Any tips?!?  The color is so gorgeous I want this to work!
Pacifica Indian Coconut Nectar Hair and Body Mist
I'm still on the fence about this product.  Don't get me wrong, it smells incredible! I'm just not 100% sold on the formula of this as I feel it on my skin after I spray it.  Maybe I'm spraying too much!?!? I am not sure. I'm not going to return it, but I'm not loving it just yet.


Some of the items that were mentioned were sent to me for review purposes.  All thoughts and opinions are my own.  Items that were sent for review are marked with *