I finally sat down to talk about my April 2023 Reading List. I read four books and overall, it was a pretty good month of reading. The most anticipated book was The Happy Place by Emily Henry. She's one of my go-to authors and I couldn't wait to dig into her new book.
Did you miss my March 2023 Reading List?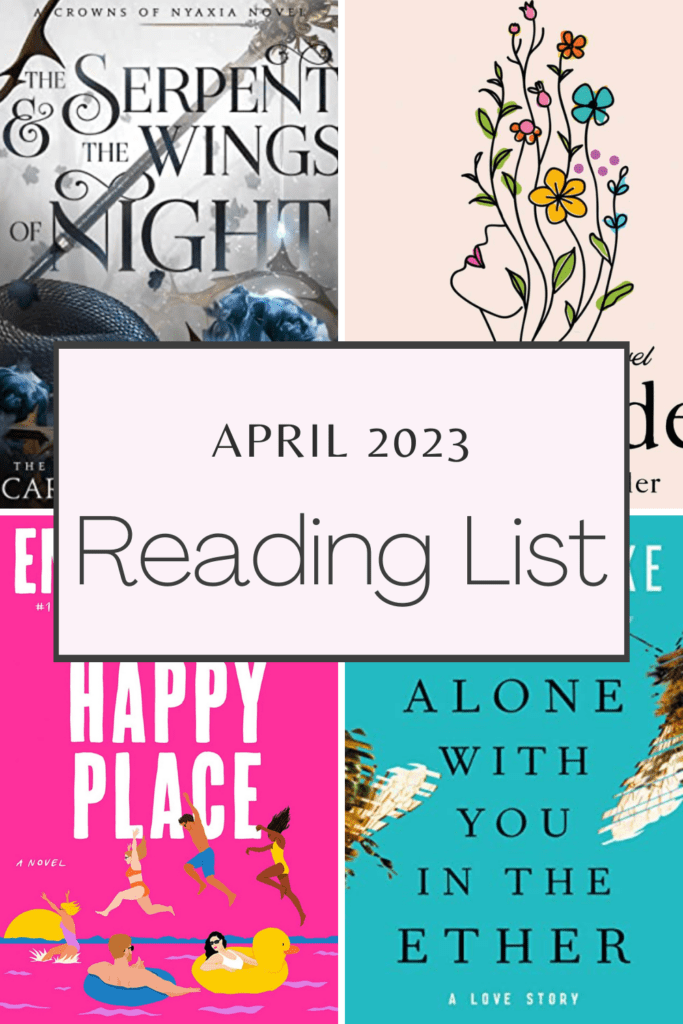 "So when people say we're alone in the ether?" "Alone in everything. In time and space, in existence, in religion."
I so wanted to love this book, but I felt like I just couldn't get into it as much as others did. This was a rather different sort of love story than most books I've read. Like it's beautifully written, but also very different. These characters are both very flawed and both have their own issues. I felt like I wasn't smart enough to understand this story?!?!
Trigger Warning: Grief, Loss of loved ones, Mental Issues, Drug use
"There are parts of our hearts we give away. Not lend, but sacrifice entirely. And there are some people to whom we give these pieces, knowing we'll never really get them back."
This story was excellent. It's about that guy that you'll do anything for, no matter what. Does he treat you like shit? Does he "forget" to return your phone calls? Does he bail on you and cancel plans last minute? Sure does and you still let him get away with it. This is a story all women should read. Heck even men, too! Rory should come with his own trigger warning. Great book. I really enjoyed listening to this audiobook!
Trigger Warning: Pregnancy, Miscarriage, Mental Health, Suicidal Thoughts, Sexual Assault, Self Harm, Emotional Abuse
"I would beg," he murmured. "For you, I would. You have fucking destroyed me, Oraya. Do you know that?"
I knew nothing about this book, other than I kept seeing everyone on Instagram and TikTok share this book. It was available on Kindle Unlimited, so I started it one day just to see what I thought. OMG. I loved it. It's a fantasy storyline that involves vampires who can fly (who rule everything) and non-vampires. It's a combination of Hunger Games and it gave me slight ACOTAR vibes.
"In every universe, it's you for me. Even if it's not me for you."

Was this my favorite Emily Henry book? No. In my opinion, Book Lovers is pretty hard to top. HOWEVER, I still really enjoyed this one. This is a definite misccomunication trope and I think that might bother some. It's just how those storylines go, so I still enjoyed it.
This was about friendships (as we age and grow apart) and a marriage that has "fallen" apart. Two people who never told their best friends they were divorcing, have to pretend to still be together on a summer vacation. You've got one bed, folks. We've got fake "dating." There's second chances. At the heart of the story is friendships and how they can be so meaningful to our life, even as things change.
Emily Henry has said that Maroon by Taylor Swift is the song for Happy Place.
Trigger Warnings: Losing a parent, Grief, Pregnancy, Drug and Alcohol use
Shop The Post