When it gets colder and the nights get darker a lot faster, I tend to want to cozy up with a blanket and a good book.  I love reading all year long, but there's something about the fall and a good book that I just love.  I made myself sit down and come up with some new book suggestions the other day because I just finished The Lying Game (pretty good!) and I didn't have a backup book. So today I thought I'd share the 5 books I want to read this fall.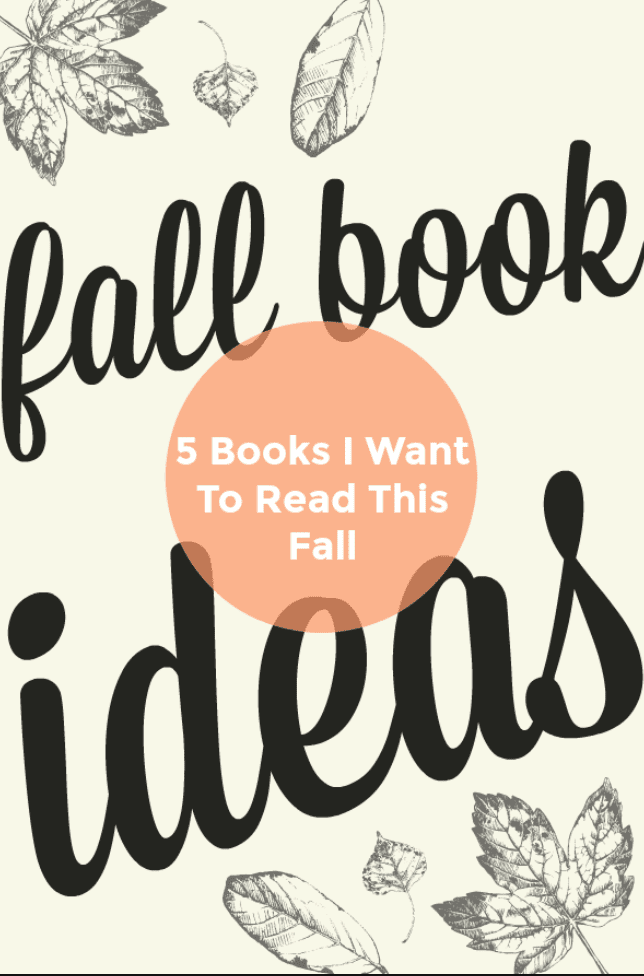 5 Books I Want To Read This Fall
From Rupi Kaur, the #1 New York Times bestselling author of milk and honey, comes her long-awaited second collection of poetry.  A vibrant and transcendent journey about growth and healing. Ancestry and honoring one's roots. Expatriation and rising up to find a home within yourself.
Divided into five chapters and illustrated by Kaur, the sun and her flowers is a journey of wilting, falling, rooting, rising, and blooming. A celebration of love in all its forms.
this is the recipe of life
*This is actually the first book I recently started and I'm loving it! If you enjoy poetry, this is an amazing read so far and I'm very impressed.
Sixteen-year-old Aza never intended to pursue the mystery of fugitive billionaire Russell Pickett, but there's a hundred thousand dollar reward at stake and her Best and Most Fearless Friend, Daisy, is eager to investigate. So together, they navigate the short distance and broad divides that separate them from Russell Pickett's son, Davis.
Aza is trying. She is trying to be a good daughter, a good friend, a good student, and maybe even a good detective, while also living within the ever-tightening spiral of her own thoughts. 
*Remember the book (or movie) The Fault In Our Stars or Paper Towns?! This is the author and this is his long-awaited release that I've been dying to read.  I'm a big fan of his work.
The remarkable memoir of resilience and redemption, and a revelatory look into a family at once deeply dysfunctional and uniquely vibrant. When sober, Jeannette's brilliant and charismatic father captured his children's imagination, teaching them physics, geology, and how to embrace life fearlessly.
*I've heard so many people rave about this book and it was recently out in the theatres, BUT I didn't want to see it until I read the book.  Yeah, yeah-I'm a little behind.  However, I'm going to read it this fall. I promise! This looks kinda sad, but I'm very intrigued.
Jodi and Todd are at a bad place in their marriage. Much is at stake, including the affluent life they lead in their beautiful waterfront condo in Chicago, as she, the killer, and he, the victim, rush haplessly toward the main event. He is a committed cheater. She lives and breathes denial. He exists in dual worlds. She likes to settle scores. He decides to play for keeps. She has nothing left to lose. Told in alternating voices, The Silent Wife is about a marriage in the throes of dissolution, a couple headed for catastrophe, concessions that can't be made, and promises that won't be kept. Expertly plotted and reminiscent of Gone Girl and These Things Hidden, The Silent Wife ensnares the reader from page one and does not let go
*I loved Gone Girl, so I think I'll enjoy this one or at least I'm hoping so!
New York socialite Caroline Ferriday has her hands full with her post at the French consulate and a new love on the horizon. But Caroline's world is forever changed when Hitler's army invades Poland in September 1939—and then sets its sights on France.
An ocean away from Caroline, Kasia Kuzmerick, a Polish teenager, senses her carefree youth disappearing as she is drawn deeper into her role as a courier for the underground resistance movement. In a tense atmosphere of watchful eyes and suspecting neighbors, one false move can have dire consequences.
For the ambitious young German doctor, Herta Oberheuser, an ad for a government medical position seems her ticket out of a desolate life. Once hired, though, she finds herself trapped in a male-dominated realm of Nazi secrets and power.
The lives of these three women are set on a collision course when the unthinkable happens and Kasia is sent to Ravensbrück, the notorious Nazi concentration camp for women. Their stories cross continents—from New York to Paris, Germany, and Poland—as Caroline and Kasia strive to bring justice to those whom history has forgotten.
*I LOVE a period piece and this just looked amazing to me.  I might read this one next!
And a Bonus Book I'm Considering………
This inspiring, exquisitely observed memoir finds hope and beauty in the face of insurmountable odds as an idealistic young neurosurgeon attempts to answer the question What makes a life worth living?
*I've heard so many amazing things about this book that I feel like I need to read it.  Have you?!? Let me know what you thought if you did.
Have you read any of the books I mentioned? If so, I'd love to know what you thought.  Also, what's a book that you're reading or you just finished that you think I should add to my reading list?!?