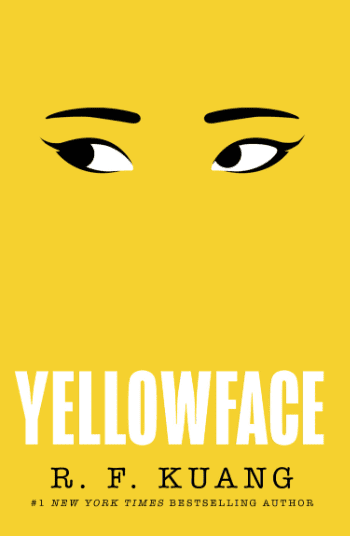 Synopsis:
Authors June Hayward and Athena Liu were supposed to be twin rising stars. But Athena's a literary darling. June Hayward is literally nobody. Who wants stories about basic white girls, June thinks.
So when June witnesses Athena's death in a freak accident, she acts on impulse: she steals Athena's just-finished masterpiece, an experimental novel about the unsung contributions of Chinese laborers during World War I.
So what if June edits Athena's novel and sends it to her agent as her own work? So what if she lets her new publisher rebrand her as Juniper Song—complete with an ambiguously ethnic author photo? Doesn't this piece of history deserve to be told, whoever the teller? That's what June claims, and the New York Times bestseller list seems to agree.
But June can't get away from Athena's shadow, and emerging evidence threatens to bring June's (stolen) success down around her. As June races to protect her secret, she discovers exactly how far she will go to keep what she thinks she deserves.
My Thoughts On Yellowface by R. F. Kuang
I really enjoyed this book and struggled with how to rate it. On one hand, I wanted to give it four stars, however, there were some issues that I had that stopped me. I might revisit those thoughts later on and see how it changes my rating.

I couldn't stop listening to this audiobook and I really loved the narration. I've read that some people didn't enjoy the narrator, but I truly enjoyed it. I found it a great way to experience this story.

Athena Lui and June are friendly. Best friends? No, but friends. They attended Yale together. Athena becomes a popular author. June, not so much. One night, Athena and June were hanging out, and Athena suddenly dies. Long story short, but June steals a piece of work that Athena was working on.

This book has so many topics: Race. Cultural appropriation. Entitlement. The behind the scenes of publishing (which seems toxic as hell) Social Media (which we know is toxic as hell) and life of an author. It also has so many unlikeable characters. So. Many.

I felt some parts dragged on a bit? The ending felt a tiny bit rushed and just sort of blah, but I still really enjoyed this story. It had so many parts that really made me think. Who deserves to tell a story?

Overall, I'd recommend this book!
Shop The Post