I'm very good about keeping up with my skincare and that includes my masks.  I have a variety that I use, depending on my skincare needs at the moment.  Right now, since it's been so hot and humid, it seems to be pretty gross.  I'm talking some breakouts and clogged pores.  Thank goodness that the folks at Leonie Skincare sent me a really awesome peel-off mask to try!  Clogged pores and blackheads watch out!
This mask has a couple ingredients in it that will really make an impact on your skin.  It has Charcoal, why it's black, which helps to absorb blackheads and other nasty impurities hiding in our skin.  Grapefruit and Lemon Peel extract also offer a good deep cleanse to the skin and Rosemary extract is included not only as an antioxidant, but for it's antimicrobial properties.  Using this mask will not only help get rid of your clogged pores and blackheads, but it will also help prevent new ones from coming back!  The box also stated that using this mask will brighten the skin, smooth and give a good deep cleanse to the skin.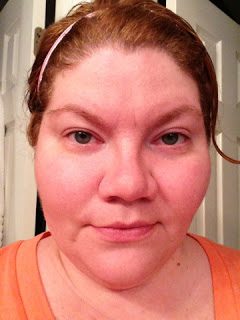 The mask left my skin not only cleaner, but
tighter and it seemed to brighten my skin.
I washed my skin and got ready for some good, deep cleaning! It's crazy how excited I get using new skincare products!!  I applied a pretty good amount to the skin (I probably could have applied more), especially concentrating on my nose and cheek area.  I tried to avoid my eyebrows and hairline, but I did get a little bit in that area.  It says to leave on at least 15-20 minutes or until the mask has dried.  I would say it took about ten minutes and the mask was dry.  Now the fun part.  Time to peel it off! I like the idea of a peel-off mask, but they can sometimes be pretty tricky to remove.  This one wasn't that bad.  I couldn't get the entire mask off in one pull, but I got pretty much all of it off in under five minutes.  Did I notice a difference in my skin? YES! There were actually some pretty gross stuff left behind when I looked at the mask, especially around my nose area.  Take a look!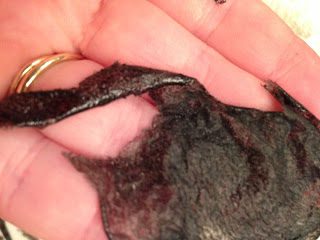 If you look at the left part of the picture, you can see small white
things that are left behind from when I peeled off the mask.
That would be all the gunk that was in my pores!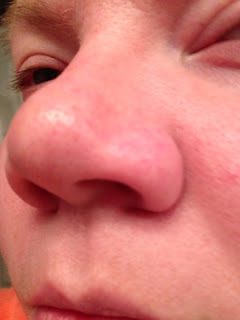 Yep, that's my nose.
After using my mask, I can see a very noticeable
difference in my blackheads and pores.  A good difference!
It didn't irritate my sensitive skin and felt pretty good while on.  It does get tight and it seemed to have a little bit of a cooling effect on my skin.  After removing the mask, my skin felt smoother and I could notice a difference in my pores for sure.  I feel like if I continue using this mask, I will be able to get a better handle on my clogged pores and blackheads.  I've used masks like this before and they have worked pretty good, BUT this mask worked great and it's a lot  cheaper than the others I have used previously.
This mask is available to purchase online, ONLY on Amazon.  For more information on this product, please click this link.  I'm super impressed with this product and plan to continue using it.  I'll do an update in about a month or so, to see how using it has improved my skin.
This mask normally retails at $28.00, but they are offering a coupon code for 25% off for four days only!!  Use code SIMPLY25 for your discount.  This offer is valid from August 7th-August 11th ONLY!!  For more information, please visit Leonie's website.  Leonie Skincare was nice enough to allow me to give a mask away! To enter, use the form below! Good luck!!
-Simply Stine
*This product was sent to me for review purposes.  All thoughts and opinions are my own. I was not paid to post this review!!*