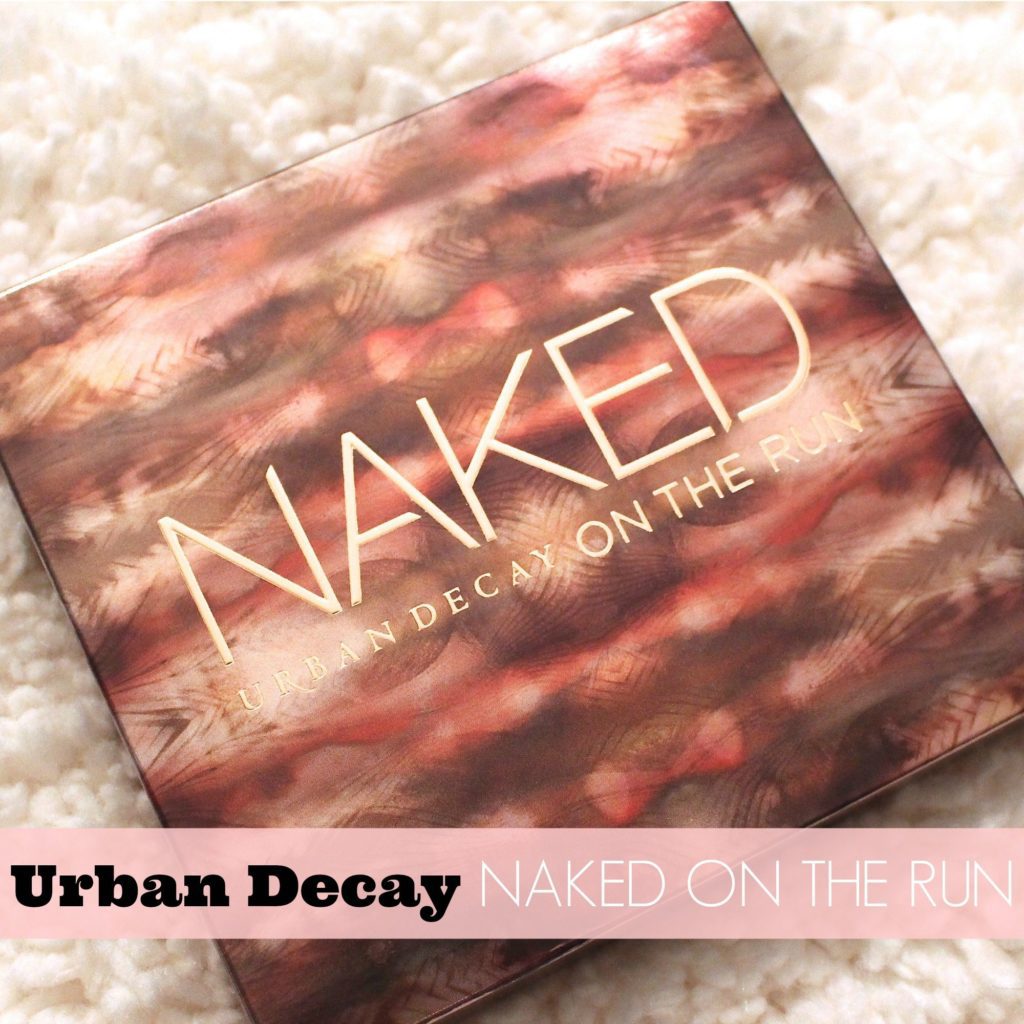 I showed a picture recently on my Facebook page of the newest palette to launch from Urban Decay.  Everyone talked about how they had either gotten it for Christmas or still really wanted it.  There was a select few who were still unsure.  I wasn't actually planning on doing a review of this palette at all.  It's been so talked about recently that I figured, do you really need to see pictures? The truth is, after I saw this palette in person, my complete view of it changed.  When it was first announced I didn't really feel the need to run out and purchase it.  I thought it looked small and was full of colors I already owned for the most part.  Then, I saw it and I realized that this palette is much larger than I thought AND the eyeshadows were all brand new colors.   So I changed my mind and I thought I'd share some of my thoughts with you guys, just incase you were on the fence like me.
The Urban Decay Naked on The Run Palette
Urban Decay Naked On The Run Palette Review & Swatches
The Urban Decay Naked On The Run Palette ($54.00) includes 6 (5 smaller sized, 1 extra large) eyeshadows that are brand new to the Urban Decay Naked lineup.  It also includes a Bronzer, Blush, full-sized (brand new color) Naked Lip Gloss (Sesso) and a travel sized 24/7 Eye Pencil (Stag) that is also a brand new color and a nice travel sized Perversion Mascara.
This palette is beautiful.  It's rose gold details and artwork are gorgeous. Plus, it has a huge full-sized mirror on the inside of the palette.   In my opinion, it's one of the most beautiful and well put together palettes that they've done recently.  Obviously if you are going to come out with a palette that is to be used for travel, you need it to stay in one piece.  This seems like it's sturdy enough for sure, but I'd always make sure it nicely packed away if you are putting it inside a suitcase for travel, because honestly, I'm not sure anything can make it through that process anymore.
If you're looking for a great assortment of colors to take with you for traveling purposes-they're in this kit.  Actually, this palette is great for everyday use as well.  However, I know myself, there are times when there are so many products and colors I want to take with me, but I just don't have the space in my luggage to take all of those.  This kit has everything I need to create a perfect day or night look.  The eyeshadows are a great combination of colors that work perfectly together or alone.  The "extra large" color, 5050,  works as a multi-tasker.  It's great for highlights under the brow and for the rest of the face.  The Bronzer and Blush are nice universal shades for all skin tones and the eyeliner is a nice deep, brown color that again, will work for most looks that you are doing.  The one thing that impressed me the most about this palette is the ability to take out the liner, mascara and lip gloss and change it up and include whatever you'd like.  I love that it wasn't just a small amount of lipgloss, but instead a full tube.
Urban Decay really created a perfect palette for "On The Run" but it's also a palette that anyone can use daily.  It's sized just right and includes colors that are completely wearable and not just taking up space.  I think at $54.00, it's priced fairly. You're getting nice sized eyeshadows, a full-sized lip gloss, bronzer and blush and a deluxe sample size of eyeliner and mascara. So if you're a fan of the Naked products, you'll still enjoy this product without feeling like it' something you already own.
The Urban Decay Naked on The Run Palette PROS and CONS:
PROS:
-Great product for the price!
-Contains colors that are wearable daily!
-Packaging is nice sized.  Not too big, not too small or too heavy and the mirror is a huge plus!
-I like that they included brand new shades in this palette and didn't do repeats!
CONS:
-I wish there was a brush included. Not all brushes included are the best, but they could have spoiled us with one of their dual-ended brushes. Not a huge deal, but it would have been nice.
-A select few of the colors are a little bit lacking in pigmentation than the others.  Not horrible, but I did want to mention it. Always use a primer if you have issues like that!
-There is quite a bit of fallout when applying certain shades.  Be sure to use a shadow shield or a tissue to make sure it doesn't get all over your face when applying.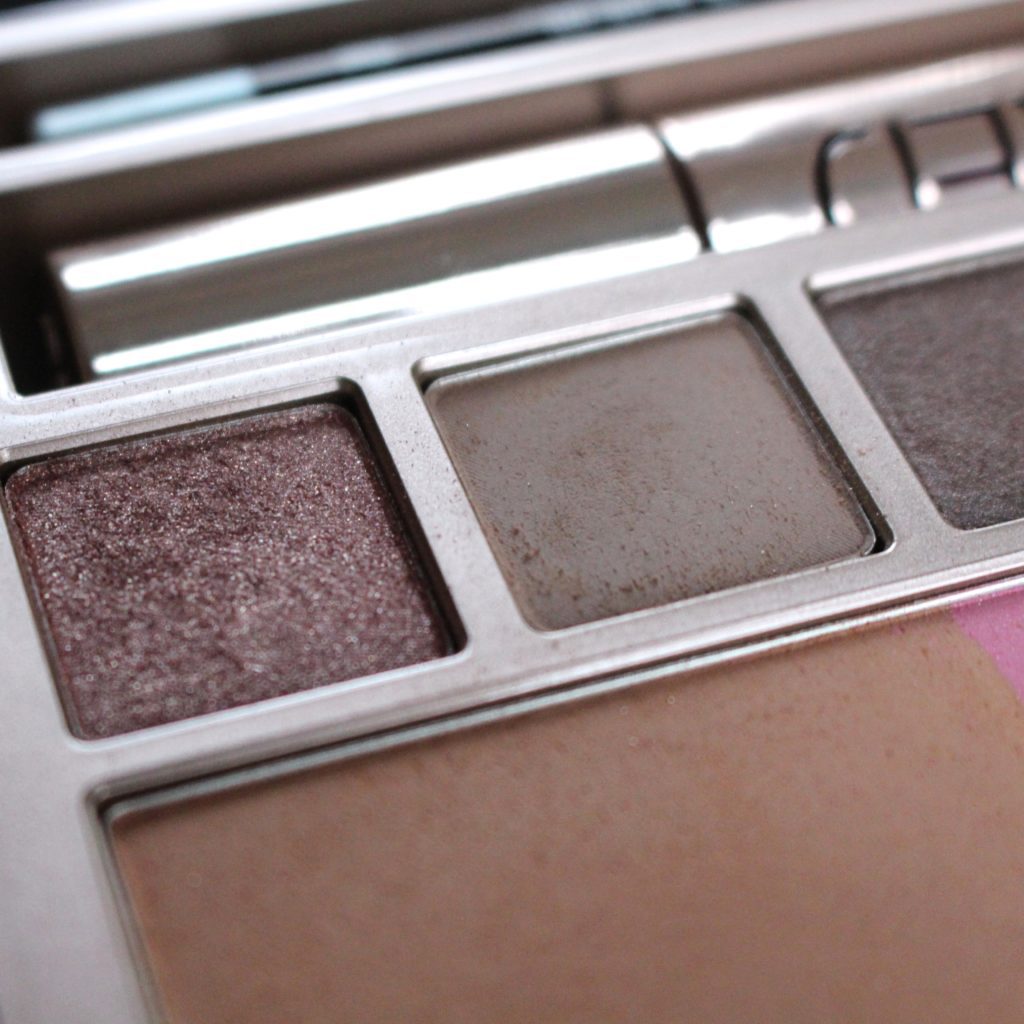 Products mentioned in this post were purchased by Simply Stine. All thoughts and opinions are my own. Affiliate links are included.