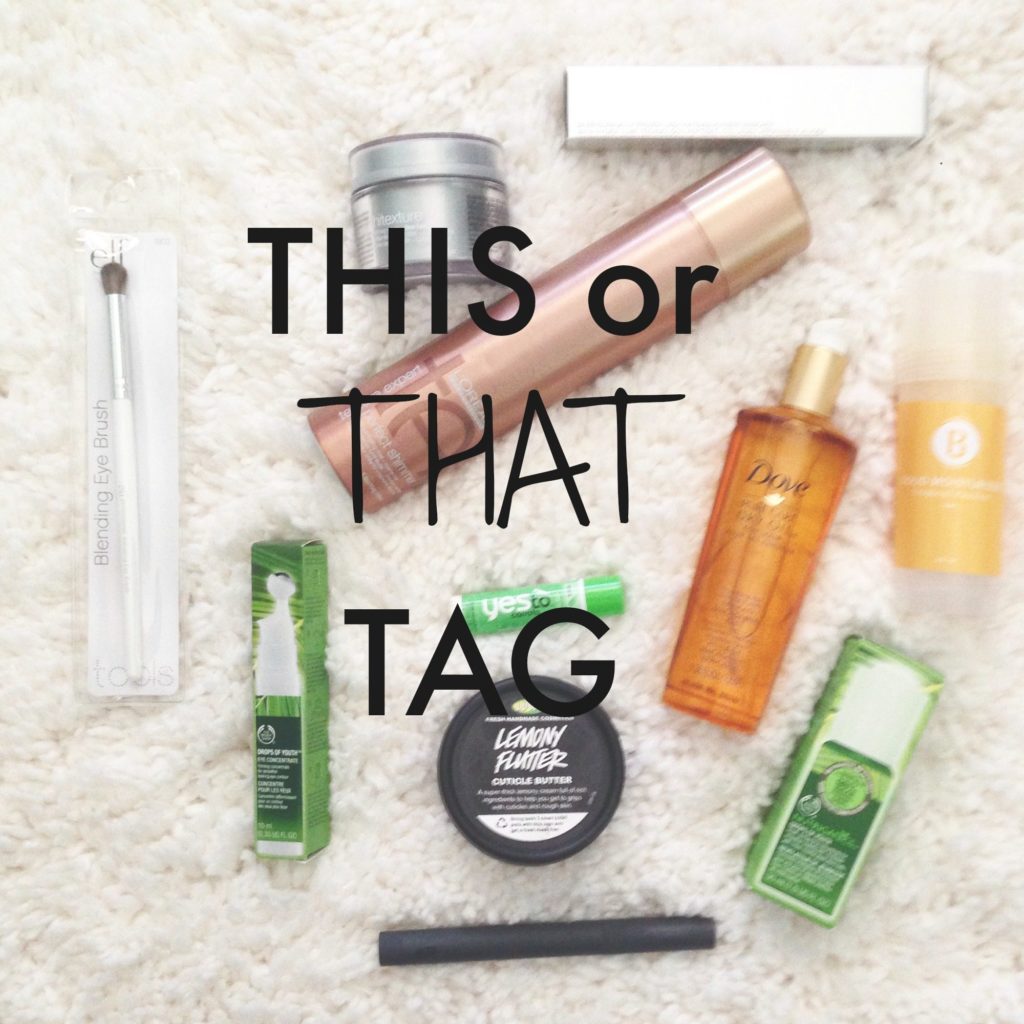 You guys.  It's December 1st!!! That makes me completely excited and scared to death at the same time! Where has the time gone and how is it possible I've got another birthday coming up this month.  Time has been going by so quickly!!  Anyways. I hope you guys had a great Thanksgiving!
Today I've got a Tag post for you!  I was tagged by my friend Vivienne of Jolie Pagaille.  If you haven't checked out her blog- DO IT!  She has some fabulous posts including her thoughts and experiences on the dating world.  She's a riot!  So let's go ahead and get into the tag, shall we!
This or That
The rules of the "This of That' post is where you can learn a little about me and I plan to tag a few of you as well.
This or That Tag Rules:
State who tagged you (provide link) Answer all the questions
Select one 'This or That' question for all your subbies to answer
Tag people ( up to 4) to answer ALL the this or that questions on their blogs (provide links)…
Bloggers feel free to do this post on your own if I don't tag you and readers, feel free to comment and share as well!
Tagged Blogs
Here are the blogs I tagged.
Ricci from Imperfectly Ricci.  I adore this blog and always make sure to read it when I need a good laugh or a good TV Show recommendation!
Gillian from PrettyTrippy.  Another Atlanta Blogger who has a fabulous blog and shares loads of beauty goodies that I drool over!  Plus, she is funny as hell!
I hope that you'll take part in this tag!!
Question for all my readers to answer #2
[line]
Questions
Beauty
1.  Blush or Bronzer?  Blush.  I like a little bit of color to my cheeks and I can skip bronzers if needed.
***2. Eyeliner or Mascara? Wow.  I'm going to go with mascara, but in a perfect world I'd have both.  I need all the help I can get with my barely there lashes and sometimes when you just put on eyeliner and forget your mascara-it looks odd.
3. Foundation or Concealer? Foundation because I can cheat and use it like concealer if needed! 
4. Lipgloss or Lipstick? I'd have to say lipstick.  I'm a lipstick girl.
5. Neutral or color Shadow? If you were to peek into my makeup drawers you'd ask me "how many nude palettes do you need?!?!?" A LOT! I'm more neutral, but I do like a pop of color!
6. Sponges or Brushes? So hard because I love the beauty blender sponge, but I'd have to go with brushes.  I need to make sure I'm blending like crazy, ha!
Nails
7. OPI or China Glaze? OPI!
8. Acrylic or Natural? Just say no to acrylics.  Natural is the way to go!
9. Long or Short? Short! I can't handle long nails.
10. Brights, Darks, or Neutrals? Depends on the season, but probably darks.  I love the way the dark polish looks against my skin.
Body
11. Perfumes or Mists? Perfumes. They tend to last longer on me.
12. Lotion or Body Butter? Body Butter! I apply it right out of the shower and I'm soft all day!
13. Body Wash or Soap? Body Wash for the win!  Give me a bottle of Dove and I'm a happy girl!
14. Wax or Shave? Waxing is so much easier and lasts longer!
Fashion
15. Jeans or Joggers? Jeans
16. Skirts or Dresses? Dresses!
17. Stripes or Checkers? Stripes! I'm actually wearing black and white stripes now.
18. Flip Flops or Sandals? Flip Flops!
19. Boots or Stilettos? Stilettos! If I had to depend on riding a pair of boots to fit over my calves, I'd be in trouble! Anyone else have that issue??
Hair
20. Curly or Straight? Since I have short hair, I have to go with straight!
21. Long or Short? I'm rocking short hair, but I do love a nice long hair style!
22. Bun or Ponytail? Ponytail!
23. Light or Dark? Can I say Ombre?!? Umm dark right now for Fall/Winter.
24. Hair Spray or Gel? Hair spray.
Random
25. Rain or Shine? I love a good rainy day!
26. Summer or Winter? I really like both!  I don't have to deal with winters with a lot of snow anymore, so I'm going to say winter!
27. Autumn or Spring? Autumn. One of my favorite times of the year! So beautiful outside!
28. Chocolate or Vanilla? Chocolate!!
29. Fashion or Beauty? Wow! This is tough.  I adore both, but I'm more passionate about beauty and have more experience with it.  I do love and adore Fashion though!
30. Leather or Sequins? 100% Sequins!
This was fun! I can't wait to see what you guys answer!
I'll be back tomorrow with a new post on some fabulous skincare products I'm loving and a Giveaway!! Stay Tuned!
[line]