I'm sure most of you who read my blog or watch my YouTube Channel know that I LOVE  LUSH bath bombs.  They have a fantastic assortment of bath goodies to choose from,  but did you also know that they have skincare as well?  I'm talking cleansers, masks, moisturizers, toners and so much more!  I'm actually surprised that a lot of people who haven't tried any of their skincare products. They're good, people!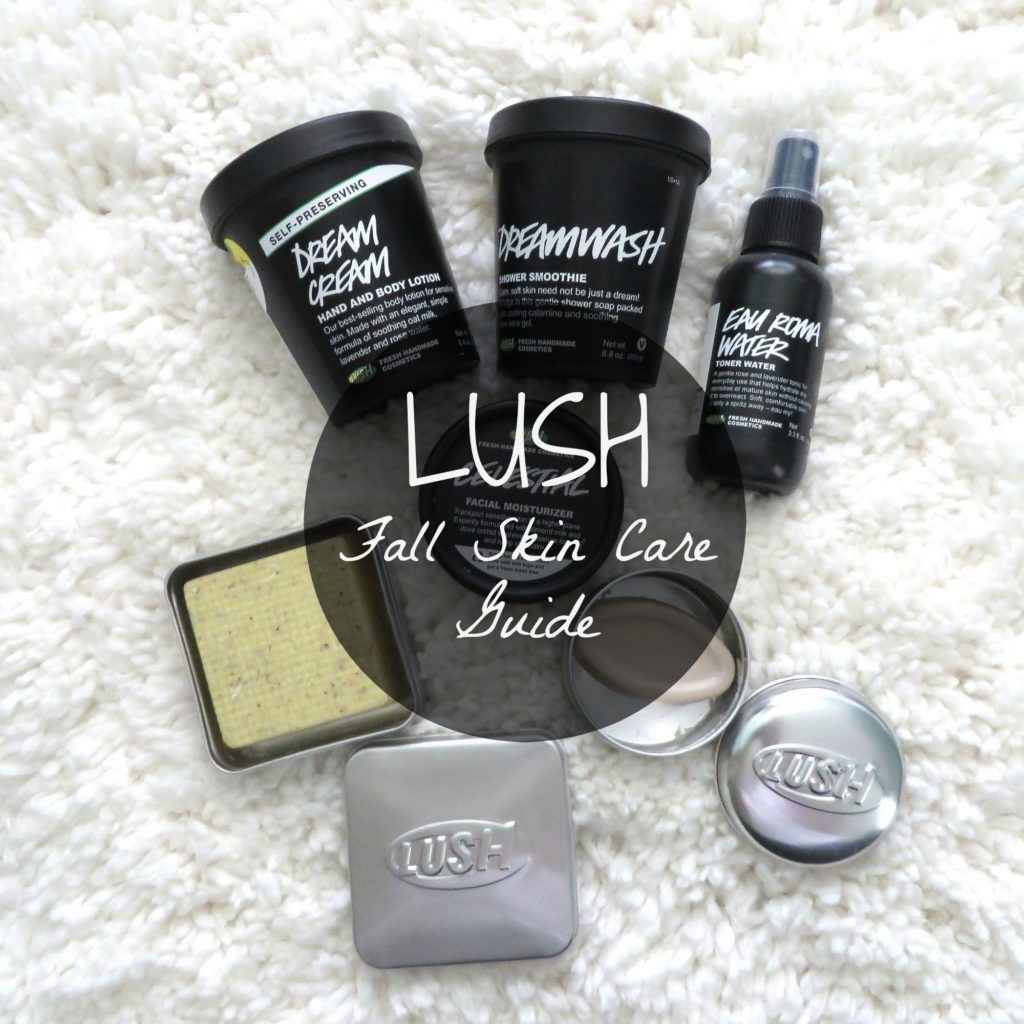 My Fall Skincare Guide featuring LUSH Cosmetics
1.  Full of Grace Serum (Moisturizing Bar) $14.95
This is probably one of my favorite LUSH Skincare products ever.  It smells heavenly and it's just such a unique concept.  It's a serum/solid moisturizing bar, that you rub between your hands to warm up the product and apply to the skin.  It smells so good!!  Plus, it makes a BIG difference in my skincare.  When I use this product, it actually makes my face feel so much softer and much more soothed. If you suffer from dry patches or places of sensitivity-try using this! It's helped my skin be flake-free! This is a solid bar, so I keep this inside one of the LUSH Cosmetics small tins.  It's perfect for travel as well! Just make sure you don't leave anywhere where it is exposed to the sun because this will melt!
Ingredients:
Murumuru Butter (Astrocaryum murumuru)  , Calamine Powder  , Cupuacu Butter (Theobroma Grandiflorum)  ,Fresh Rose Infusion (Rosa centifolia)  , Organic Almond Oil (Prunus dulcis)  , Perfume  , Fresh Portobello Mushrooms (Agaricus bisporus)  ,Chamomile Blue Oil (Matricaria Chamomilla)  , Rose Oil (Rosa centifolia)  , Tagetes Oil (Tagetes minuta)  ,*Eugenol  , *Geraniol  , *Benzyl Benzoate  , *Citronellol , *Farnesol  , *Limonene  , *Linalool
Our solid moisturizing serum is packed full of hydrating tropical butters, calming chamomile and antioxidant mushroom extract to keep your skin in fantastic condition, all year round. Easily absorbed by the skin, Full of Grace creates a soothing treatment for the face. This preservative-free bar is a staple product; it's the kind of treatment you should give your skin to maintain its elasticity, moisture and glow. -LUSH Cosmetics 
2.  Buffy Body Butter $11.95-$22.95
This is a body care product that is another favorite of mine.  It's basically a moisturizer/exfoliating product in one.  It features ground rice, almonds and beans to exfoliate and it also has cocoa and shea butters to help moisturize the skin.  So I love that it's doing a two-in-one type thing.  I use this all of my body and it keeps my skin wonderfully moisturized and smooth.  I use this in the shower and just apply it to the skin in circular movements, very gently.  Again, since this is a sold bar, I keep this inside a LUSH Cosmetics tin.  Also, don't leave in direct sunlight because this will melt!
Ingredients:
Cocoa Butter (Theobroma cacao)  , Shea Butter (Butyrospermum parkii)  , Ground Rice (Oryza sativa)  ,Ground Almonds (Prunus dulcis)  , Ground Aduki Beans (Phaseolus)  , Fragrance  , Lavender Oil (Lavandula hybrida)  , Lemon Oil (Citrus limonum)  ,*Citral  , *Limonene  , *Linalool
We add ground rice, almonds and beans to Buffy to act as exfoliants; the rough textures eliminate lumps and bumps and sloughs away dry skin cells to reveal brighter, fresher looking skin. Rinse off the exfoliating bits and pat yourself dry. There's no need for body lotion after a Buffy slaying session, because the cocoa and shea butters keep your skin beautifully smooth, moisturized and soft to the touch. -LUSH Cosmetics
3.  Celestial Facial Moisturizer $24.95
When the Fall/Winter season is here, my skin gets so red and irritated.  It flakes, it stings and burns.  It's not pleasant.  Since I'm also sensitive to a lot of skincare products, I have a hard time finding a moisturizer that works nicely with my combination skin.  Since using this Celestial Facial Moisturizer from LUSH Cosmetics, I have had "flawless" skin.  Someone actually told me that recently, so hey, I'm going with it!  In all honesty, my skin has been flake-free and so much less irritated and red than it usually is. I apply this after I tone my skin and I'm ready to go!  It's great for under makeup!
Ingredients:
Vanilla Water (Vanilla planifolia)  , Almond Oil (Prunus dulcis)  , Almond Milk (Prunus dulcis)  , Glycerine  , Fair Trade Cocoa Butter (Theobroma cacao)  , Fresh Dove Orchid Extract (Dendrobium)  , Cetearyl Alcohol  ,Stearic Acid  , *Anise Alcohol  , Triethanolamine  ,Methylparaben  , Propylparaben
Having sensitive skin can be incredibly frustrating (even painful!), which is why we invented our most gentle moisturizer, Celestial. With its creamy cocoa butter base, Celestial effectively moisturizes without irritating ingredients like citrus oils or alcohol. We blend vanilla water, to help the skin retain its moisture, with hydrating almond milk and fresh dove orchid extract to keep delicate skin in soft, glowing condition. Celestial also doubles as a fantastically softening night cream for all skin types. -LUSH Cosmetics
4. Eau Roma Water $9.95-$21.95
I don't always use a toner, but when I do, this is one of the best that I use.  It has Lavender and Rose Oils which are so, so good for the skin.  Rose Oil is nourishing to my skin and Lavender Oil helps to keep the skin supple and produce the correct amount of Sebum (Oil).  So even though my skin might be super dry and irritated in some areas, the other places on my face are still oily.  This toner helps to balance all of that out.  I use it daily and love it!  Travel? This is an excellent toner to use when flying to keep your skin hydrated!
Ingredients:
Lavender Water (Lavendula hybrida)  , Rose Water (Rosa centifolia)  , *Citronellol  , *Geraniol  , *Limonene , *Linalool  , Fragrance  , Methylparaben 
Dry, sensitive or mature needs a gentle touch. In a world of "technology" loaded cosmetics, using a toner with only two active ingredients may seem unusual. But at LUSH, we believe in using effective ingredients instead of filler. Our most moisturizing toner, Eau Roma relies on the King and Queen of the essential oils world, rose and lavender. Both oils have been used for thousands of years to treat dryness, redness or irritation. Rose is particularly nourishing and cooling, while lavender helps your skin produce the right amount sebum (oil) to keep it suppler. Simplicity at its best. -LUSH Cosmetics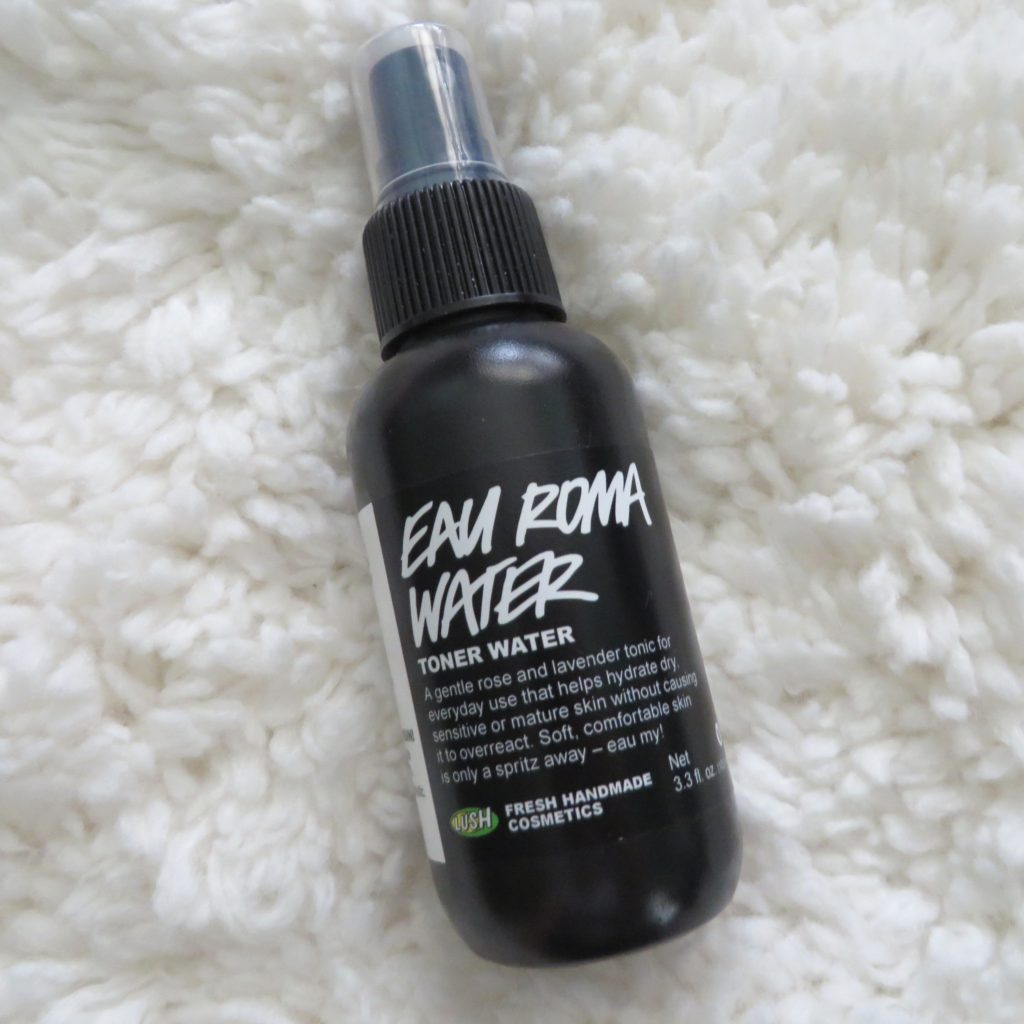 5.  Dream Cream Hand and Body Lotion (Self-Preserving) $26.95
Close your eyes and imagine breathing in Oat Milk, Lavender, Rose Water and Chamomile.  Now add Olive Oil and Cocoa Butter and a few other ingredients and you've got yourself Dream Cream.  This is my second favorite LUSH Lotion-Karma will always be my first love, ha! This really is a Dream Cream because it's the best thing I could ask for!  It's also preservative-free!  If you're experiencing dry skin and rough patches give this lotion a try!  A little bit goes a long way!! I like to use this one on my hands because it's so moisturizing.  I will note that they will feel a little bit greasy for just a bit until the product settles into the skin.  You're left with super soft hands!!
Ingredients:
Oat Milk (Avena sativa) , Organic Extra Virgin Olive Oil (Olea europaea) , Rose Water (Rosa centifolia) , Glycerine , Fair Trade Organic Cocoa Butter (Theobroma Cacao) , Stearic Acid , Triethanolamine , Organic Rose Absolute (Rosa Damascena) , Chamomile Blue Oil (Matricaria Chamomilla) , Tea Tree Oil (Melaleuca alternifolia) , Lavender Oil (Lavandula augustifolia) , Cetearyl Alcohol , Fragrance , Tincture of Benzoin (Styrax benzoin) , *Benzyl Benzoate , *Citronellol , *Geraniol , *Limonene , *Linalool
Dream Cream contains every ingredient nature makes for soothing sore skin! One of our proudest achievements, we love this lotion because it makes people happy. The calming blend of oat milk, lavender and chamomile goes to work soothing sensitive skin. Olive oil and cocoa butter are incredibly effective for dry or chapped skin, and are especially gentle for even the most sensitive skin.. Plus, this formula has been expertly rebalanced, so there's no need for us to add any synthetic preservatives– it's completely self-preserving! -LUSH Cosmetics
6.  Dreamwash Shower Smoothie $22.95
Dreamwash isn't a soap and it's not a shower gel.  Confused yet?  If you suffer from dry, irritated skin this is a great product for you because it's very low in soap content.  This product will NOT foam up a lot and that's because there are more moisturizing ingredients in this than more soapy type ingredients.  Trust me it's fantastic.  I get in the shower and scoop out a bit and rub it all over!  It smells good and my body is left super soft.  Remember that Dream Cream I mentioned above?  These two work PERFECTLY together.  So after I get out of the shower, I'll apply the Dream Cream, still slightly damp and let all the goodness soak in.  If you haven't tried a shower smoothie before, I suggest you get yourself one!
Ingredients:
Calamine Powder  , Water (Aqua)  , Organic Aloe Vera (Aloe barbadensis)  , Rapeseed Oil  , Coconut Oil (Brassica napus; Cocos nucifera)  , Glycerine  ,Sodium Stearate  , Sodium Hydroxide  , Rose Absolute (Rosa centifolia)  , Chamomile Oil (Anthemis nobilis)  ,Tea Tree Oil (Melaleuca alternifolia)  , Lavender Oil (Lavandula hybrida)  , Sodium Chloride  , EDTA  ,Tetrasodium Etidronate  , *Linalool  , Perfume
We know how difficult it can be to find products for troubled, and easily irritated skin. That's why we've spent years creating, and perfecting our gentle and skin calming Dream Wash. We've put all of the most soothing ingredients we could find – aloe vera, lavender, rose, tea tree, calamine and chamomile and blended them into one creamy shower smoothie so you can cleanse and lavish your skin with all of the care it deserves. Hop in the shower and wash your cares away. It's wonderful, and we're not just saying that because we made it, we promise! -LUSH Cosmetics
Those are just a few of the products I really enjoy using this time of year from LUSH Cosmetics.  I like to keep my routines simple, but also make sure that I'm using products that are doing their job!  These products from LUSH are really making my skin feel fantastic and I'm A-OK with not having to deal with my normal sensitivity issues anymore!  I'm also a fan of their Fresh-Face Masks.  You have to go to an actual LUSH location to purchase them, but they are worth the trip! Do you use any LUSH skincare products? Let me know what you love!! Be on the lookout for some of my favorite LUSH Christmas gifts that I'll be sharing with you soon!

This post contains products that were sent to me for review.  All thoughts and opinions are my own.