Let me introduce you to the beautiful Urban Decay Naked 3 Palette. As soon as I heard the rumor about this palette, I got beyond excited. Then, finally, Urban Decay confirmed that there was going to be a new member of the Naked family. YES! So I made sure I ordered it as soon as it was released. I've had it for about a week now and let me tell you, it's GORGEOUS! Possibly even more beautiful that I thought it would be. Let's take a look!!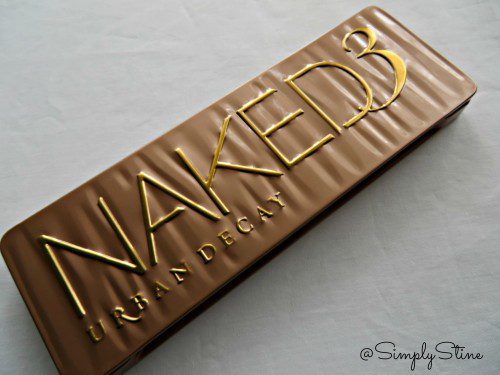 As far as the case, it's very similar to the Urban Decay Naked 2 Palette and it comes with a long mirror on the inside. There are some "ripple" like effects on the case along with the name. Inside, there is a dual sided brush that is a pretty good brush (same as the one in the Naked 2). This case seems to open and close much easier than my Naked 2 Palette does. I love the rose gold packaging and overall, the packaging (case) of the palette really impressed me. I love that I can travel with this palette and not have to worry about it breaking because the eyeshadows are pretty protected.

There are 12 brand new colors in this palette. There are 3 matte colors and the rest are a combination of shimmer or metallic colors. If you are familiar with Urban Decay, you will know that they are always featuring shimmer/frost colors in their palettes. I love that there are at least 3 matte colors in this one. The shadows in this palette are gorgeous rose toned colors that start off lighter and work their way up to the darker colors. The fall out on the eyeshadows is worse with some of the colors than others. Nothing too bad, but it is noticeable. As far as pigmentation, they all pretty much impressed me! They are smooth, creamy and apply fantastically. Urban Decay doesn't normally disappoint when it comes to pigmentation.
Here is a description of the colors from Urban Decay's website:
Strange (pale neutral pink matte-satin), Dust (pale metallic pink shimmer w/iridescent micro-glitter)
Burnout (light pinky-peach satin), Limit (light dusty rose matte)
Buzz (metallic rose shimmer w/silver micro-glitter)
Trick (light metallic pinky-copper shimmer w/tonal micro-sparkle)
Nooner (medium pinky-brown matte), Liar (medium metallic mauve shimmer)
Factory (pinky-brown satin)
Mugshot (metallic taupe shimmer w/slight pink shift)
Darkside (deep taupe-mauve satin) and Blackheart (smoky black matte w/rosy red micro-sparkle)
Overall, this is a lovely addition to the Naked family. The rosy colors impressed me and I can see myself using this palette a lot! When I first saw this palette I knew I had to own it, but after seeing it in person and actually using it, it's a must have. Yes, this palette did cost me $52.00 and I realize that is a lot of money, but these palettes are made to last and the colors are ones I will reach for over and over again. Plus, all colors in this palette are brand new! That means no repeats!! This palette is still sold out online right now and that is the only way you can purchase this palette. So, hang in there and know that there will be more and as soon as I find out it's available, I'll let you guys know! I'm guessing this will be available in stores, hopefully, by December/January. I'd love to know if you were able to get one and if you did, what Naked Palette has been your favorite? Do you get irritated by the hype or does it make you want one that more?
For more information and to purchase online