Recently, ShopStyle asked several bloggers to pull items from their closet, to showcase their personal style for an upcoming campaign they are doing. They are launching the "We Shop Style" campaign and wanted bloggers to put together a "lay down" look featuring what we thought was on trend, plus some of our favorite items and accessories. Here's what I chose!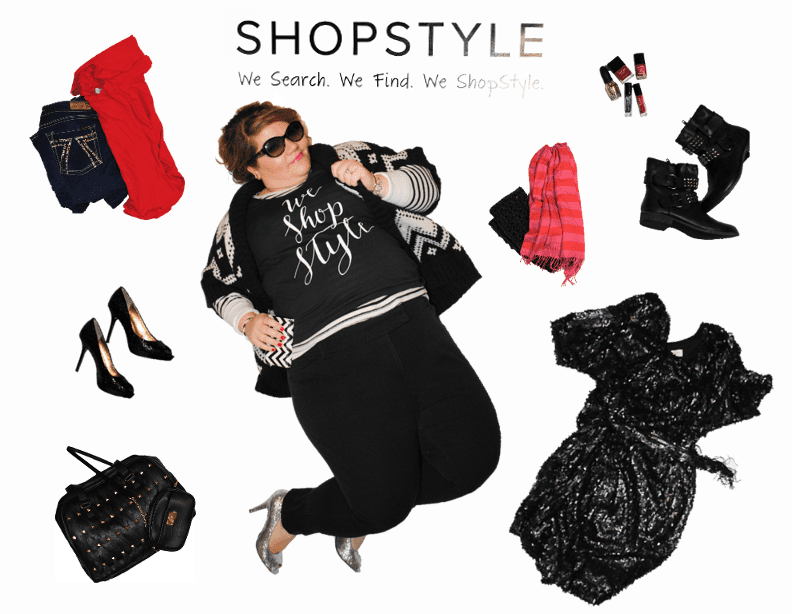 Featured Items:
I love to be comfortable and these skinny jeans are just that! I can dress them up or down and they are a staple in my closet. The Bobi T-Shirt was a bit of a splurge for me, but they fit perfectly and come down a little bit lower on me. Super soft and cozy and red is the perfect color for this time of year.
*Bueno Black Bag and Smaller Black Bag with Gold Chain Detail from Forever 21
These bags were so cheap, it's crazy. The Bueno Bag is big enough to use as weekend bag and I love the gold stud details. The Crossbody bag with Gold Chain was like $3.00 a while ago at Forever 21. I get compliments on it all the time.
*Jessica Simpson Sequin Dress (Older, not available, but I found this dress using ShopStyle and love it!
I love to have a "fancy" dress available because you never know when you're going to be dancing the night away around the holiday's or find yourself at a fancy dinner party. Black is an easy color and I love the sequins.
*Chanel, Butter, Julep and Sephora Nail Polish (assorted red, silver and golds)
I have to have my nails ready at all times! The red, gold, and silver are the colors I reach for during this time of year.
*Gap Scarf and Handmade Scarf from my mom (purple and sequins) *My Scarf is no longer available, but if you click the link, you will find several other versions available.
I love having on a simple shirt and adding a pop of color with a scarf.  My mom made me the purple one featured above and I wear it all the time. The Gap scarf is another one I reach for. It's colorful and keeps me warm!
*Mossimo Black Studded Boots (Again, mine aren't available, but ShopStyle had several other options to choose from)
I love the details on these boots. They are super comfortable and can take an average outfit up a notch! I love to wear with skinny jeans or with a cute skirt or dress. The studs just make me feel a little edgy!
*Sequin Black Heels
Black heels are something every woman should own a pair of.  I loved these and the sequins add a little something special. Perfect for jeans or for dressing up!
What I'm Wearing:
Older Express Sweater ( I love this sweater because its a bold patter, but so easy to wear so many different ways)
Old Navy Striped Shirt (I'm still in love with stripes, I can't help myself)
Mossimo Ankle Pants (Perfect for casual or dressy)
Kate Spade Rose Gold Bow Bracelet (link is a similar one on ShopStyle
J.Crew Factory Bracelet
Kate Spade Rose Gold Crystal Earrings
Target iPhone/Wallet Clutch (holds my phone and my credit cards/money)
Nina Silver Heels (similar to these below I found on ShopStyle)
Coach Sunglasses
My looks are casual and comfortable, but I'm not afraid to step it up for an awesome night out.  I like to mix up several "themes" to create my own look. I like to be comfortable, but classy, even when I'm wearing jeans and a t-shirt. It's so simple to step up even the most simple of outfits, by adding a blazer or a cute sweater with a bolder print. Have one item on you that really pops out and completes your look. That's my best advice! Also, heels and sequins are never a bad thing!
If you haven't shopped on ShopStyle, you must! It will be your new best friend. Think google, but for all beauty and fashion related searches! It will find items you've seen or know of, but don't know where to look for. It's a fantastic site and I use it all the time. Give it a try!
I was compensated for this post. All items featured are my own.