Paid post, sponsored by QVC! Tatcha, a brand that has a cult-following in the beauty community, is being featured on QVC today! If you aren't familiar with Tatcha, let me give you a little bit of background on what makes this brand so special. Tatcha's skincare products are inspired by centuries old Japanese skincare rituals and consist of superfoods found in the Geisha beauty rituals: Algae, Green Tea, and Rice. They are powered with tradition.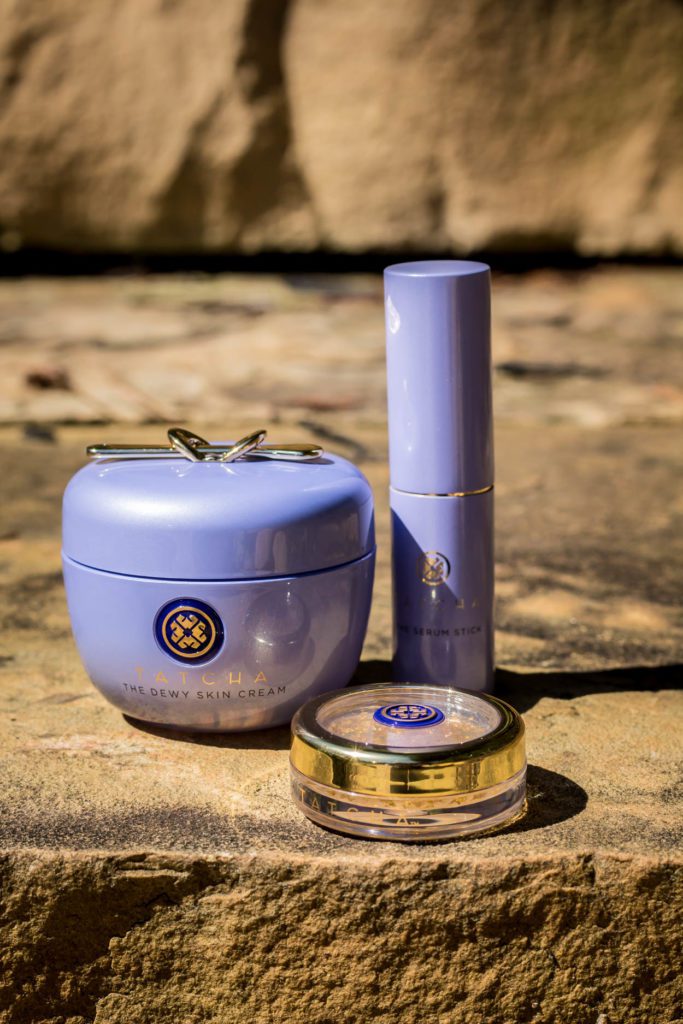 The brand was started by Vicky Tsai, a woman who was attending Harvard Business School and interning at a beauty brand, found herself dealing with skin issues. She traveled back to Japan and the rest is history! Her products are all about rituals: Purify by using a cleansing oil, Polish by using an exfoliant, Plump by using an essence, and finally you Nourish by using a moisturizer. They also believe that less is more when it comes to skincare.
The Dewy Skin Cream Serum Stick and Lip Balm 3-Piece Set is a great way to experience this phenomenal skincare brand at a fantastic price. If you purchased these three items separately, you'd pay over $140.00. Today on QVC, they're only $79.00. If you're in the market for dewy, hydrated, and plump skin- you need to experience this set from Tatcha. It's luxury skincare at its finest.
TATCHA Dewy Skin Cream Serum Stick & Lip Balm 3-Piece Kit
I want to break down this 3-piece set from TATCHA that's being featured on QVC today. This set includes 3 of TATCHA's best-selling products. It's perfect for anyone who wants to reduce the look of fine lines and wrinkles and also those who want a more hydrated, plump complexion.
I also can't stress enough about the price point; it's a steal! If you purchased these products separately, they would be over $140.00. You're getting these three products for $79.00! Essentially, that's just a little bit more than the price of the moisturizer alone. It's a great way to try these products and QVC always has a no hassle return policy.
TATCHA Dewy Skin Cream
This hydrating skin cream is thick and beautiful. A small pearl-sized amount goes a long way to hydrate your face and neck. It's a non-irritating formula that features Hyaluronic Acid which will help to hydrate the skin and also Japanese Purple Rice which is packed with nutrients and is known to be able to survive harsh environments. This moisturiser helps in avoiding further moisture loss and making sure the skin barrier is at its best.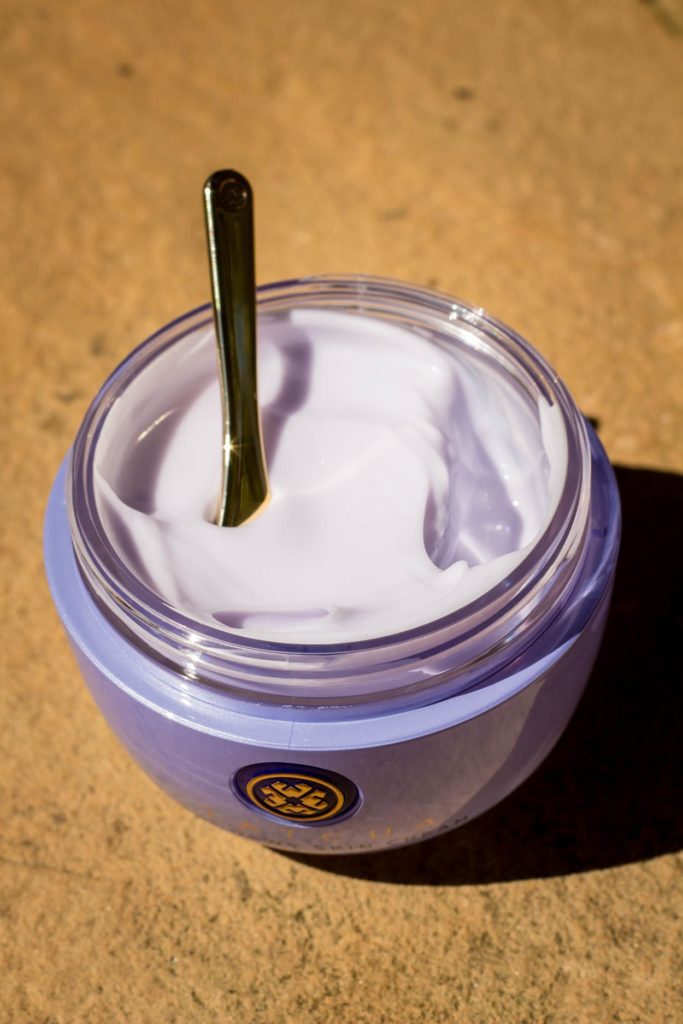 The formula features Hadaseai-3 Anti Aging Complex, a fermentation of uji green tea, Okinawa Mozuku Algae, and Akita rice. The formula combines the Okinawa Red Algae and the Hyaluronic Acid to help hydrate the skin and over time, can help with the appearance of dry skin, fine lines, and wrinkles.
How to apply: Use a small dime sized amount of product on face, neck, and décollete. Apply in upward strokes. This can be used in the AM and PM.
Good to know: This rich moisturizer helps to add luminosity to the skin, helps to hydrate and seal in moisture, and will result in a dewy glow. This is a bit too heavy for my skin right now, but in the winter months I love this! It's great for dry skin types.
TATCHA The Serum Stick
This treatment and touch-up balm features 80% Squalane and Japanese Lemon Balm. This formula helps to smooth fine lines and helps to hydrate areas that appear dehydrated. This is a great product to apply as a refresher throughout the day and can be applied on top of or underneath makeup. It will give your skin a subtle glow and also hydrate.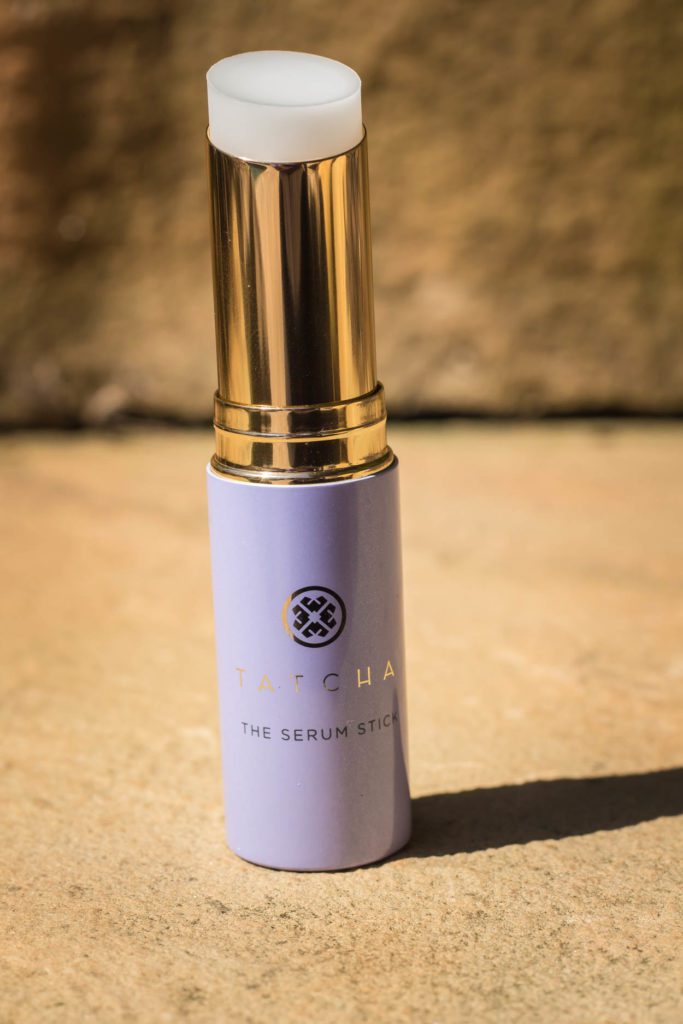 The Serum Stick is great for those dry patches on the skin and any areas where we might notice fine lines and wrinkles: the 11's, crows feet, laugh lines, etc. This is a fantastic product for allergy season if your nose area gets really dry! I just apply it and work it in with my fingers.
How to apply: Apply stick and tap in when finished
Good to know: Can be used on oily skin as a moisturizer, but make sure your skin is hydrated before applying. I also like to apply this to my under eye area before applying concealer.
Camellia Gold Spun Lip Balm
The Camellia Gold Spun Lip Balm is my go-to lip balm at the moment. It's intensely hydrating, but doesn't leave my lips feeling sticky. It also absorbs quickly, so I dont' feel this sitting on top of my lips for long periods of time and yes, that is flecks of 23-karat gold you see in the formula. A bit extra, but I'm here for it.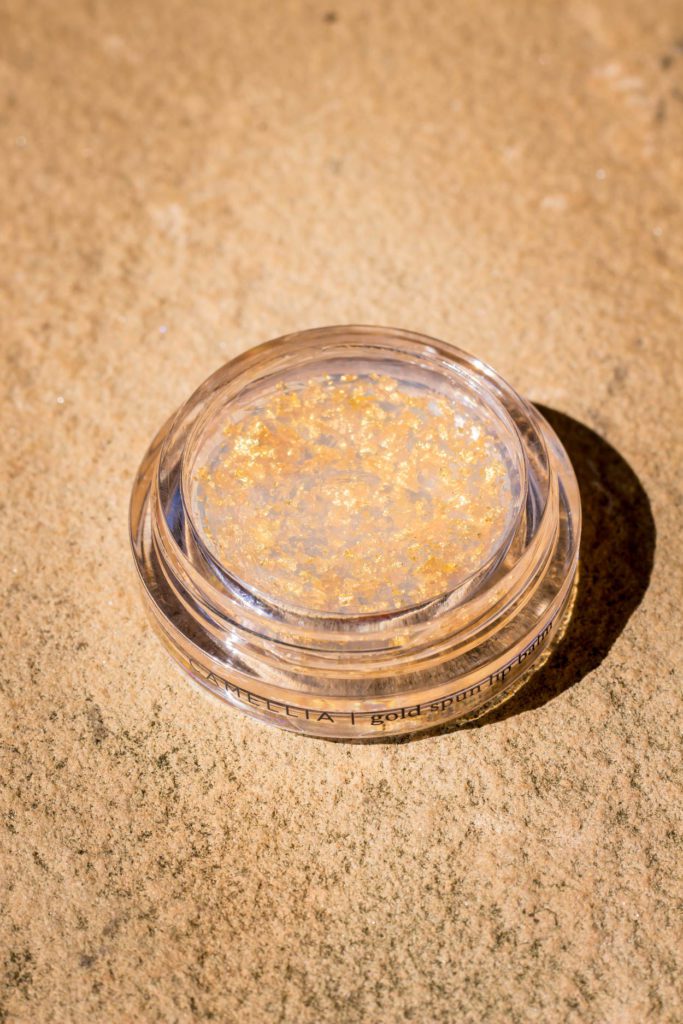 How to apply: Like any traditional lip balm. Can be used as-needed
Good to know: This formula contains Vitamins A, B, and E as well as Omega 3,6, and 9. It contains Fatty Acids to help lock in moisture and the Camellia Oil is very hydrating. Make sure to apply with clean hands as you have to use your fingers to get out the product if you're on the go.
This is such a great deal and an awesome way to experience TATCHA at a great price point.