It's Jamie again! I wanted to do a quick guest blog to introduce you to my new favorite subscription box!!
I love beauty subscription boxes. It is so much fun to anticipate this box full of makeup and skincare coming to your house each month. I have been subscribed to New Beauty Test Tube, Birchbox, Ipsy, and even Glossybox before. Recently I stumbled across a contest to win something called a Starlooks Starbox. I had never heard of the Starbox before, but I entered the contest and was shocked that I won a box!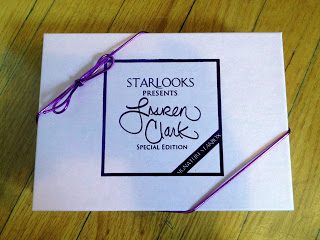 My box was the February 2013 box. This box happened to be a Lauren Clark Special Edition box. I had never heard of her before, but these products were so wonderful! Included in my Starbox was a lip liner in Tipsy (bright coral), a fluid HD blush in Barbie (bright pink), an infinity pot eyeliner in Princess Diaries (pale satin pink), and finally a lip gloss in Pink Oasis (pinky purple shimmer). I wasn't sure I could pull off any of these colors at first, but I am so glad I gave them each a chance.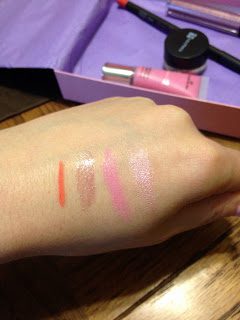 Tipsy, Pink Oasis, Barbie, and Princess Diaries.
My favorite of the group is the infinity pot liner. Princess Diaries works so well as a cream shadow. I love to apply it to my entire lid and then blend with some light gray/silver shades in the crease and outer corners. It really brings out the green in my eyes.
The fluid blush in Barbie looks very thick and bright when it comes out of the tube. I make sure my skin is moist before dabbing just a little on my cheeks and blending quickly. This blush can easily be bright or very pale depending on how you want to wear it. It's gorgeous!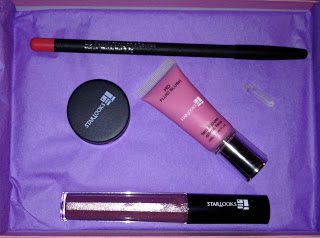 The lip gloss looks so good on me. Even with a pink/purple shimmery color to it… it looks very natural on my lips. It doesn't scream "I'm wearing lip gloss!!!!" like some do. It is slightly gritty as most shimmery glosses can be, but not sticky at all. I was impressed, and I really hate wearing lipsticks and glosses so it's pretty hard to impress me.
The one item in my box that I just cannot use is the lip liner in Tipsy. I love the color. I have seen it on others and it looks amazing. I just think this specific color doesn't work well with my skin.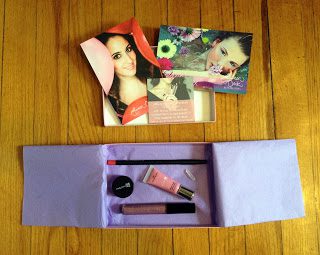 Overall I was extremely happy with my free Starlooks Starbox and I plan on subscribing very soon. Starbox costs $15 a month and there is a small shipping fee of $1.98. You will not know what you are getting that month until it is shipped to you. It's a surprise. They do have little sneak peeks called
Looksbook
that they post before the boxes ship. These looks show a model wearing makeup from your box. It's a super cute way to get excited about what may be headed your way soon. So if you are someone who loves makeup and isn't afraid to step outside your comfort zone a little, Starlooks Starbox might be for you. 
For more information about Starbox please visit Starlooks Starbox.