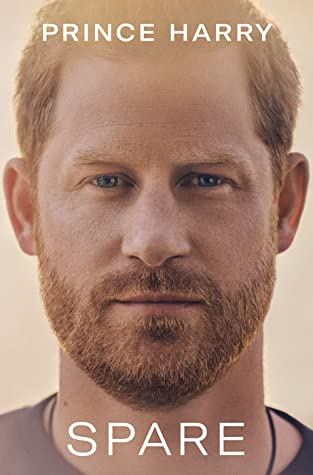 Synopsis:
It was one of the most searing images of the twentieth century: two young boys, two princes, walking behind their mother's coffin as the world watched in sorrow–and horror. As Diana, Princess of Wales, was laid to rest, billions wondered what the princes must be thinking and feeling–and how their lives would play out from that point on.
For Harry, this is that story at last.
With its raw, unflinching honesty, Spare is a landmark publication full of insight, revelation, self-examination, and hard-won wisdom about the eternal power of love over grief.
My Thoughts:
When I first read that this book was going to be released, I instantly knew I wanted to read it. Not necessarily because of everything we've seen in the news, but more so because I was hoping that he would talk about his life as a royal. When your grandmother is Queen, I expect you have some stories that we hadn't heard. I was right.
When I realized that he was personally narrating his memoir, I knew I wanted to listen to the audiobook. He did an amazing job narrating it and I felt like he was personally telling me his story, sharing his secrets, and his first time meeting Meg. Honestly, I could listen to that accent all day long.
This book was a lot more than I was expecting. What I took from everything he shared was that he has really been through a lot of trauma. What happened with his mother really changed his life. His life as a royal was very, very hard for him. I don't even think that I could comprehend having that type of life. It was hard to listen to honestly, so I can't imagine living with the constant paparazzi and everything that came with his title.
If you're afraid this book will be all more of what you're seeing online from their interview and series on Netflix-don't be. He really shares so much more than I was expecting. Yes, he does talk about everything that he and his wife have gone through, but he also shares behind the scenes look at his life growing up with his mother. His relationships with his father, brother, his love for Africa, and even the source behind MANY of the press stories being leaked. Just listening to him talk about their holidays at certain palaces, his relationship with the Queen (his grandmother)…stories like that were what I loved listening to.
What I didn't love? All of the military stories. I get it, they were a huge part of his life, but it went on and on and on. A bit too much honestly. It was interesting to hear about his actual job while he was in the military because I had no idea he had been that active. It could have been shortened just a tad though.
Shop The Post