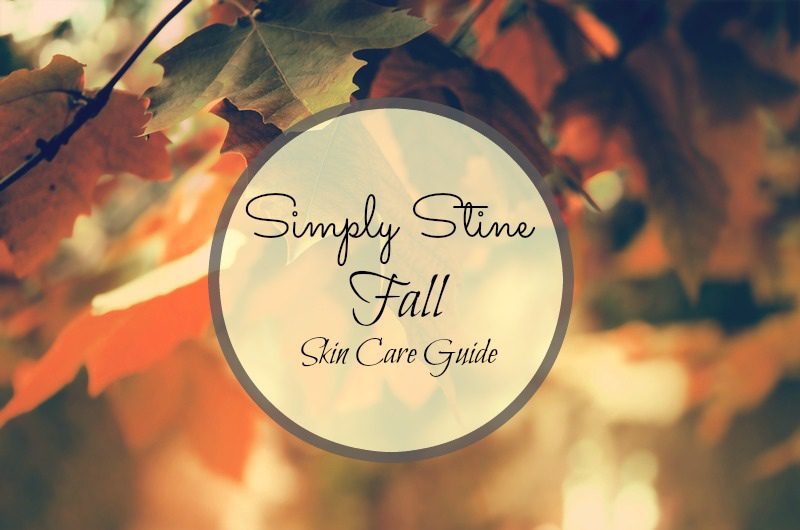 It's time to talk about Fall Skin Care.  Have you changed up your routine yet?  If you answered yes, then awesome!  If you answered no, then you're probably not alone!  Most of the people that I talk to complain about their skin being so dry and dull this time of year, but they don't realize that they might need to change up their  products that they are using from Summer.  Colder temperatures require gentle, soothing and more hydrating products.  Today, I'm introducing the Simply Stine Fall Skin Care Guide.  Each week I'm going to feature some new tips and tricks and introduce some products that I'm suggesting to help get your skin ready for colder temperatures!
[line]
Fall Skin Care Tips
1.  It's time to ditch those body washes and try a more moisturizing cream!  I recommend ditching your regular soap and opting for a soap-free product!
2.  Oils!  Right now is the perfect time to introduce or re-introduce your skin to oils.  Oils are beneficial for our face and our body!  Don't be afraid to add them to your routine, including your bath!
3.  SPF! Just because it's not summer doesn't mean you need to ditch your SPF! I suggest using an SPF15 daily!
4.  Don't forget the lips! Colder, Windy Temperatures can be brutal on our skin, especially our lips! Make sure to use a product to keep them hydrated and protected!
5. Keep your hands and feet moisturized and protected! Invest in a good foot scrub, moisturizing cream and cuticle product.  Sometimes the lotion isn't enough for our cuticles!
6. Masques are your friends!  Consider including a new masque into your skincare routine.  I love to do a nice, hydrating masque on Sunday's! It's now part of my weekly routine.
7. Don't forget to exfoliate!  I try to include exfoliating my face and body at least once a week.  It's good to get rid of the dead skin cells.
8.  I like to switch my foaming cleanser to a milky, cream cleanser. It's less harsh and irritating on my sensitive skin in the Fall.
9.  Go Naturual! Now is a fantastic time to create some DIY skin care recipes using ingredients you have at home!
10.  Shorter, not so hot showers!  As much as we want to crank up that hot water, keep the temperature down a bit and don't stay in the shower as long! Your skin will thank you!
[line]
I've got some incredible products that I'll be sharing with you guys next week!
Also, get ready for some giveaways!!
Do you guys have any tips and tricks you'd like share?