We all know that I'm a major fan of GLAMGLOW products and I'm excited to share their NEW GLAMGLOW Flashmud Brightening Treatment with you today.  Their ThirstyMud Masque could make it on my list of holy-grail worthy products. It's amazing for delivering a dose of hydration to my skin when I need it the most. They're luxurious products that deliver the results that they promise.
When I heard that the new GLAMGLOW Flashmud Brightening Treatment was being released, I immediately started doing research on it and I placed an order as soon as it was released.  I've had it for a while now and I've used it enough that I think I'm finally ready to talk about it!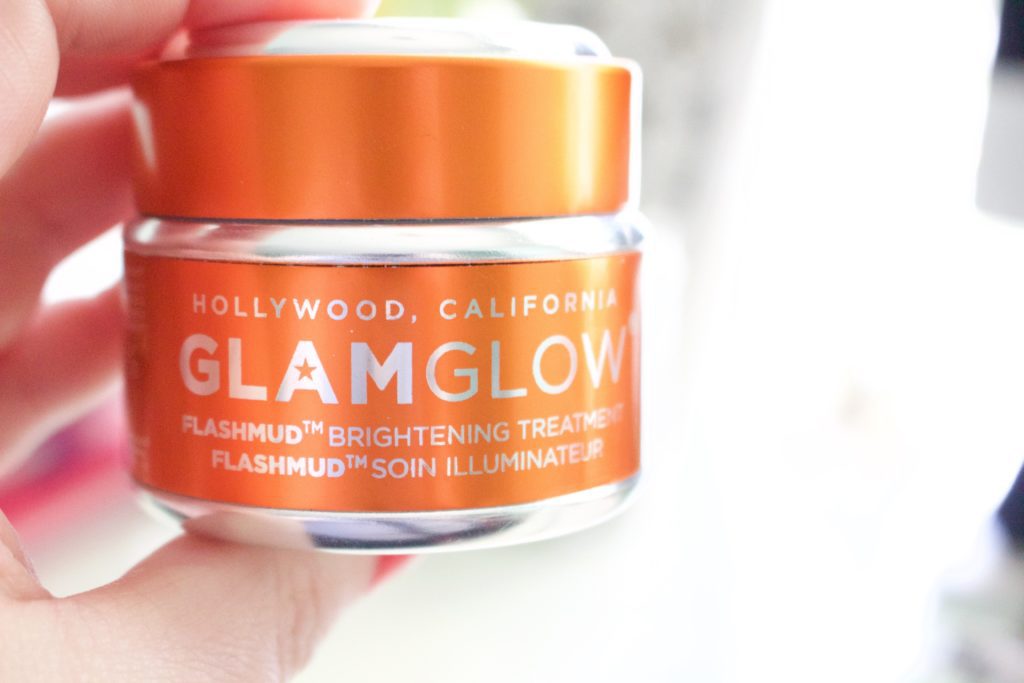 First things first.  Who is this masque intended for? It's for everyone!  Men and women of all ages and all skin types.  If you're looking for a more "youthful radiant glow" to the skin, this is the right product for you.  This brightening treatment is intended to be a "quick-results" type of product. Their website states that this treatment will deliver "Instant and extended results." So if you're the type of person who likes immediate results, this product might be right up your alley.
The GLAMGLOW Flashmud Brightening Treatment addresses hyper-pigmentation, sun damage and uneven skin tone.  It uses a blend of technology and powerful plant extracts to deliver color correcting and brightening benefits, but also a more smooth complexion. It features a mud base (Kaolin Clay) but this treatment is light in color, creamy and features a citrus scent.  I think of Oranges and Vitamin C when I smell this.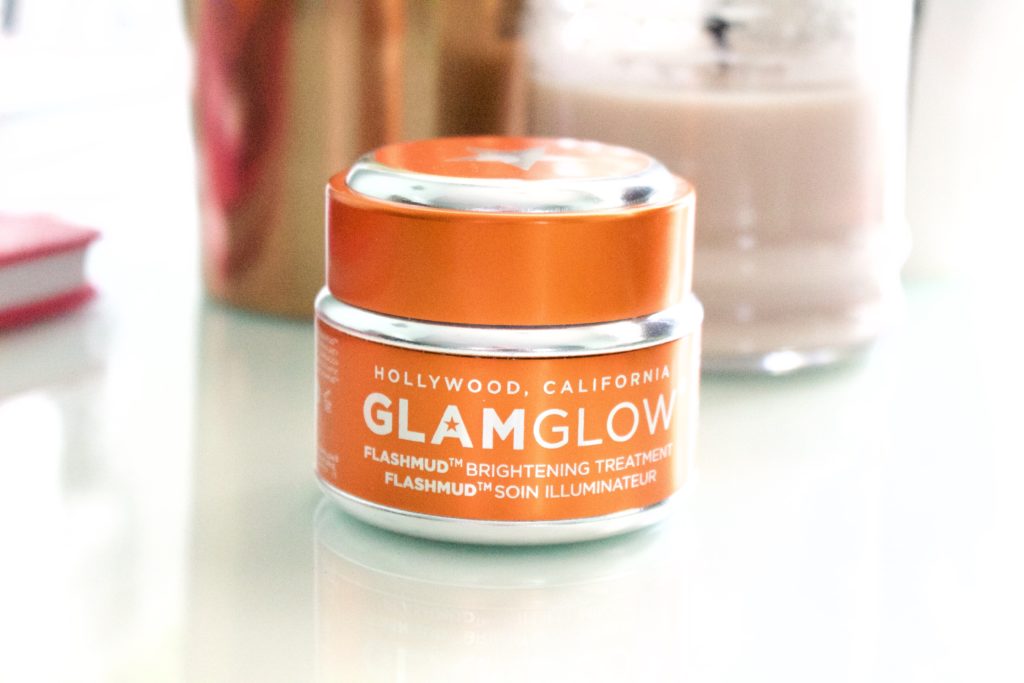 There is some major technology behind the Flashmud Brightening Treatment.  As always, with GLAMGLOW products, it features the TEAOXI Technology.  You're also going to find WhiteEnergy, Flashlucent and Reflectrum Technology as well.  I thought it would be easier to break it down one by one because I know how confusing and technical these ingredients can be.  Actually, overwhelming might be the better word! Let me make it easier to understand because it's actually quite simple!
TEAOXI: White Birch Leaf that delivers natural Betulin, Betulinic Acid and Ellagic Acid to give you an improved, even skin tone.
WhiteEnergy: Fusion of natural actives to create intense, bright and even results (Tea Leaf, Rose, Jasmine, Lilly, etc will help to even skin tone)
Flashlucent: Combination of skin translucency optimizers featuring 3 levels of exfoliation to drive ingredients to the skin for luminous, younger-looking skin. (Lactic Acid and Salicylic Acid)
Reflectrum: Brightening ingredients boosted with Diamond PhotoLuminescence to increase the reflecting level of the skin.  Will appear more radiant.
The ingredient are really focused on brightening the skin, balancing the skin tone and providing you with antioxidants and ingredients that will also help to smooth the skin's texture. At least that's what I take from reading the ingredients, ha! Want to see the full list of ingredients, here you go:
Ingredients:  Water, Kaolin, Synthetic Wax, Cetyl Alcohol, C12-15 Alkyl Benzoate, Butylene Glycol, Acetyl Glucosamine, Niacinamide, Polymethylsilsesquioxane, Pumice, Glyceryl Stearate, Peg-100 Stearate, Pentylene Glycol, Quartz, Betula Alba Leaf Extract, Betula Pendula Wood Powder, Tetrahexyldecyl Ascorbate, Paeonia Suffruticosa Root Extract, Jasminum Officinale (Jasmine) Flower Extract, Lilium Candidum Bulb Extract, Rosa Canina Flower Extract, Camellia Sinensis Leaf Extract, Magnesium Aluminum Silicate, Tocopheryl Acetate, Diamond Powder, Polymethylsilsesquioxane, Xanthan Gum, Fragrance (Parfum), Benzyl Alcohol, Linalool, Amyl Cinnamal, Benzyl Benzoate, Benzyl Salicylate, Geraniol, Hexyl Cinnamal, Limonene, Potassium Sorbate, Lactic Acid, Allantoin, Disodium EDTA, Ethylhexylglycerin, Salicylic Acid, Glycerin, Ribes Nigrum (Black Currant) Seed Oil, Octyldodecyl Oleate, Octyldodecanol, Octyldodecyl Stearoyl Stearate, Rosmarinus Officinalis (Rosemary) Leaf Extract, Solidago Virgaurea (Goldenrod) Extract, Titanium Dioxide (CI 77891), Phenoxyethanol.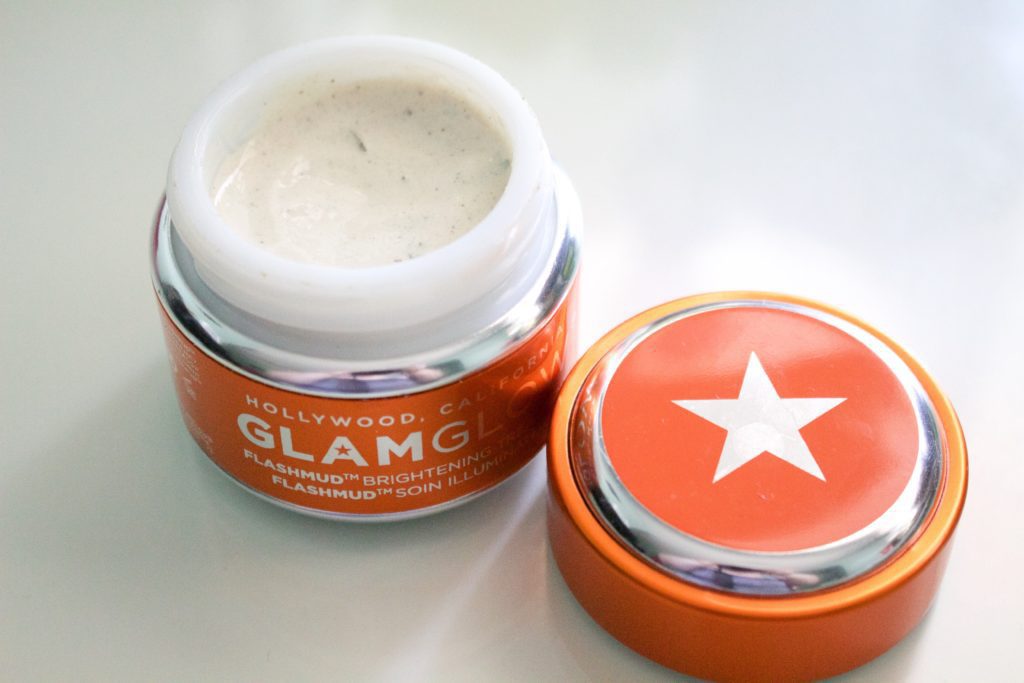 The GLAMGLOW FLashmud Brightening Treatment is an easy addition to my skincare routine.  You first need to use it for 3 days in a row and then you can use it 2-3 times weekly. This has been great,  even with my sensitive skin.  It tingles a little bit, but I had no issues at all when using it. I tend to apply this to my skin more at night because the directions state that when using this product you must use a high-level SPF. I didn't want to use this in the morning, go directly outside in the sunlight and possibly have any issues with my skin freaking out, ha.  So be careful when using this product and also being in sunlight because I have a feeling this will make your skin a little bit more on the sensitive side and it might burn quicker than usual. Use your SPF!
When you first apply this product, it will feel more like an exfoliant and it's supposed to.  It's first exfoliating the dead skin and allowing the ingredients to go to a deeper level of the skin. Exfoliated skin=Brighter Complexion!  Take a decent amount of the product and apply to dry skin, using circular motions.  You're pre-exfoliating the skin here.  I leave this on for about 20 minutes and then I rinse with water. The masque doesn't dry up, instead, it stays creamy and translucent in color.  It should be noted that this does have a pretty strong citrus scent.  The scent doesn't bother me, but for those of you who are sensitive to scents in products, I'd try to get a sample of this first to make sure it doesn't irritate you or your skin.
The GLAMGLOW Flashmud Brightening Treatment retails for $69.00 (1.7 oz) and it's priced about the same as most of their other products. Does it work?  I know that's what I wanted to know and I think that the answer is YES!  When using this, I feel like my skin is more radiant and I definitely notice that it has that glow to it.  When I keep up with it and I do use it as instructed, my skin tone seems more even and my redness appears a little less than normal.
Since purchasing the GLAMGLOW Flashmud Brightening Treatment product I haven't really used any other exfoliant (Physical) because this is exfoliating my skin each time I use this.  A lot of people have talked about this improving their dark spots and/or discoloration and to be honest, I don't really have either of those.  So I can't speak for those issues, but I can see that this product would more than likely help with those issues over a period of time.
PROS:
1. Smells fantastic
2. My skin seriously glows when I use this
3. The pre-exfoliation that this product delivers is an added bonus
4. After using this treatment, it will help the other skincare products you are using, to penetrate into the skin more! That means they'll be more effective
5. Complexion seems to be a little bit more even (still have redness)
CONS:
I rarely say this, but I don't really have any complaints about this product.  I KNOW! I sat here for a long time and tried to come up with something, but I honestly have no complaints.  This might be a first in the history of Simply Stine reviews!
If you're looking for a new product to give you a radiant, luminous glow to the skin, I think the GLAMGLOW Flashmud Brightening Treatment is a great addition to your routine.  It's easy to use and it does make my skin glow, with a more even complexion.  I love that even a person like myself, who has sensitive skin, can use this and get results without any irritation. So if you're looking for that Hollywood glow, give the GLAMGLOW FLashmud Brightening Treatment a try.  I think you'll be impressed!