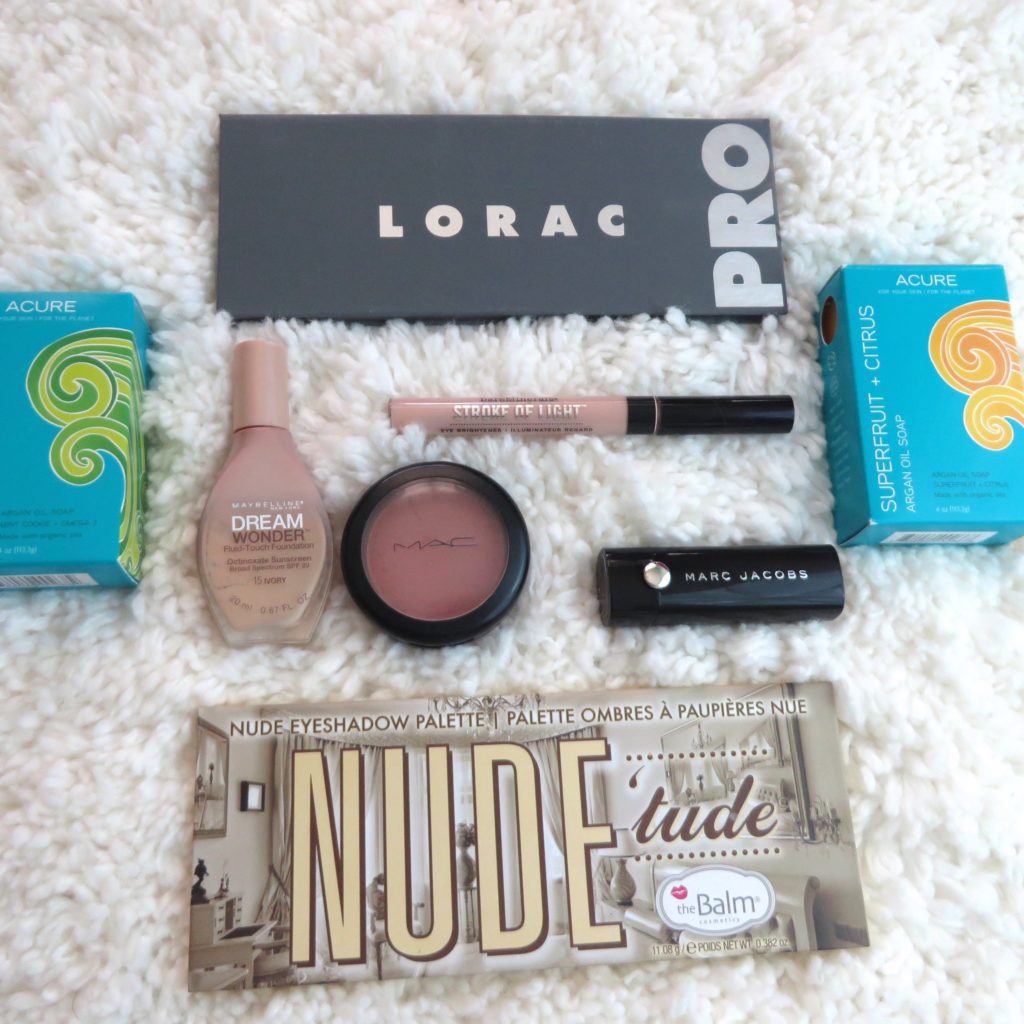 September Beauty Favorites
[line]
1. the Balm NUDE'tude Palette ($36.00)
This is a fantastic palette for those of you wanting a nice combination of colors to choose from.  It's the perfect choice for a day or night look and I love that this is a great alternative to what most "nude" palettes look like.  It's got a fantastic assortment of shimmer and frosted colors to choose from.  I love that this "nude" palette offers me burgundy, gold, pinks and browns.  It's a nice step away from the normal taupe/brown/sand "nude" colors that are normally offered.  Plus, how cute is this packaging?!?! The NUDE'tude Palette is one of my favorites.
2. Acure Organics Argan Oil Soap ($5.99)
I love a good bar soap that doesn't dry out my skin and one that smells fabulous.  Acure Organics has 5 Argan Oil Soaps that will really, really make you smile.  The two I'm highlighting below are the Mint Cookie + Omega 7 and the Superfruit + Citrus.  Both soaps smell AHHHMAZING!  The Superfruit + Citrus contains acai, lime and bergamot and the Mint Cookie, well obviously, peppermint.  No worries that these soaps will dry out your skin!  They both contain a great blend of organic oils that will keep your skin feeling soft as silk and smelling fantastic!  Other scents that are available? Pumpkin + Calendula, Oatmeal + Apple Pie and Cinnamon Chai Latte. Yeah. You're welcome! These are the perfect soaps for Fall!
3.  MAYBELLINE Dream Wonder Fluid-Touch Foundation ($10.99)
Maybelline is really, really impressing me lately.  Their foundations have been so good.  This newest one that I've tried, DREAM WONDER Fluid-Touch Foundation is the foundation I've been reaching for over and over.  Are you fan of Armani Maestro Foundation? If yes, you need to try this foundation because they are really similar, BUT I actually like the Maybelline one better! This foundation features a dry-oil like texture.  It's not like your normal really creamy foundation and for me, this texture has been working great on my skin.  The Armani foundation does contain a dropper, but the Maybelline just features this dropper-like applicator.  You can either let it drop onto your fingertips and apply it or you can let it drop on the back of your hand and use a brush to apply.  The coverage of the Maybelline is very build-able.  I'd say this is more covering than the Armani, but I'd still suggest using a concealer on areas that you really need heavy coverage.  Don't worry that this will feel oily on your skin, it dries beautifully to give you a really nice finish.  It is important to make sure you shake this before you use it, as it is like an oil type product.  Maybelline, great job!  Another hit!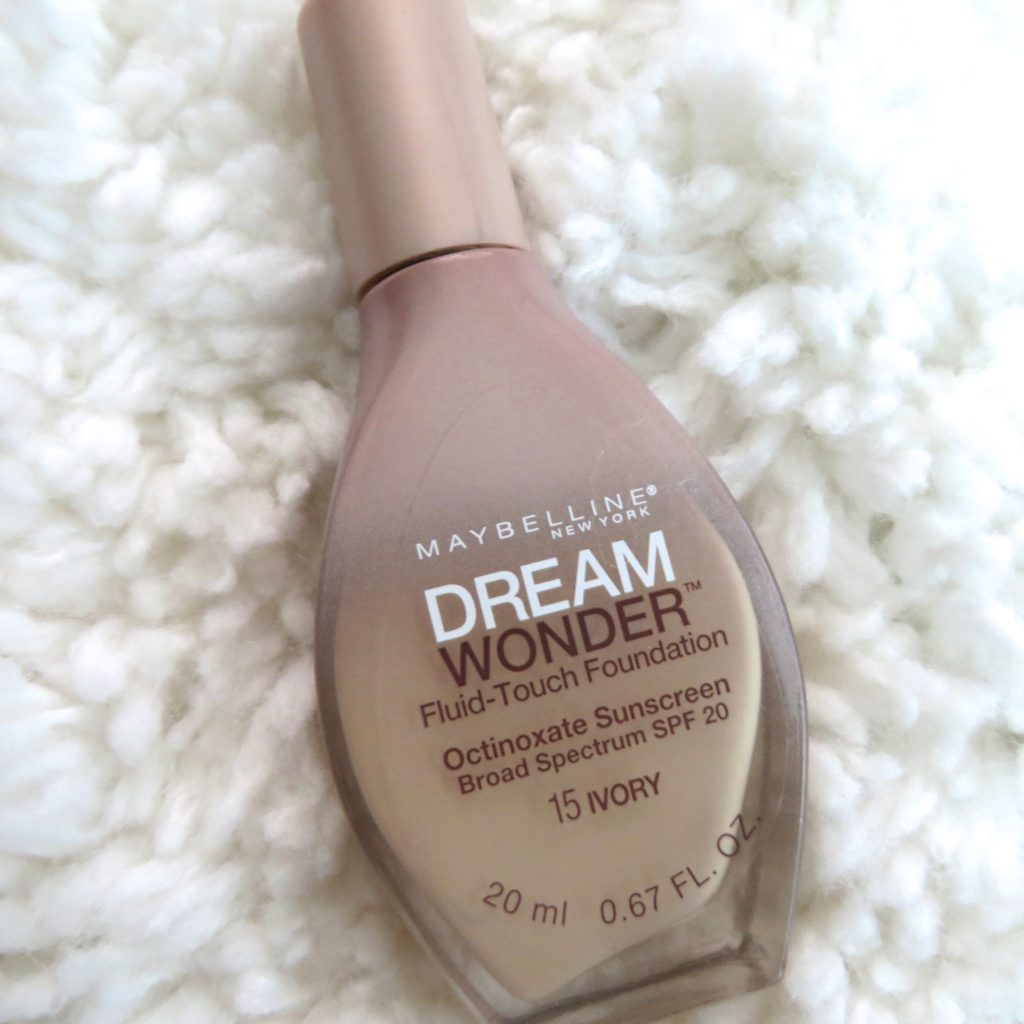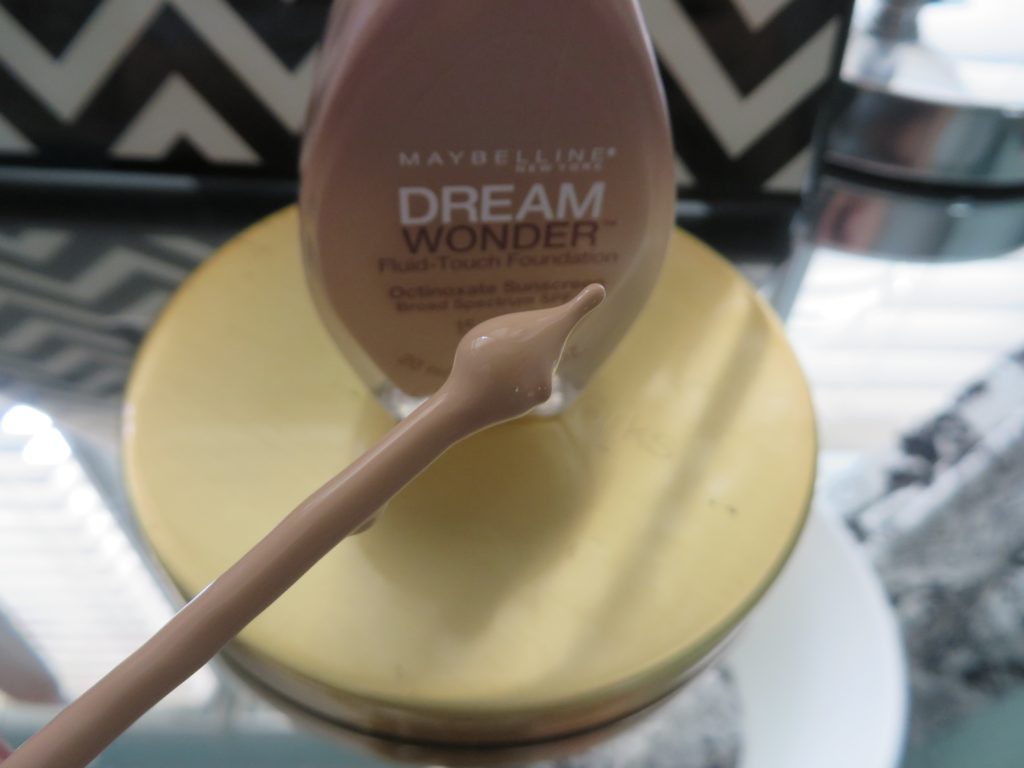 4. bareMinerals Stroke Of Light Eye Brightener 
This bareMinerals eye brightener does exactly what it says.  It brightens up my under eye area and it also gives me a really nice illuminated tint!  I sometimes use this alone, but if I'm really needing my makeup to be extra fabulous; I make sure to use a good corrector first and then I'll finish with this product.  The formula isn't too heavy and it does contain a really flexible sponge tip applicator, but I like to apply this on the back of my hand and use a good concealer brush and finish off with my fingertip to blend the product into the skin.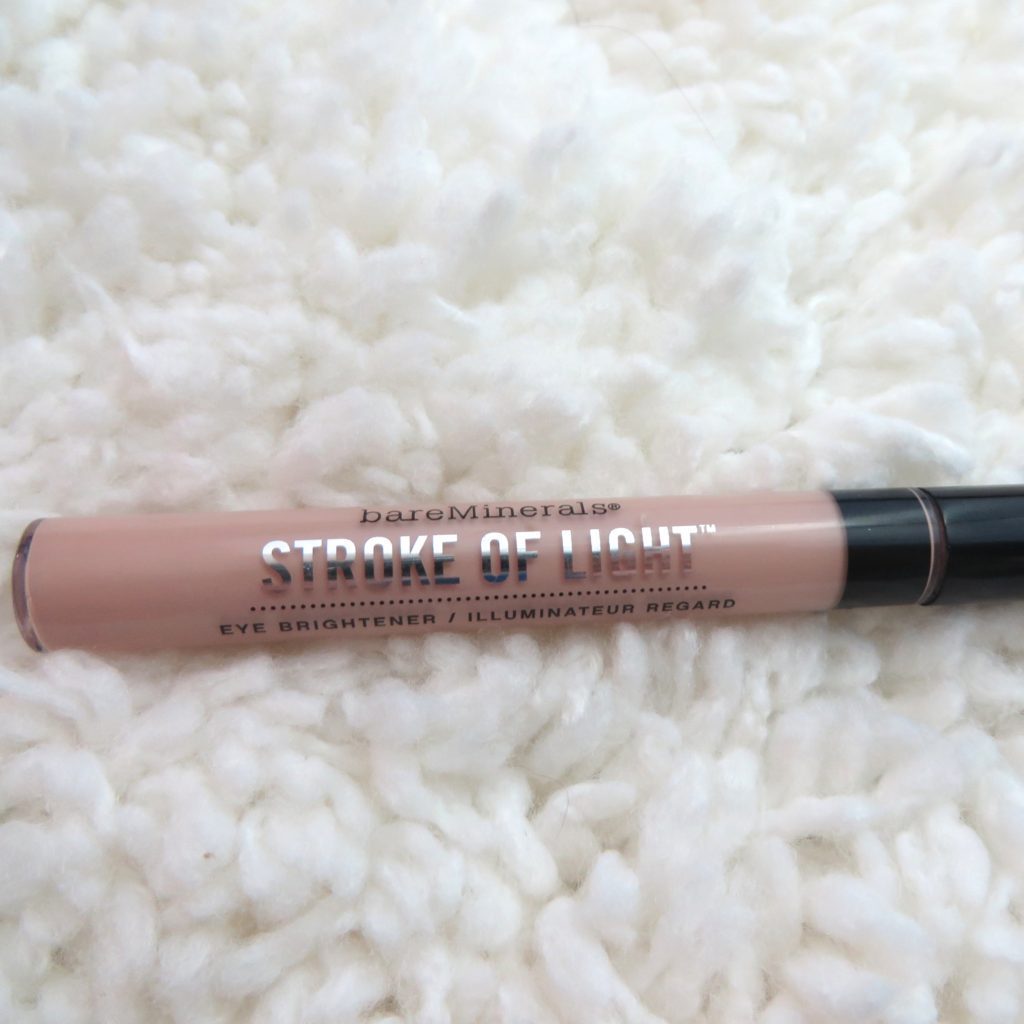 5. MAC Cosmetics Blushbaby  ($22.00)
I walked into a MAC Store and asked for a new blush and this is what the sales person suggested.  At the time I was in a rush, so I just took it home with me and hoped for the best.  Yeah. That was like four years ago and we've never been apart since!  At first glance I thought to myself "This looks like nothing special?!?" and then I tried it and I knew to never judge a blush again at first glance! This is my GO-TO blush for most everyday looks.  In the pictures it appears darker than I think it looks, but it's the perfect blend of a gorgeous sheer beige and pink. The good thing about this blush is that it looks great on mostly everyone!  Afraid of committing to a blush? This is a good one for you because it's a great one that allows you to build up to your perfect amount!  Stay light with a stroke or  two or keep on building to get yourself some seriously FAB cheekbones!
7.  LORAC PRO 2 Palette
Thank you, LORAC  Cosmetics for creating this incredible eyeshadow palette.  Seriously. I opened up the package and the beauty gods starting singing away because my god, what a gorgeous palette! This is a great mixture of very creamy, very pigmented mattes and shimmer colors.  But don't get all "UGH- Shimmer" on me.  This shimmer isn't like what you're thinking.  No worries of big ol' chunks of glitter falling out all over.  Instead, you are left with gorgeous colors that shine incredibly and the frosted tones are soft as butter.  l got this on special from HSN for being a new customer and thank goodness I finally got it because I haven't put it down since it arrived.  This is my must-have palette for Fall….well until my LORAC MEGA PRO palette is delivered, ha! *I looked and the coupon code I had used for HSN expired, but there is one online for 15% off for new customers!! Just check their website!*
8. theBalm Mary-Lou Manizer  ($20.00 and up)
I recently attended a beauty boot camp class (curious how that went? Let me know below in the comments if you'd like me to review the class I took) and they retailed theBalm products.  I had been meaning to pick up a full-size of this product because I had been using a small sample size one that I had gotten in Birchbox (I think?!?) and I needed the full thing! Need a good highlighter that can double as an eyeshadow as well? Look no further than Mary-Lou Manizer.  You can do some serious highlighting with this product, but I also like to add it onto my lids for a pop of shimmer.  Or you can easily wear this color alone.  theBalm has some of the best highlighters out there! Have you tried any?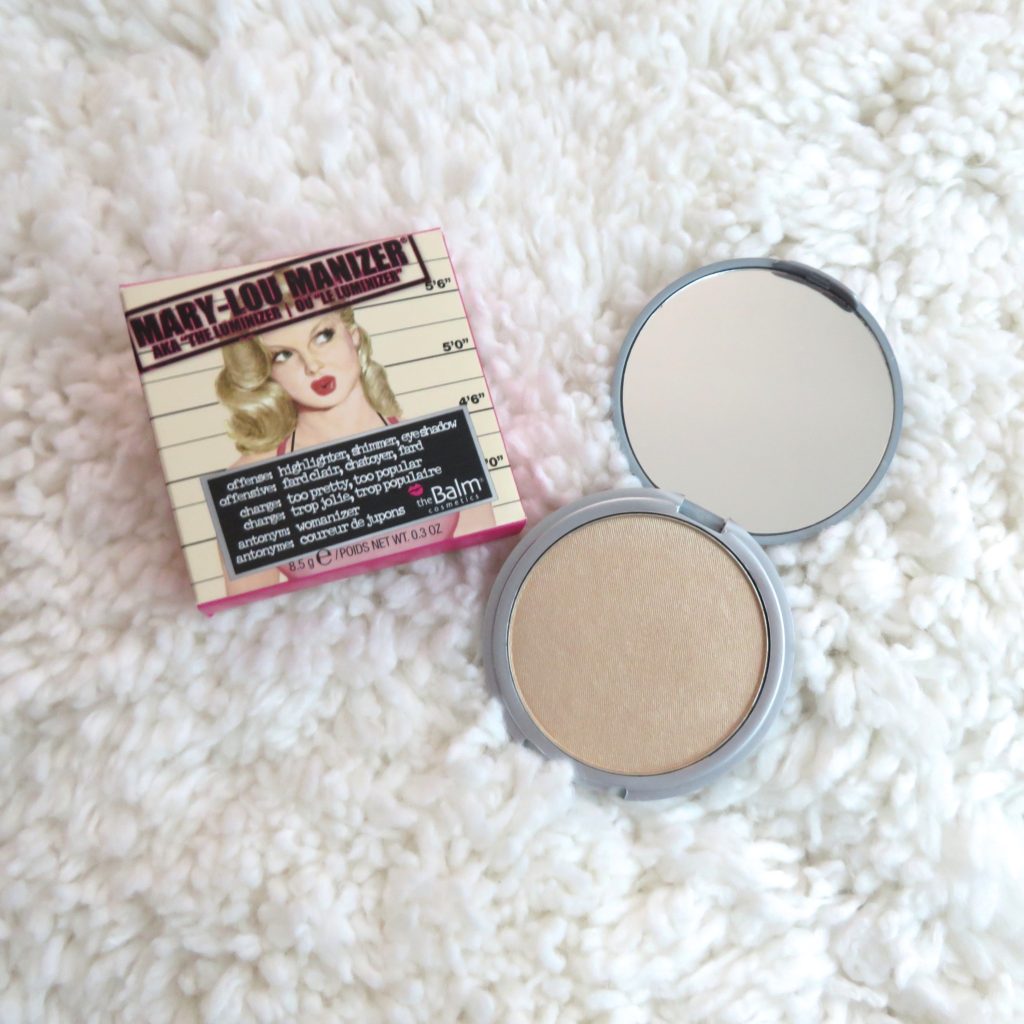 8. Marc Jacobs Cabaret Lipstick
This is the Lovemarc Lip Gel in Cabaret.  The good news about this lipstick is it's such a gorgeous color and I'm obsessed with the packaging.  The bad news? It's no longer available from Sephora UNLESS you are a VIB Rouge.  Then you can order this from Sephora for $30.00.  When I got this, it was a special, limited-edition 1,000 point perk that was offered if you were a VIB member.  It came packaged with a full size lipstick and full size lip gloss.  I have been wearing this color a lot lately and I love it.  It's got a nice sheen to it and it's not sticky at all! I love that the top locks into place because of the magnetic closure.  That means-no more worrying about the tops coming off of the packages! Is there anything Marc didn't think of?!?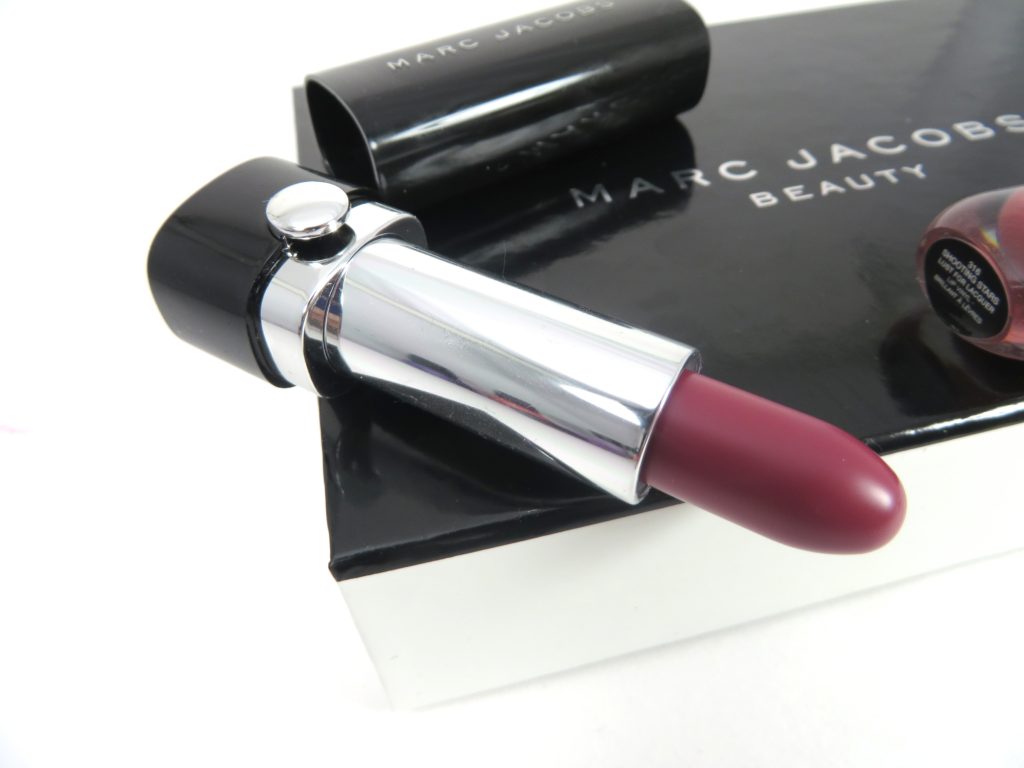 [line]
I can't wait to see what October has in store!! Did you guys use any products that you really loved in September?
Post contains some products that were sent to me for review purposes.  All thoughts and opinions are my own.  Affiliate links are included.