It's that time again! The Sephora VIB/VIB Rouge Sale is here! For those that are VIB's, don't worry! Your sale starts just a little bit later, but you'll still be enjoying the same discount as VIB Rouge Members. I've browsed Sephora's website and I've come up with some suggestions for the sale this year. I won't pass judgement if it's more of a treat yo' self type of situation! We've all been there! However, if you're starting to think about the Holiday's and gifts for others, I think a lot of these would make fantastic presents for under the tree!
VIB Rouge

-Sale Starts November 4th-7th

-20% off with coupon code 20ROUGE

VIB

-Sale Starts November 11th-14th

-20% off with coupon code 20VIB
[show_ms_widget id="35955972″ image_id="41806787″ width="735″ height="1102″]

I couldn't fit all of that goodness in that photo, so I've put together a list for you as well. Now, I'm probably forgetting about twenty things that I feel you need in your life like asap, but, there will be time for more lists as the Holiday's get closer. Don't you worry!
Sephora VIB/VIB Rouge Sale Shopping Guide
Tarte Pretty Paintbox Collector's Makeup Case $59.00
I own one of these from previous years and while I don't love the packaging because it's quite bulky, I do love the colors that are included with this. Plus, their cheek colors are some of my absolute favorites to use!
Tarte Gallery Gals Deluxe Tarteist Eyeliner Set $19.00
I haven't tried this eyeliner yet, but I'm curious AND it's under $20.00 for two colors and a brush! SOLD!
Origins Bestsellers $45.00
I'm serious about my skincare and Origins is a brand that I really, really think put out some great skincare products. This is a nice set to gift to yourself or for anyone who might be curious about taking their skincare up a notch!
Huda Beauty Lip Contour Set $24.00
I have been wanting to try these since they were released so now is the time! The colors are fabulous!
Hourglass Ambient Lighting Edit-Surreal Light $80.00
Marble packaging AND Hourglass Ambient Lighting Powders together!??! If you haven't tried these powders, you must seriously get on it because your skin will be thanking you! I didn't believe the hype and then I got a couple of them and my skin seriously glowed like never before. It's like walking around with an Instagram filter!
First Aid Beauty Winter Skin Savers $38.00
First Aid Beauty had to be on my Sephora Holiday list because it's one brand I'm obsessed with. This set contains four products that you could hoard for yourself or give out as gifts. I'll leave the choice up to you!
Dr Jart+ Masking All The Way $37.00
Give me all of the masks! This is just a fantastic gift that I can't wait to give to myself and to some friends!
Dyson Supersonic Hairdryer $399.00
I know. I know. Y'all are probably shaking your head ready to click off my post, BUT if you have been curious about the Dyson Supersonic Hairdryer, WHY not get one when it's on sale??!?! Seriously though, I am really curious. If you've used it, I need to hear some feedback because this has been in my cart since the day it came out!
Moroccan Rose Otto Bath Oil $48.00
I love a bath and I also love basically everything rose. I haven't tried this brand before, but I thought the packaging was beautiful and it had great reviews. This would make the perfect gift for anyone who loves a good bath.
Perfume Traveler Sampler $25.00
I love the perfume gifts that Sephora puts out every year and this one was awesome for $25.00. You get to try each perfume it comes with and then you have a voucher for a rollerball in the scent that you liked the most! Perfect gift!
Natasha Denona Eyeshadow Palette 5 $48.00
I have been wanting to splurge on the Natasha Denona Palettes for a long time, but my budget just keeps holding me back. #AdultingSucks I feel like this is THE best way to see if you're all about her shadows and what the pigmentation is like! I need to know if I need that crazy expensive palette that she released or not!
Huda Beauty Eyeshadow Palette $65.00
This palette is everything I would dream of when I think of the perfect eyeshadow palette. Lots of beautiful colors, lots of sparkle. I.Need.It. I also think a few of my friends wouldn't mind getting this one for Christmas…
Wander Prone To Wander Lipstick Set $49.00
I don't know a lot about this brand, but the lipsticks looked beautiful! I love gifting pretty things, so I could split this up and gift a lipstick to someone if I didn't want to give it all to one person.
Omorovicza Thermal Cleansing Balm $110.00
This is a HG product for me and I always buy it when it's on sale. I can't describe the scent, but it's addicting (although some people hate it, which I can't understand ha) and my skin loves it! If you missed my review, make sure to read what I thought about it when I first published my thoughts on the Omorovicza Thermal Cleansing Balm.
Makeup Bag $25.00
A makeup bag that is also sparkly?!? YAAS! I also think this would make the most beautiful gift. Fill it with goodies or even just alone. For anyone reading this, I'd love this bag, ha!
Burberry Kisses Lipstick $33.00
There's something about a red lipstick around the Holiday's that I can't get enough of and Burberry does a good red lipstick. If you want to splurge on a little something, this is a great one! The whole packaging and everything is so chic and I think that Burberry makes some really great makeup that doesn't get a lot of love. Except for their Pale Barely because everyone talks about that. LOL!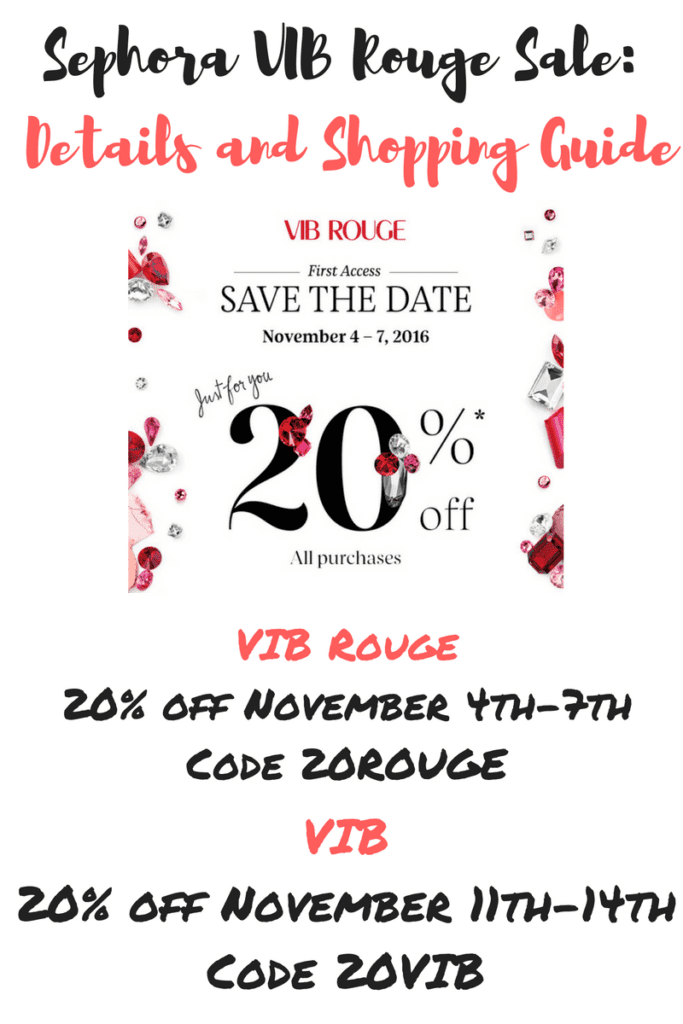 I hope that you're as excited as I am about this sale! There's nothing better than shopping a good Sephora VIB/VIB Rouge Sale. Right!?!? I'm curious to know what you have on your wish list this year! Please let me know in the comments below because like I said before, I'm sure I'm forgetting a ton of goodies that need to be on my list! Happy shopping y'all!
[show_shopthepost_widget id="2082315″]

Affiliate Links Included