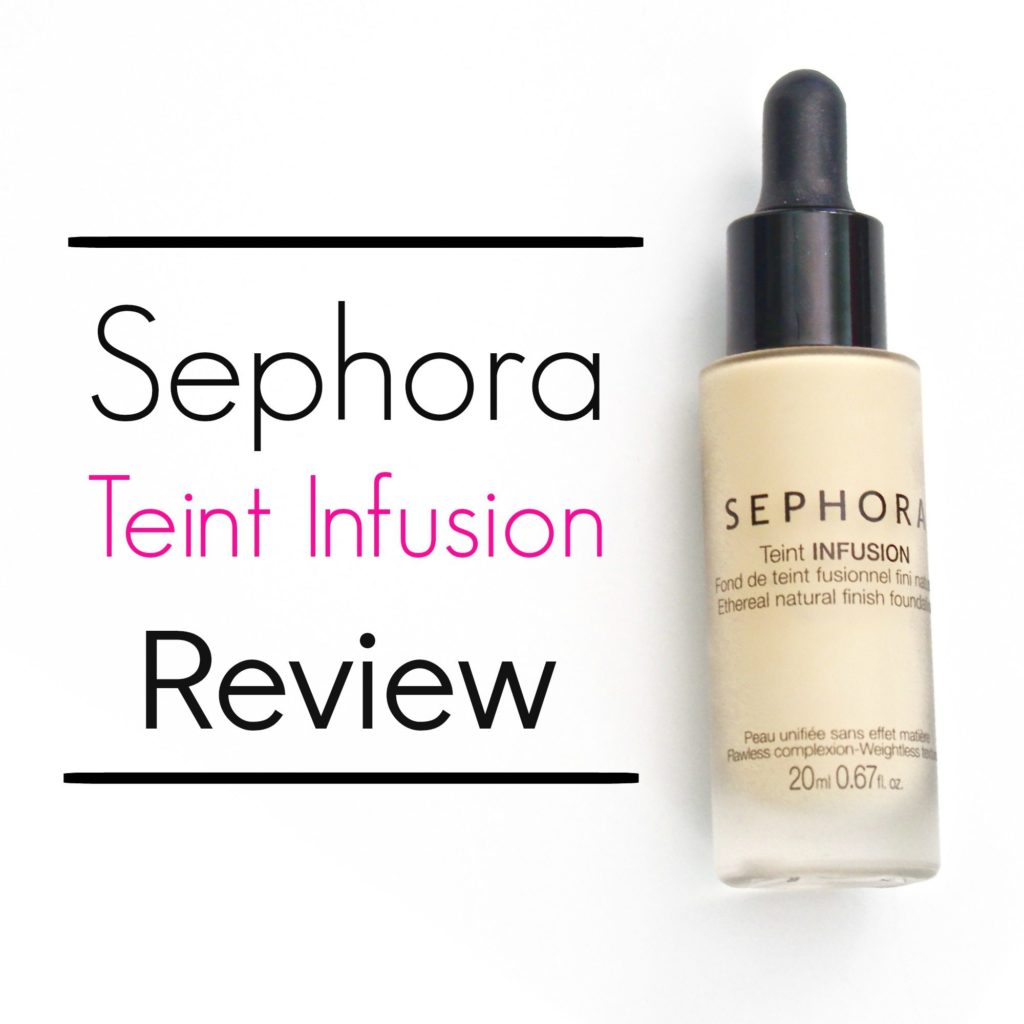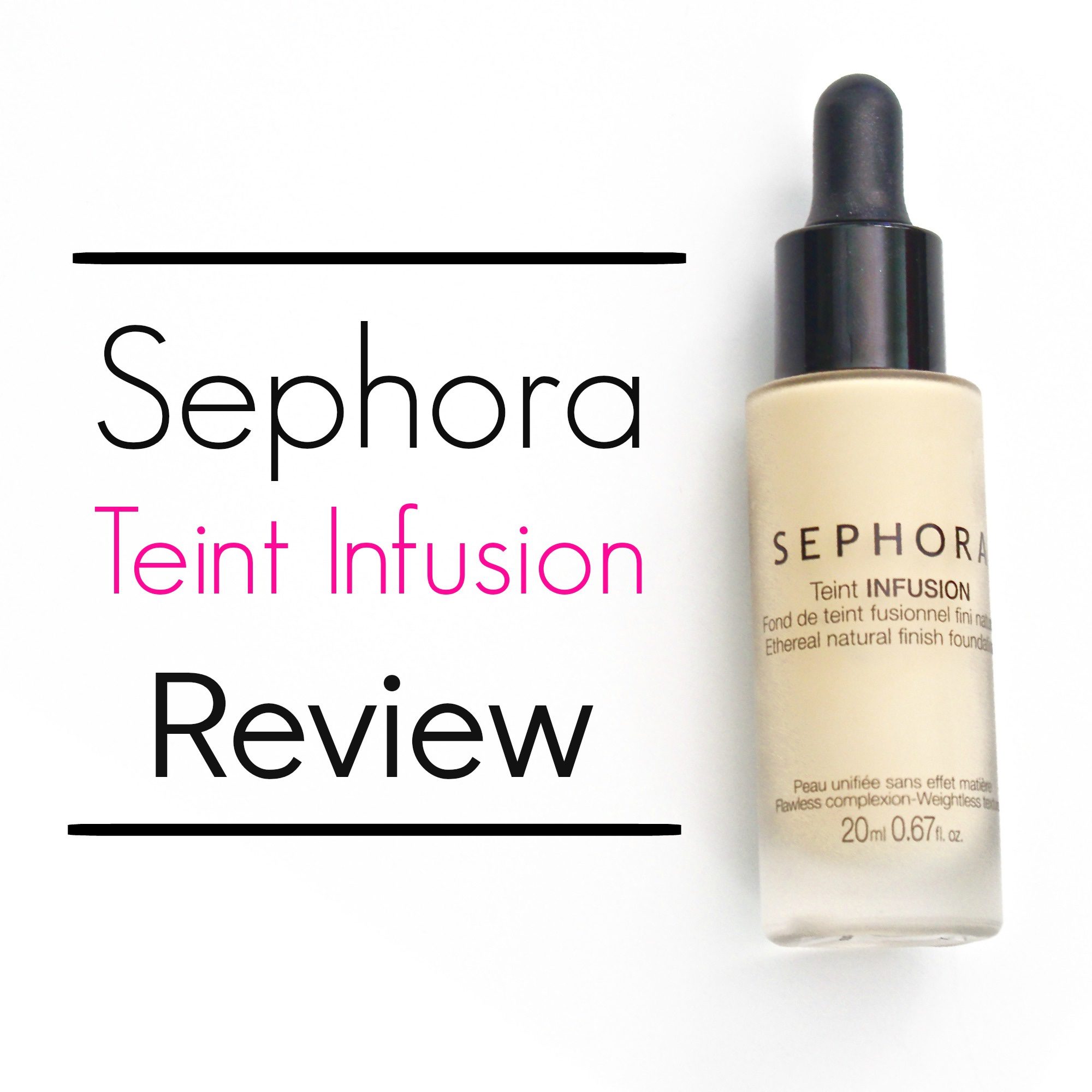 Raise your hand if you like your foundation to appear as if you aren't wearing any makeup. I've never understood the love of a heavy, almost caked on like appearance of foundation on your face.  If you're like me then you enjoy that natural look that a lightweight foundation provides and not so much the feel of a heavy foundation. I prefer one that is light, but build-able and one that covers up my redness, but doesn't emphasize my pore issues.  I'm always (ALWAYS) on the hunt for a new foundation and I came across the Sephora Teint Infusion Foundation while at Sephora and it just caught my attention.  I didn't buy it the first time I saw it, instead I came home, researched it, read reviews and went back and picked it up during the VIB Sale.  Even Bloggers read reviews!
The Sephora Teint Infusion Foundation is a lightweight, but build-able foundation that has a really nice natural look when applied. It feels more like a serum than a foundation and that's because it is a serum-type foundation.  I've used others that are way pricier than this and I have to admit that this particular Sephora product has seriously impressed me.  Not only is it really, really affordable at only $24.00, but it works with my crazy combo skin type and it leaves my skin looking so fresh and natural, but also covering up any imperfections that I'm having.  It's a total win/win in my opinion.
I've applied this foundation a couple of different ways.  YOU MUST shake it and shake it some more before applying.  I squeeze out everything that is in the dropper and shake it some more.  Then I apply one to two drop on my fingertips and apply it all over my face.  It works perfectly to give me a nice, light coverage.  If I want more than a light application, I just apply a couple more drops.  I do warn you that you don't want to get too heavy handed with this foundation.  I did that once and it felt like it was going to slide off my face within an hour.  I have also used this with a sponge and a makeup brush.  My thoughts on those is that I prefer using it with an Angled Kabuki and start blending the product in the middle of my face and out.  I though that the Beauty Blender basically soaked up most of the product.  This foundation goes a long way, so really try to follow the whole less is more when using this foundation.
If you love a foundation that feels like you aren't wearing a drop of product on your face, you will love this product.  If you are worried about this being too oily on your skin, try it with a primer.  I have had zero issues so far, except for the time that I just applied too much product.  If you have a drier skin type, I think you will really, really love what this foundation can do for your skin.  I love that this foundation really lasts a long time and that it gives me a great coverage, without the heaviness.  For the price, this Sephora foundation has seriously impressed me. Probably even more so than some of the other serum type foundations that are out there.
[line]
PROS and CONS
PROS:
18 shades available to choose from (I used shade #12 Ecru)
Feels like you're wearing nothing on the skin
Great coverage
Makes my skin have that glow we all want
Lasted on my combo skin type, but also great for dry/normal skin types
Worked nicely at covering my pores
Excellent price
Feels like a really nice, lightweight hydrating foundation
CONS:
Be careful with the amount of product you use. DO NOT OVER USE THIS FOUNDATION
You must shake this foundation a lot and I mean a lot!
I'm always nervous with foundations that are droppers. Just be extra careful!
**My CONS weren't really anything that negative, but more of a warning instead**
[line]
Before/After
Here's a little before and after for you guys!  Here you can see the before, obviously without any makeup.  I have slight redness to my cheek area, but no other issues to cover. I do have enlarged pores.  Primarily around my nose, cheek and chin area.  In the after picture, you'll notice that it covers up the redness nicely and it didn't seem to make my pores appear any larger at all!
On a scale of one to ten, I'd have to give the Sephora Teint Infusion Foundation a 9.  The only reason I didn't give it a full ten is because I'm not a fan of the foundations with droppers.  It's a fantastic foundation that offers light to medium coverage, but without the feeling like you're wearing a ton of makeup.  I love that it offers a really nice color assortment and the price point on this is excellent.  I say great product, Sephora! You actually impressed me with this one!
Affiliate Links included.  All thoughts and opinions are my own.