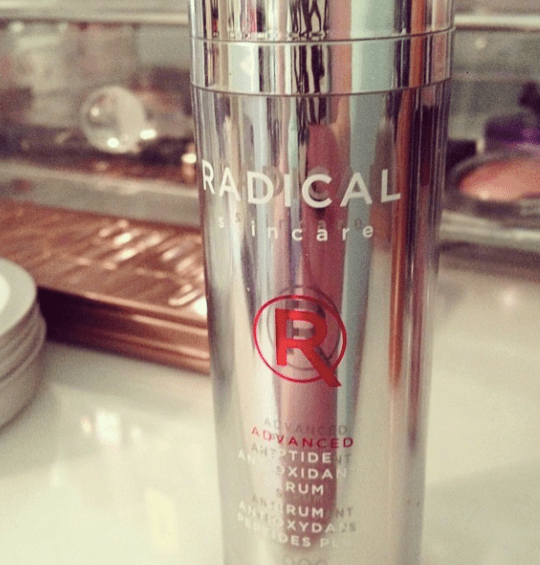 Oh, Radical Skincare, you have really become one of my favorite skincare brands. Especially since I've started using the Radical Skincare Advanced Peptide Antioxidant Serum. It's like my skin sings the moment I put it on. I've noticed my pores are so much smaller, my redness seems to have calmed way down, my overall texture seems to be better and my skin seems more plump and hydrated. Can a bottle really do that much good for my skin??? I'm thinking so!!
I've used this for over two weeks and I'm going to continue to use it to see if my opinion changes. I just wanted to share some information on this product because as of right now, I'm really loving this it. Yes, the price on this product is definitely considered more luxury, BUT I will say that it's doing so much for my skin that I'd probably budget and find a way to make it happen again for me.
[line]
ONE SERUM for all skintypes, all ages, all ethnic origins to fight 16 identified causes of aging. The triple potency action of Trylacel™ technology in a complete, universal and multi tasking serum designed to achieve fast and visible results. 13 active ingredients chosen for their efficacy ,their ability to work in synergy, their clinical results to reduce the deepest wrinkles, even skin-tone, improve skin elasticity and firmness. Feel and see Radical results : increased hydration and comfort, less wrinkles, and reduced wrinkle depth, improved skin firmness and density, more even complexion, better protection due to broad spectrum antioxidants.
Fights the 16 causes of aging
Reduces number of wrinkles and their depth
Improves skin elasticity and firmness
Increases hydration and softness of the skin
-Radical Skincare Website
[line]
What is Trylacel Technology?
Here's a video from the companies website that explains this technology a little bit more!

Oh man. This bottle of goodness has been a skin savior and I'm loving it every time I use it. I'll be reporting back with some more before and after shots and a more in depth review soon! I want to use this for a full month before really talking about it in detail. I also want to see if I can find any dupes/lower cost alternatives because I know how expensive this product is. Stay tuned!!
This product mentioned above was sent to me to review. All thoughts and opinions are my own. Affiliate links have been included.