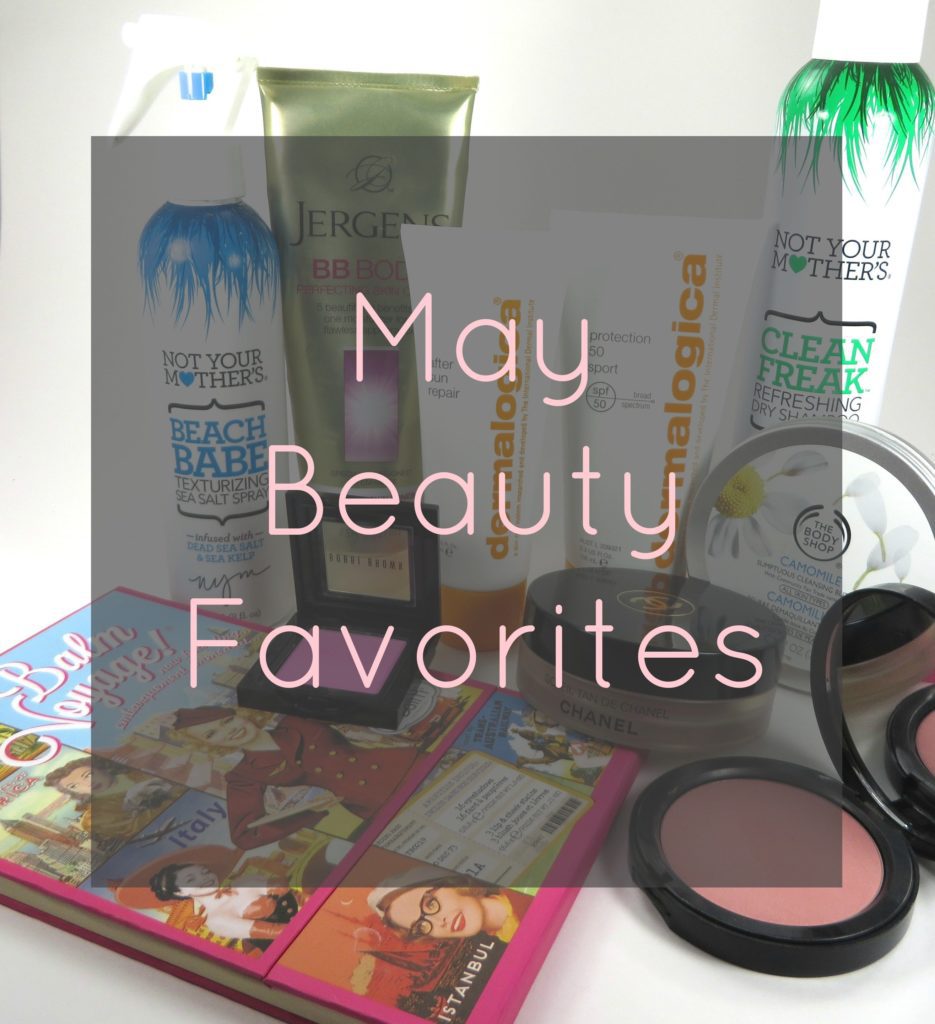 It's finally time for my May Beauty Favorites! I had a lot to talk about this month, but I always view that as a good thing when products are actually working out for me and doing what they are supposed to. This month I've got a good mixture of hair and skin care products. Plus, I've also got some makeup to talk about. Let's get started!
1. Deramogica Protection 50 Sport SPF 50 and After Sun Repair (Both $32.00)
I really love both of these. I'm liking the SPF because it doesn't cause me to break out or anything and the After Sun Repair has been great for after waxes and for when I've gotten a tad bit too much sun. One thing I love about both of these is that they have no typical SPF/tanning scent to them. They aren't greasy, but instead feel fabulous on my skin. Yes, the price point is a splurge, but these products work great on my sensitive skin and I like that a skincare company is making these products. It makes me feel better about putting them on my skin.
2. Jergens BB Body Perfecting Skin Cream ($11.99 and up)
This is great for when I need a little bit of a glow. I only tried this in the Light, but I'm thinking that I might bump up to the next shade and see if I actually get a better color pay off. This makes my skin look radiant and I love it. Only a slight scent to it that isn't too bad for those of you who hate that fake tan scent. I don't know that I believe that this product will do everything it says, but I still like to use it.
3. Chanel Soleil Tan De Chanel Bronzing Base ($48.00)
LOVE! This is my go-to cream bronzer. I love the color and it blends into my skin so nicely. Yes, it's a higher price tag, but it has lasted me forever. You can wear this alone or over your foundation. It's the perfect color and it never looks orange on me. This is probably the most natural looking bronzer I've ever used.
4. Bobbi Brown Antigua Bronzer ($38.00) and Pale Pink Blush ($23.00 and up)
This bronzer gives me that perfect glow and it does add a nice pop of color to my sometimes, really pale face. It's not the typical "bronzer" color that I reach for, but it works great. It gives me that rosy kind of glow. I also love this Pale Pink blush. It's that perfectly pink color that just looks fantastic on my skin tone. I really think this would look fantastic on so many different skin tones.
5. The Balm Bon Voyage Palette ($42.50)
This palette features 16 eyeshadows that are HUGE and very, very pigmented! I can't get over the size of each eyeshadows that are in this palette compared to other makeup palettes that I own. it also has 3 lip and cheek creams that are just gorgeous colors. I seriously love and wear all three of them. I ordered this palette on Hautelook, but sadly, it's not available right now, but you can order if on The Balm's website.
6. Not Your Mother's Bech Babe Texturizing Sea Salt Spray ($5.99) and Clean Freak Refreshing Dry Shampoo ($5.99 and up)
Both of these products have been saving my hair lately. I need a haircut and my hair stylist hasn't been available. That means I've got some wild hair. So the combination of these two products have been giving me some major texture and helping with volume and oil control. Plus, the price tag on these is fantastic! I don't think there has been anything I haven't liked about this brand yet!
7. The Body Shop Camomile Sumptuous Cleansing Butter ($15.00)
I posted about this in my recent haul and I'm still loving it just as much as I did then. It's great for when my skin feels dry and it hasn't irritated my overly sensitive skin at all. The scent is very light and refreshing. I don't think it removes waterproof eye makeup all that great, but I just follow up with a separate eye makeup remover and I'm good to go. Have any suggestions for others?? I'm loving this cleansing butter routine.
I also did a YouTube video to go over the products a little bit more in detail. Make sure you take a look and like the video!! I'll be getting my lifestyle favorites up asap! Did you have any favorites this month?? I'd love to know. I'm also thinking about posting about products that disappointed me. What do you guys think? Let me know!
This post contains products that were sent to me to review (Dermalogica) All other products were purchased by Simply Stine. All thoughts and opinions are my own. Post contains affiliate links.