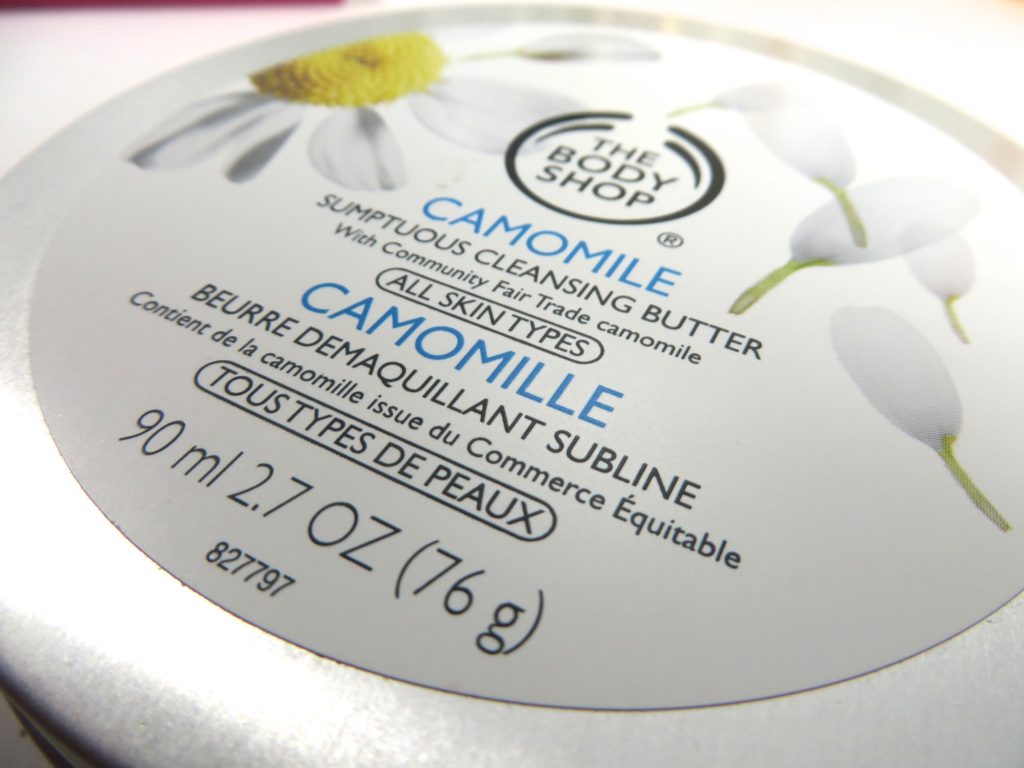 I recently did a haul on some new items from The Body Shop that my MIL had brought home for me.  I've since gotten a chance to use some of the products and I had to do a review on the Camomile Sumptuous Cleansing Butter because I have really, really enjoyed using it. More so than I thought I would if I'm being honest.
My skin isn't exactly dry, but it's not exactly super hydrated lately.  I think it's mostly a combination of crazy weather changes and a sinus infection that has left my skin partially dehydrated.  So at night, I wasn't really loving my cleanser that I had been using.  I had read so many reviews on cleansing butters and cleansing oils and I decided I'd like to try this product.  While it's labeled as a "butter," in my opinion, it's more like a balm.  It instantly dissolves in your hand into a really luxurious oil.  It's very lightly scented and I love that it's safe for my sensitive skin.
To use this product, I just scoop out a small amount of it with a q-tip (or something), so that I'm not putting my fingers into the product (germs, people!) and I start to rub my hands together to get the product to basically turn into an oil. I then put it all over my face (even my eyes) and just let it sink into my skin.  I then,  will either use a muslin cloth or even a basic wash cloth to remove it.  I try to get the water pretty warm and I just let the cloth sit on my skin for a moment.  I couldn't be happier with the results.  My skin feels so much more hydrated and soft after using it.  If I notice that I have any leftover eye makeup, I just use my Bioderma to remove the rest of it off my face.  It's a very simple product to use and it's making a huge difference in my skin not feeling so dry at the end of the day.
PROS:
Safe for all skin types, even sensitive skin
Doesn't leave my skin feeling greasy after use
Little amount goes a long way
Doesn't burn my eyes
Very hydrating (Shea Butter, Sunflower Oil)
Affordable. Normally sells for $15.00 (3 oz.), but it's always on sale!
CONS
Does have added fragrance, BUT it is very, very light
I'm not a fan of any product that you have to repeatedly "dip" your hands into.  Just make sure to use something to get the product out of the container so you aren't contaminating the rest of it.
I couldn't be any happier with this product. It's a very affordable cleansing butter option and I have really enjoyed using this product a lot more than I thought I would.  I guess I was always too afraid that it would leave my skin feeling oily and greasy.  I was so wrong!!  I would recommend this product if you are having some issues with dryness and want to try a cleansing butter, but don't know where to start. I think for the money you can't go wrong with this one!
The Body Shop Camomile Sumptuous Cleansing Butter
All products mentioned above were purchased by me or for me.  This is not a sponsored post, I just genuinely like this product. Affiliate links included.