When it comes to At-Home Peels, Philosophy's Micro-Delivery Peel (In home Vitamin C/Peptide Peel) is amazing!  I LOVE this peel and my skin thanks me over and over again every time I use it.   I've been using this peel for over three years (maybe four?) and I use it weekly.  It's the only peel I can use that doesn't irritate my skin.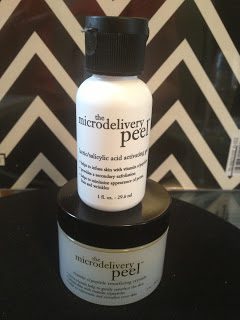 philosophy:
we pioneered a next-generation medical microdermabrasion procedure that rapidly resurfaces as it replenishes the skin with vitamin c. the treatment is known as the microdelivery peel.
(image source:www.philosophy.com)
I use this peel for it's anti-aging benefits.  As I've gotten older, I want to make sure I'm addressing my aging skin's needs.  Philosophy's website states that this peel will "Resurface and rejuvenate sun-damaged, hyper pigmented, sun damaged skin and aging skin."  This peel exfoliates my skin and makes my skin feel brand new!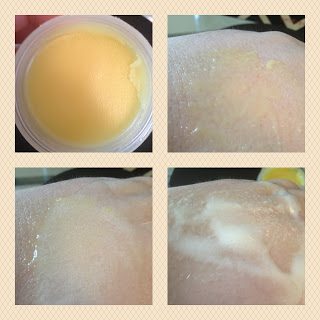 Top Left: Vitamin C/Peptide Crystals
Top Right: Apply layer of crystals to the skin, in circular movements
Bottom Left: Apply the Activator Gel to the layer of crystals
Bottom Right: This is the foam you want to see! It means the peel has been activated!
tips & tricks:
clinical results show that after just one microdelivery peel, 82% of respondents agreed their skin appeared to be resurfaced, and 80% said their skin felt smoother and more refined.
(source: www.philosophy.com)
This peel contains two products.  One Lactic/Salicylic Activating Gel and a (Bicarbonate)Vitamin C/Peptide Crystals.  It's a super simple application.  Apply the crystals to dry skin in circular movements and really work them into your skin (not super hard) to get rid of any dead skin cells.  I'd suggest doing this for about 1-3 minutes.  Then apply the Activator Gel (small amount) over the crystals.  You will begin to feel a warming sensation and it will start to foam.  This is totally normal.  Leave this on the skin for one minute and rinse off.
This product is great for anyone concerned with anti-aging, sun-damage and hyper pigmentation.  Not only does it resurface your skin, but it will also replenish your skin.
For more information, please visit Philosophy's webpage
Price $40.00-$69.00