Today I'm sharing my first ever professional in-salon spray tan experience with VersaSpa! It's almost impossible for me to tan on my own.  Not only do I not want to sit out in the sun for hours (no way!), but I've not always had the best of luck with self-tanners and I actually don't love the maintenance that is required to keep up with them.  I was super excited when VersaSpa invited me and some of my friends into Solar Dimensions for an event!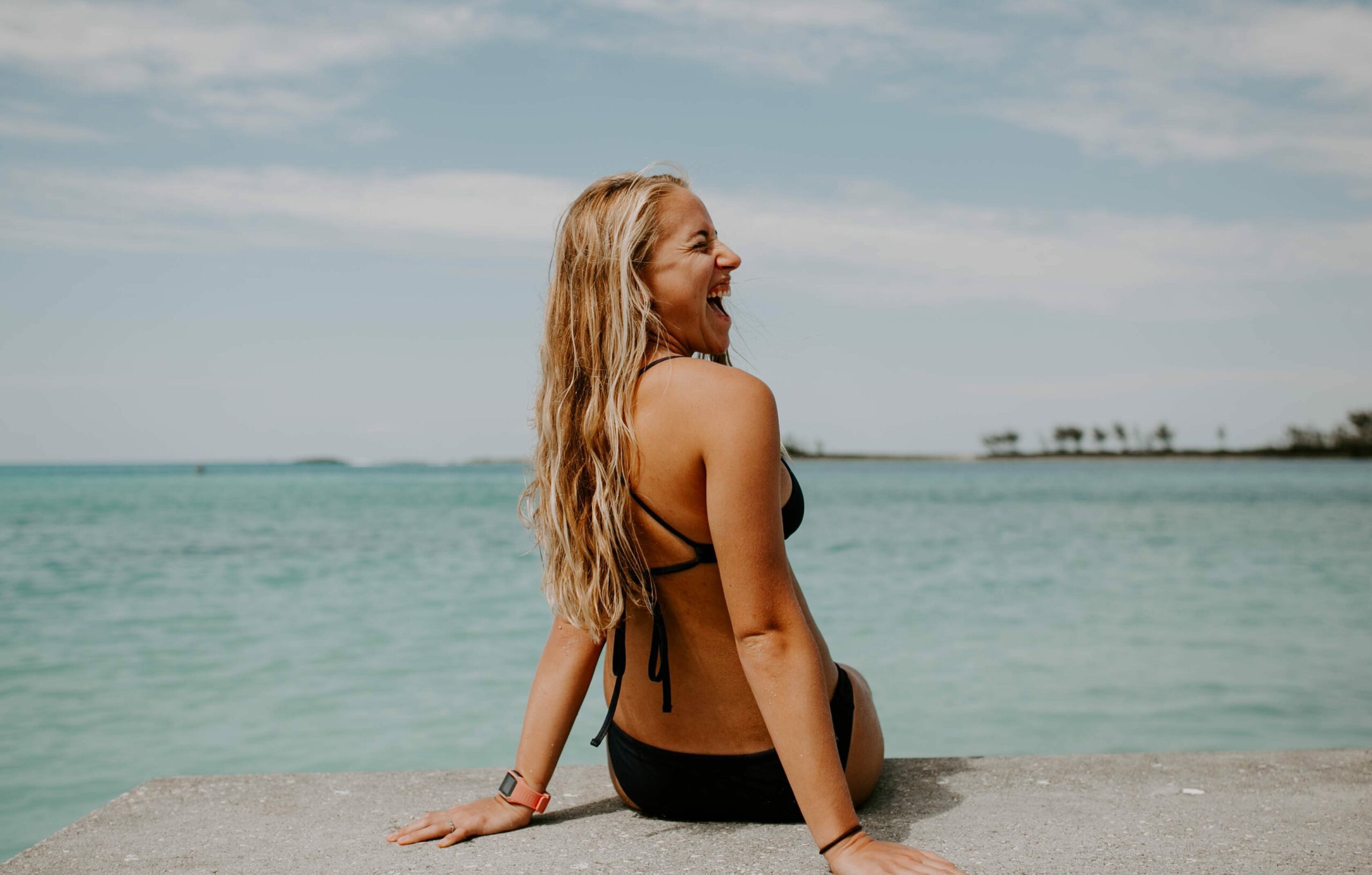 My First Spray Tan Experience with VersaSpa
My experience with VersaSpa was fantastic!  I will admit I was a little bit nervous before I did the in-salon spray tan.  Only because I tend to turn that dreaded orange color after some self-tanners and I kept having people tell me to stand  a certain way and move my hands back and forth and it just seemed like a lot.
I was nervous for nothing! The friendly staff at Solar Dimensions explained the process and I just went with it! My tan turned out fantastic! There was only one area that had a line, but I was able to cover it up with bronzer.  I was really impressed with the VersaSpa experience.  Here's some of my final thoughts on the whole process:

PROS of A Spray Tan
Super easy, almost "idiot proof" process
Less than 5 minutes and I was finished!
I didn't feel sticky or "gross" like some self-tanners leave you feeling
I chose a Medium Color with a Prep and Bronzer addition. I was nervous about the medium, but it looked fantastic and really natural.  My face was a little too dark, but I scrubbed a bit and it was fine.
It lasted about a week! I didn't shave everyday or use a loofah, but overall I was really impressed with the length it lasted.
Solar Dimensions offers a membership price for $59.00 a month I could spray as much as I wanted at any of their locations.  There was a one-time spray available and I believe the cost was around $30 or so.
The machine cleaned up after itself! I saw it spray water and everything when I was done tanning. That's a nice feature and I know it's clean! Plus, I love that they gave me basically "sticker" shoes to wear so my feet weren't touching anything.
The machine talks to you and walks you through every step of the process. It was really easy!
I'd much rather do this spray than do the self tanning treatment at home. It's so much easier than having to make sure that it's rubbed in correctly and that you didn't miss any spots!
I could shower in as little as 4 hours after the spray! I didn't shower until the next morning though…
It didn't come off on my clothes or sheets at first….
CONS of A Spray-Tan
CONS: Some of these are not really CONS, but I needed to add them in because they would be considered CONS of the tanning experience if you didn't follow directions! So follow the directions!
You HAVE to remember to use the blending cream that they have in the room or bring your own lotion.  Some of my friends that went didn't put on the blending cream like they were supposed to and their hands turned a shade of orange and they had some really tan areas around their toes. IF you use the cream like you are supposed to and wipe it off afterwards, you'll be ok!
Make sure that when you put on the hair net that you pull up the top to be above your hairline. You don't want a tan line on your forehead!
Exfoliate! Exfoliate before you have your spray done. I shaved and exfoliated the day before and I had no issues! If you don't exfoliate you might not get a great even spray
I gotta admit I'm not a fan of the smell.  While this VersaSpray was NO WHERE near as bad as some of the others I've used, I could still smell it.  I will say that it wasn't so bad that I wouldn't do it again. Just be aware that you will have that scent!
Once the tan started to fade away, I started to stub it off to blend it in with my real color. This is when the product started to slightly stain my sheets.
After-Care and Maintenance with a Spray Tan
I was sent home with a Sunless Pro Sunless Care Kit from VersaSpa (Retails around $60.00+) and it contained a Post-Tan Moisturizer, Tanning Bronzer, Body Cleanser and a packet of Pre-Tan Intensifier.  These products contain Vitamin D3, Avocado Oil, Caffeine and they work to hydrate, nourish and protect the skin, while also helping your tan last longer.
Sadly, my guests didn't get this package until 2 weeks after our tanning event, so I can't ask them why they thought of the products. I used them all and I think my favorite was the Body Cleanser.  It made me feel confident that I wasn't washing away my tan. The moisturizer was very, very thick and rich and it made me feel a bit on the sticky side.  I had to take a towel and gently wipe some of the excess off of my skin.
As far as the bronzer goes, it is really dark! For me at least. I don't know that I loved this product.  I sprayed it and and had to wipe away some of the excess and blend it in, but it still seemed dark on me.  That could have been an error in usage (maybe I sprayed it too close?!?), but if you were really dark and had a lovely tan going on, this would probably work great for you!   The kit was a nice gift and I appreciated them allowing me to try the products.
Pale Skin and VersaSpa Sunless Tanning
Overall, VersaSpa really won me over! This pale girl went from pretty snow white skin to an instant I just got back from some exotic island and I loved that! It's quick and easy and the results were immediate.
The VersaSpa Spray Tan has salons all over that feature their machines and I love that Solar Dimensions is so close to me and has so many locations around Atlanta to chose from! Not in Atlanta-Don't worry! VersaSpa has locations all over! I'll put in a store locator link below!
VersaSpa was so nice that they are giving away a Spray Tan Session! Comment below about your most horrible self tanning story and I'll pick a winner who can go and have a GREAT tanning experience with VersaSpa!  Good luck!
VersaSpa Locations and VersaSpa Information
Solar Dimensions and Solar Dimensions Pricing
My VersaSpa experiences and products were offered to me (and my friends) complimentary for review purposes.  All thoughts and opinions are my own.