I've been asked several times by readers to discuss my own personal skincare routine and if I'm being honest-I change my skincare products up quite a bit. However, I have a set routine in place that I follow daily, just with different products.  I thought the easiest way to really go into detail about my routine, but not overwhelm anyone, is to break it up into two parts.  So today, we'll talk about my morning skincare routine and I'll do my nighttime skincare routine next.  Let's get started!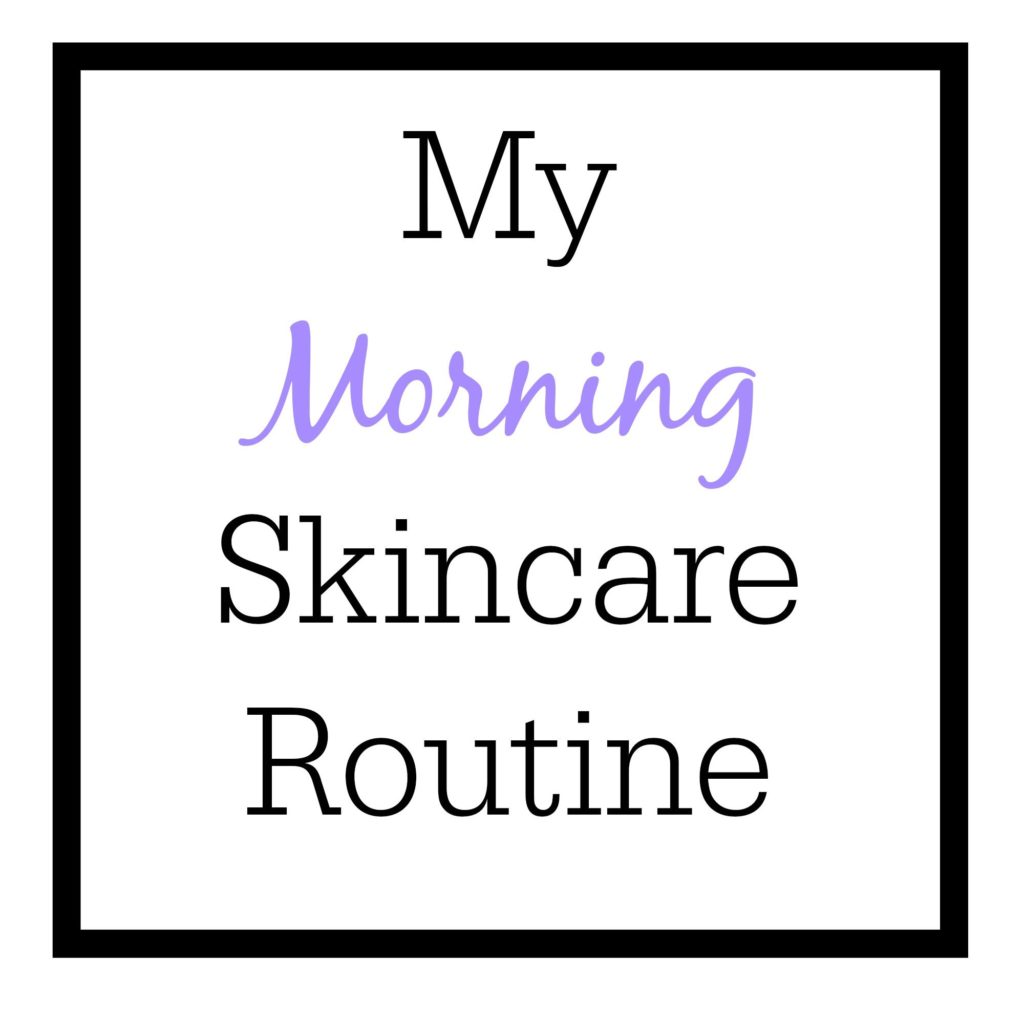 My morning skincare routine
My mornings start off bright and early and I like to keep my morning routine a little bit more simple and my nighttime routine more advanced.  How I start my morning routine, depends on what I did the night before.  If I used an over night mask or something more advanced, I might just use a simple Micellar Water and finish with a serum and moisturizer.  If my nighttime routine was a little bit more laid back, I'd amp up my morning routine to account for that.  Here's some examples!
My skincare issues:
1. Enlarged pores-Especially the cheek and nose area!
2. Redness-Pretty much cheek area and forehead
3. Combination Skin-Dry in some spots/Oily in T-Zone
4. Dry patches-Primarily in my eyebrow area and upper forehead
5. Sensitive Skin-Sensitive to fragrances, strong acids, etc
6. Aging Skin (mid 30's) 
Morning Skincare Routine #1
This is my low maintenance routine.  I'd use this routine if I had spent a considerable amount of time on my skin the night before (think overnight masques, exfoliation products, peels, etc) and my skin was feeling moisturized and hydrated when I woke up. After my skin is cleansed, I'll follow up with a toner.  I've been loving this Kiehl's toner as it's giving my skin some serious hydration that it seems to be needing lately.  I always, always use a Retinol product.  I've been a big fan of the Dr. Dennis Gross Ferulic Acid and Retinol Brightening Solution.  If you are wanting to keep away lines and wrinkles, dark spots, age spots and work on any hyper pigmentation issues-you need this product in your life.  It doesn't irritate my sensitive skin at all and I notice an immediate difference in my skin when I stop using this.  Finally, I'll follow up with a moisturizer.  While my skin may seem a bit on the drier side, I still get oily throughout the day.  I picked up the First Aid Beauty Skin Rescue Daily Face Cream and it has been the perfect moisturizer to use before I put on my makeup.  It doesn't leave my skin feeling heavy or over-moisturized and it gives me the perfect canvas to start my makeup.  IF you are using a moisturizer that doesn't contain a sunscreen (or any makeup that has it included) make sure you are using a physical sunscreen. Every. Single. Day!
Morning Skincare Routine #2
For mornings when I've really got to step up my skincare game, I opt for some good products that I know will get my skin back in shape.  From exfoliating cleansers, pore refining serums, hydrating serums and toners and moisturizers that will make my skin glow.  For these types of mornings, I use some of the products featured below.  I especially love the Rosewater I have featured below.  I spray that stuff all over my entire body, ha!  It's fantastic.  I'm also a big fan of using some resurfacing pads.  I sometimes use them during the day, sometimes during the night.  Just make sure to follow up with a really good SPF after using something like this:
[line]
Other items that I use would probably be either a skincare cleansing device or a muslin cloth.  I like to use the muslin cloth to give me a little bit more of an exfoliation on the days I don't want to use a skincare cleansing device.  I actually don't use a cleansing device every time I wash my face. Instead, I primarily use one at night, but sometimes I will switch things up and add it to my morning routine.  If you are using one daily, twice a day, and feel like your skin is irritated, try decreasing your use of devices like Clarisonic, etc to just once a day and if things are still seeming irritated (or causing you to break out) try once  day or with a different brush head.  You could even go to every other day!  That's what I do sometimes and it works like a charm!
Tips and Tricks I've learned!
1.  To properly apply Retinol products, apply small dots all over the face and work the product into the skin.
2.  The amount of moisturizer you need might surprise you!  About a half a dollar size of product is what most skincare experts have told me to use! Most of us use about a dime, but that's not enough!
3.  Keep your skincare products out of the sun and the heat.  They will go bad! I keep mine in a drawer so they are protected from the sun and the heat.
4.  What order should you use your products? Think lightest to heaviest! Cleanse, Tone, Serum and then moisturizer. That's how I do it!
5.  Retinols, Peptides and Growth Factor Serums should be all of our best friends if we are tackling anti-aging routines.  I'll have more on this soon!!
6.  Masks are essential to a good skincare routine in my opinion.  You can either get one from the store (I'm going to be featuring some of my favorites soon!) or you can make your own!  One of my favorite masks to make at home would be Baking Soda, Honey and a little bit of warm Milk.  It's excellent at giving the skin a nice exfoliation, which will allow your skincare products to really do their job on your skin! I also love to do a Pomegranate and Lime Juice face mask (it smells amazing!!)  for when my skin is a little breaking out (also good for wrinkles and lines!) or even just a plain Oatmeal and Honey facial for when my skin is irritated or dry.  You don't always have to spend a fortune on a good mask!
7.  SPF and staying out of the sun is SOOOOOO important. Not only for protecting yourself from Cancer, but being a "sun worshiper" (We've all been there at a time in our life, ha) will age your skin so much quicker than those who stay out of the sun and wear proper amounts of SPF! I've known too many people who have found out they have skin cancer and even some, sadly, who have passed away.  Protect yourself!
8.  Hydration will make such a difference in your skin!  Drink that water and notice the difference!
9.  Regular Facials.  I know they can be expensive, but every so often, even if it's just once a year, go see a skincare therapist and treat yourself to a good Facial.  It will make such difference in your skin because they can do extractions and other tricks to get your skin looking healthy!10. IF you are using Cleansing Devices such as the Clarisonic, Foreo,etc-Make sure you are changing your brush heads or cleansing your device properly! If not, you are doing nothing but spreading bacteria all over your face when you use it and who wants that?
10. Are you cleaning and changing up your skincare brushes on your skincare devices?  You need to clean them every single time and change them at least every three months! You don't want to wash your face with bacteria that is left on them, do you?
I hope my routine helped show you some ideas on products you could be using to up your skincare game a little bit! Or even if it just helped to show you what products to use first, etc.    I'll also have my nighttime routine up next week.  I had planned on filming a video, but my allergies have been horrible this week and have left me with a not-so-ideal voice for filming.  Once I have my regular voice back, I'll film a video so I can go into a little bit more detail and you can see exactly how I"m using the products!  Do you have any skincare questions for me? If so, leave a comment below and I'll be more than happy to help answer it! PS  There might just be a new giveaway coming up soon….just saying!
Affiliate Links Included.