I get to try a lot of products and I'm not complaining about that, at all.  There are always those stand out brands that I tend to go back to over and over again.  Haute Naked is one of those brands.  I am 100% addicted to their Whipped Body Butter.  It's light, perfectly scented and very addicting!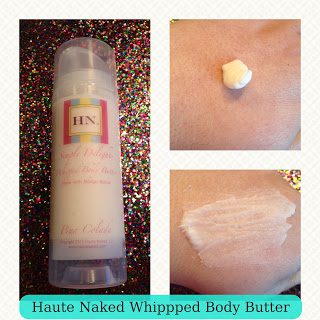 I can't tell you how many times I put this on during the day.  It's on my desk in my office during the day, and then it travels with me to my bedroom at night.  I can't get enough of it!  I love it because it's light, but leaves my skin feeling silky smooth and isn't greasy (thanks to the mango butter in it).  Did I mention the smell?  O.M.G. (really, I had to do that because it's that amazing) I have been using the Pina Colada scent recently and even my husband comments on how amazing it smells.  It's not overwhelming, but its light enough that you can smell it.
It retails for only $16.95 and comes in a very chic bottle.  There are a variety of scents like Rich Vanilla, Coconut, Blackberry, Pink Grapefruit, Mango and Unscented.  This product can be used in any season.  It's hydrating enough for winter time, but also light enough for Spring/Summer.
This is a company I love to brag about because I love supporting small businesses and also businesses who donate to charities!  For more information and to purchase this product, please visit their website.