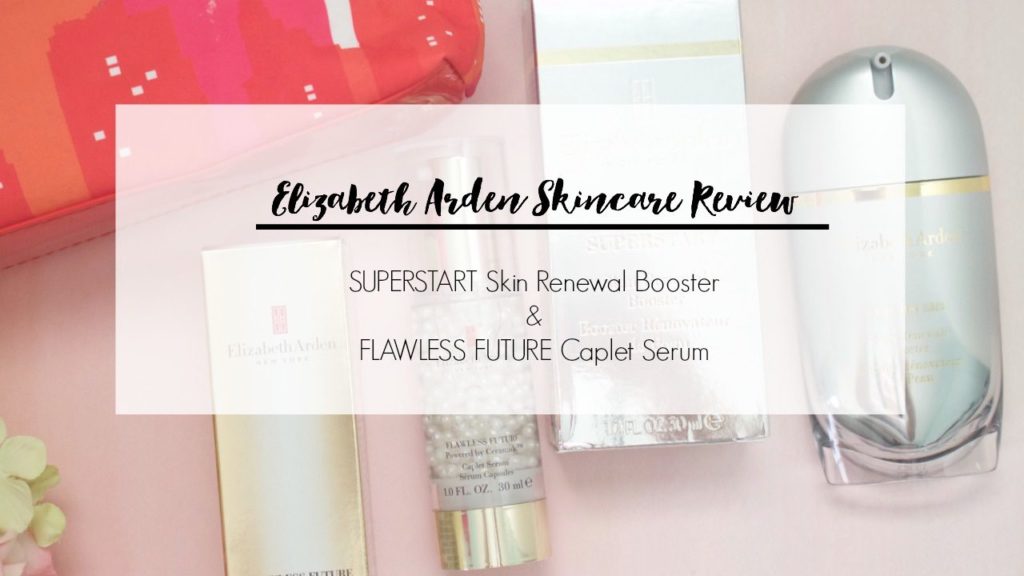 Today's post is another Skincare product review. You guys know what a skincare junkie I am, so I'm always happy to keep testing out more products to review for you guys! I recently got a package in the mail from Elizabeth Arden with two new skincare products. I have never used anything from Elizabeth Arden's skincare line, so I was excited to finally get a chance to learn more about their skincare line.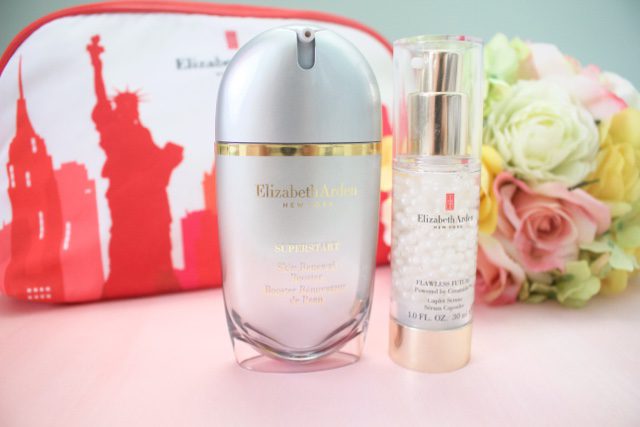 The two products that I was sent to try were the Elizabeth Arden SUPERSTART Skin Renewal Booster and the FLAWLESS FUTURE Caplet Serum. Both are geared towards achieving brighter, radiant, more hydrated and comforted skin. Also, helping with fine lines, uneven skin tone and enlarged pores.
Those two products are exactly what I need as far as my skin type. Dry, Irritated (overly sensitive) skin with enlarged pores and redness. I'm 35, so I'm really trying hard to make sure I'm always using a good anti-aging routine. I've been using the products for a little over three weeks now and I am so pleased with both products. It took a couple of days, but I noticed that my skin was smoother, my pores seemed smaller and my overall complexion seemed brighter and a little bit more even. Here's a little bit more about each of these products and how I use them in my skincare routine.
First let's chat about the FLAWLESS FUTURE Caplet Serum.
This product retails for $60.00 for 1.0 FL. OZ.
Used for Fine lines, Uneven Skin Tone, Enlarged Pores, Hydration and Dull Skin
Recommended Usage: Use a single pump for each area AM/PM-Forehead, Chin and Cheeks **I use this after I use the SUPERSTART Skin Renewal Booster**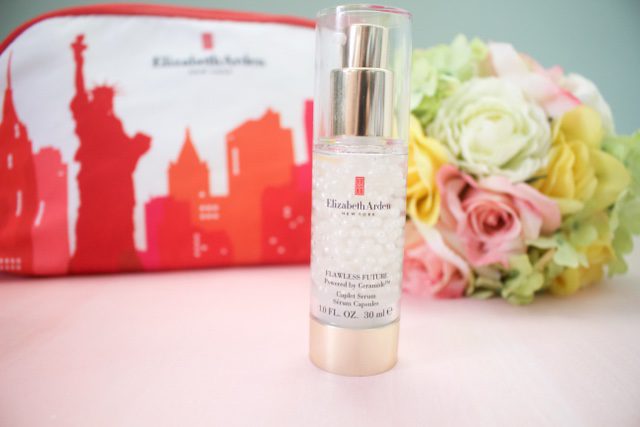 Ceramics are basically protection for your skin. They help brighten your skin and help with any dullness that you are experiencing. The "mini-caplets" that are in this serum contain a Second Skin Protective Matrix (Telosense) that when used, kind of burst open to combine with the other ingredients of the serum. The formula will help with brightening up your complexion, issues with enlarged pores and fine lines.
When I have used the FLAWLESS FUTURE Caplet Serum, I immediately was impressed with the way it felt on my skin. It's not heavy at all and when you actually pump the product into your hands, it looks like tiny little diamonds within the serum. So it does help to give an instant brightening effect on the skin. I've been noticing that my skin is much softer and I can't say for a fact if it's from just using this product or the SUPERSTART Skin Renwal Booster of using a combination of both products, but my skin has seriously been much more softer and feels a lot more hydrated lately than it was before. I haven't used it long enough to notice any anti-aging benefits yet, but I do plan on keeping this product as a part of my routine to see what happens the longer I use it.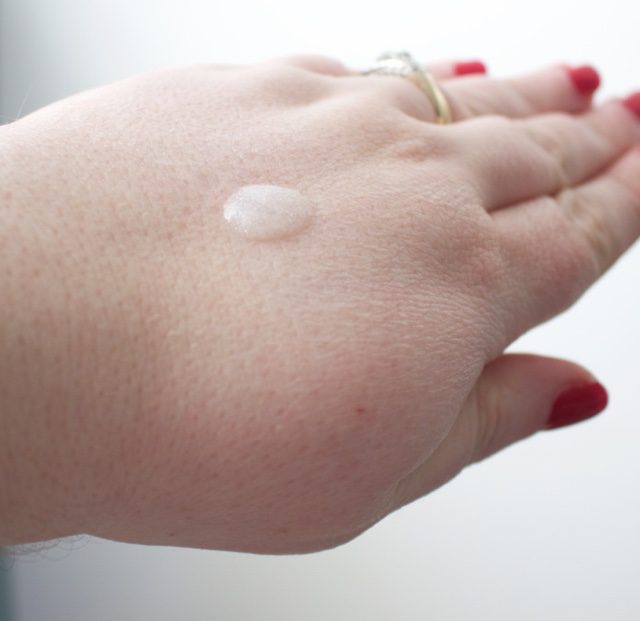 Here is a pump of the FLAWLESS FUTURE Caplet Serum. I don't know if you can tell, but the serum has a very radiant appearance. It almost appears to have a diamond-like sparkle! Definitely does brighten up the complexion and the area seems so much more awake and radiant!
The Elizabeth Arden SUPERSTART Skin Renewal Booster
This product retails for $65.00 for 1.0 FL. OZ.
Works to restore your skin to a healthy more hydrated appearance. Strengthen skin's natural defenses and it's ability to repair and renew.
Recommended Usage: Smooth onto clean skin AM and PM, before applying serum and/or moisturizer
The SUPERSTART Skin Renewal Booster is full of Natural Plant Extracts and Probiotic Fortifiers that basically help to restore the healthy appearance of our skin. This formula helps the skin to repair and renew itself. I kind of like to think of this as my go-to for support when it comes to my skin. It helps to protect my skin and help fight against any further damage.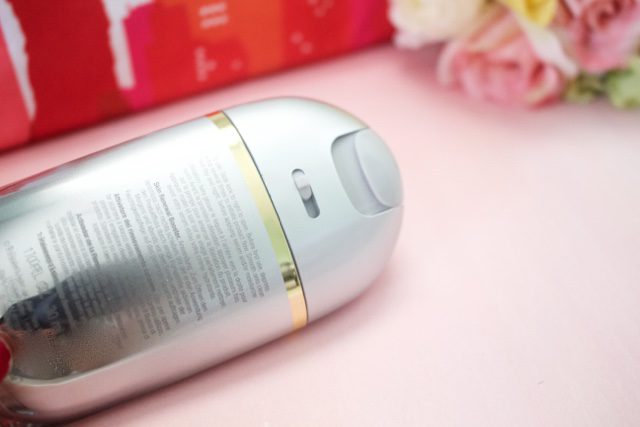 The SUPERSTART Skin Renewal Booster has an interesting package. I like that you can lock and unlock the dispenser, but my only question is, with a package like this, is this wasteful in the end since I can't "scrape" the rest out of the product out of the package when it will no longer dispense?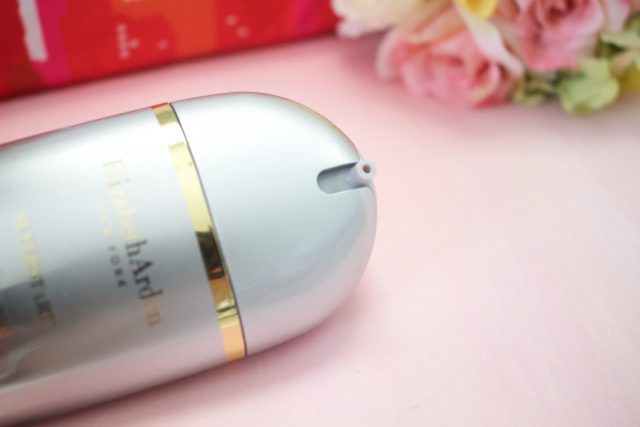 I use this product before I use the Caplet Serum. I use a couple pumps of the product and smooth it onto my face. It doesn't feel greasy at all and it seems to sink right into my skin. This is one of those products that I can't tell you if it's a game changer, yet. I will say that using this product , along with the Caplet Serum, my skin seems so much softer and radiant than it was before.
Overall, I've been very impressed with my introduction into these new Elizabeth Arden Skincare products. My skin looks and feels more hydrated, softer and even more radiant. I have loved using both of these products, along with a regular moisturizer before my makeup application. I've noticed that my usual issues with foundation (either my skin is too greasy feeling or too dry and the makeup cakes up on my skin) has not been an issue since I started adding these into my skincare routine. My skin doesn't feel as irritated or dry at all and it's been really cold outside. Normally, this time of year I'm fighting with redness and dry patches. So far, that hasn't happened.
I think that long term use of both of these products will give me a better answer at saying if I think one is working better than the other OR if I feel that both products seem necessary. Right now, using the combination of the Caplet Serum and the Skin Renewal Booster has really impressed me and I'm excited to see what happens as I continue to use them on my skin.

PR Sample. All thoughts and opinions are my own.
Affiliate Links Included.

[show_shopthepost_widget id="1394472″]