One of the things that I've had to learn when it comes to makeup is that dealing with redness can be tricky. I think, for the most part, I've always had some sort of redness on my face and it's just something that I've gotten used to. However, covering up that redness took me some time to figure out what worked for me and my skin. No, slathering on tons of products to "hide" that redness isn't going to have me looking my best. #CakeFace  Instead, through trial and a lot of error, I've got a system that works and gives me a natural, radiant looking complexion minus the redness.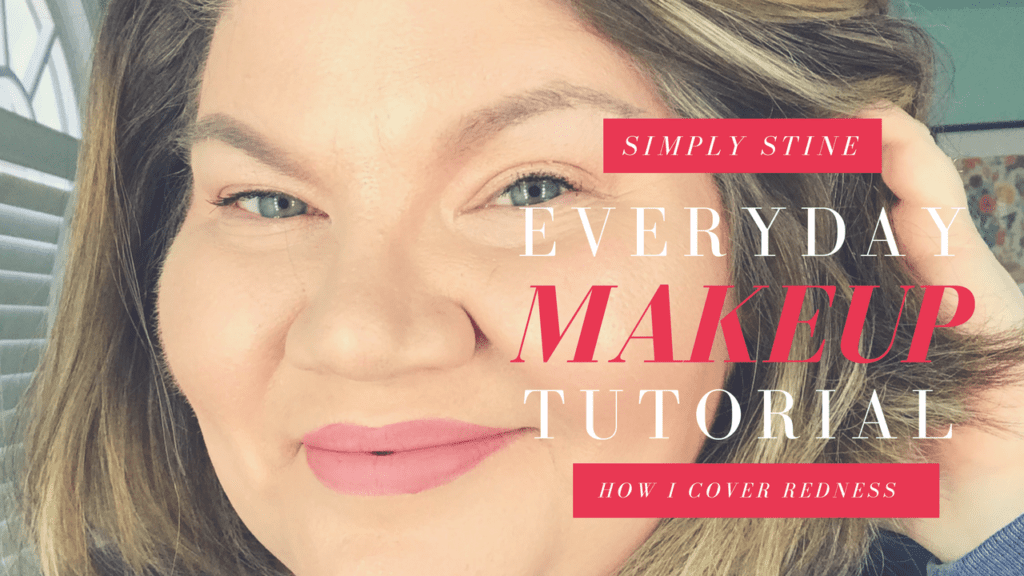 I say this all of the time, but my first tip for covering redness is to make sure that you have a good skincare routine in place that helps with your redness issues and keeps your skin calm.  I know that if I use a product that contains a chemical peel or sometimes even a serum, that the redness I normally experience can intensify.  So for those products that do leave me looking a little bit more flushed, I tend to use those at night.  I make sure that I'm using products to help soothe my skin and not leaving it inflamed.  I plan on doing a post sharing my top skincare products for helping with redness soon!
When I talk about redness, I'm talking about issues such as rosacea, broken capillaries, blemishes, minor skin irritations and sun damage. Sometimes the hardest part of your makeup routine is finding products that match your skin tone, but what makes it even harder is if you're like me and you have areas of your face that are red, irritated or you're dealing with blemishes.  Then you have to find a product to help camouflage that redness that you're experiencing so you can then work on your foundation to help match your natural skin tone. Sounds tricky, but it doesn't have to be!
 Makeup Tips For Covering Redness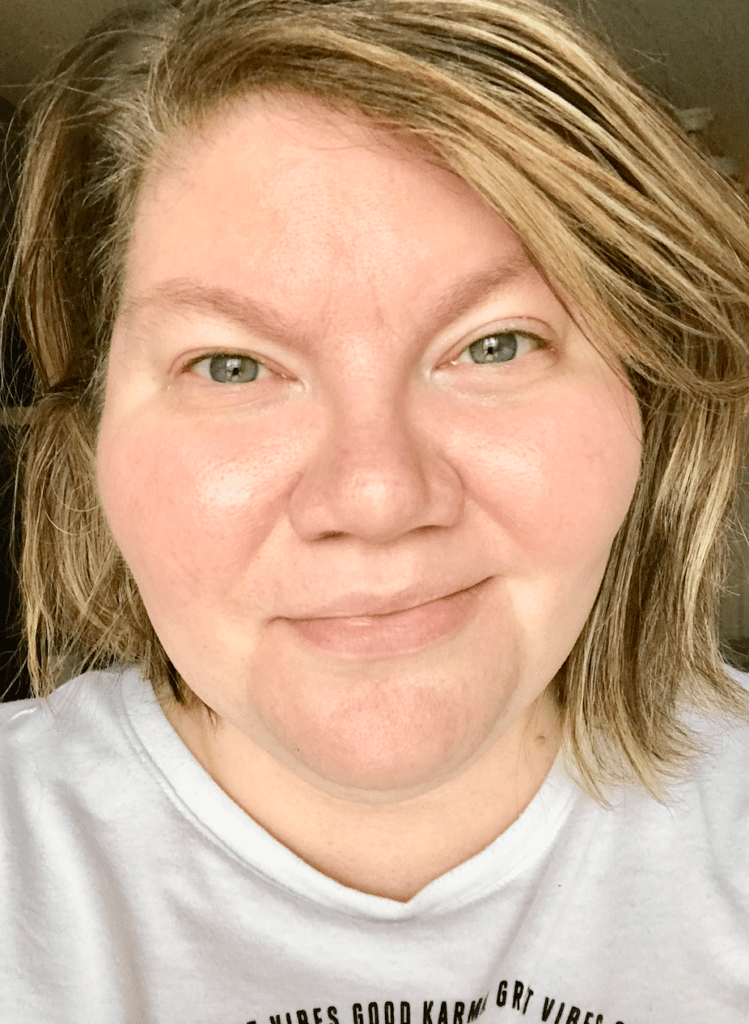 Before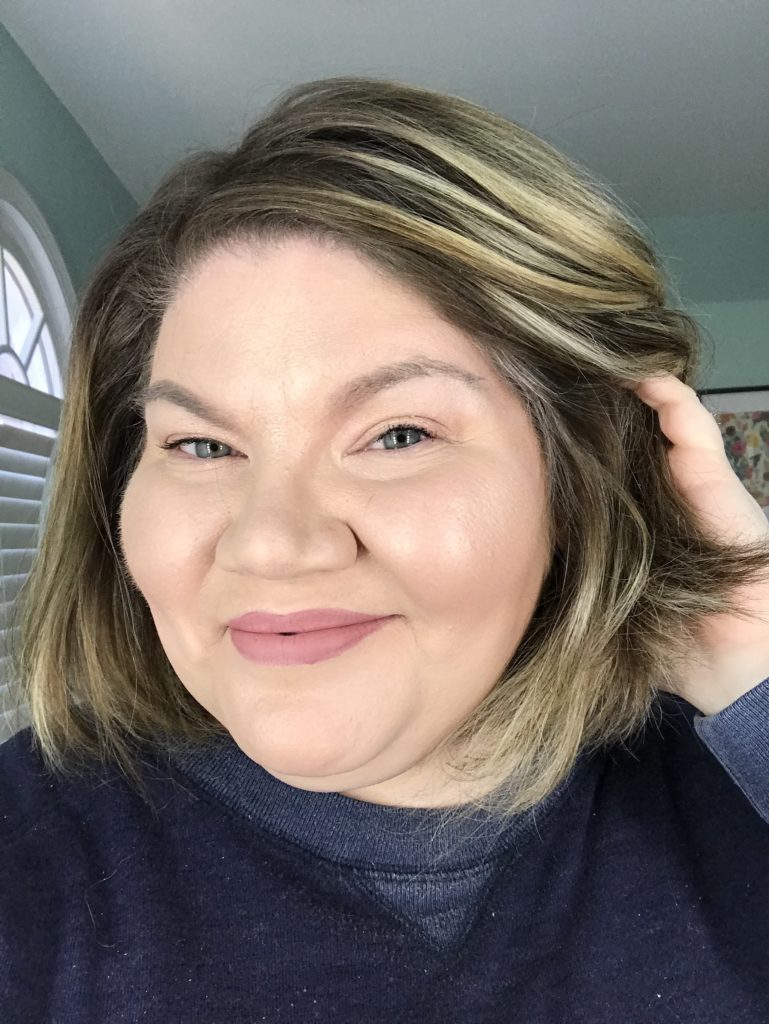 After
Correcting Redness On Your Face
My most important tip is to use products that help correct your redness.  I've tried lots of color correcting products, but to me, the best product I've ever used is the Bye Bye Redness™ Correcting Cream from IT Cosmetics. Did you know that the IT in IT Cosmetics stands for Innovative Technology?!? YEP and with the Bye Bye Redness, they found a product that really works at helping cover redness. This isn't a foundation, but more of a skincare product with color correcting benefits.  It features anti-aging peptides, colloidal oatmeal, hydrolyzed collagen, aloe, and avocado.  This stuff is magic in a jar if you ask me and it's the best product I've ever found at helping me conceal redness that I've ever used!
Bye Bye Redness Correcting Cream:
3 Shades Available (You're probably used to seeing green and yellow tinted products, but this features both of those shades but also with nude colored pigments to make it more skin-like)
A little bit of this product goes a long, long way in correcting redness
Not a foundation, but more of a correcting cream. Sometimes I'll admit that I can wear this on its own and not wear foundation! Especially with the new shades they made available
You can use this to cover rosacea, blemishes, broken capillaries and minor skin irritation
$32.00
My Best Foundation Recommendation For Luminous Skin
So you've got a good skincare routine going, you're wearing SPF daily and making sure to stay out of the sun and now you've got a really good correcting cream for your redness, but what about a foundation? Once my redness is corrected, I feel like I can easily go in with a foundation that matches my skin tone and not one that has to match my skin tone AND conceal my redness. I really love the DIORSKIN AIRFLASH SPRAY FOUNDATION. Honestly, this is one of my favorite foundations to use because it gives the skin a very velvety finish and the formula contains mother of pearl pigments that give the skin this beautiful, radiant glow.
DIORSKIN AIRFLASH SPRAY FOUNDATION:
Available in 11 shades (I'm hoping they expand this range for darker skin tones)
Gives the skin an airbrushed effect
You can spray directly onto the face, but I don't like that method.  I use a Kabuki brush and spray about three small bursts of product onto the brush and begin tapping it into my skin and blending.
This works great for all skin types. I was skeptical with my enlarged pores and combination skin but this is AMAZING for not enhancing my pores and it really does leave the skin looking airbrushed. I don't have issues with my foundation disappearing when I wear this foundation. It lasts all day for me!
$62.00 (I've had my bottle for almost a year now and it's still not empty!)
If you can't splurge on the Dior, I recommend the Sephora Perfection Mist Airbrush Foundation. While I prefer the Dior, this is still a great foundation at half the cost. It doesn't feature as many colors as the Dior, but a decent selection and some of the colors are on sale! This does NOT feature the mother of pearl, so it doesn't give that illuminated, radiant look to the skin but it's still a fantastic foundation.
So to finish off my complexion correcting, I have to use an under eye corrector and some concealer.  I think a lot of mistakes that come with under eye makeup is that people aren't correcting the dark circles and they're layering on so much product that the under eyes end up looking cakey and completely not natural. I want my under eye area to be radiant and natural looking. Obviously, I want to conceal any dark circles and puffiness, but a lot of that starts again with a good skincare routine. More on that another time!  For me, while I don't have a lot of under eye darkness, I have some.  I will normally use a product like Laura Geller Filter Corrector Color Perfecting Balm OR a product like the IT Cosmetics Bye Bye Under Eye Corrector. 
Laura Geller FILTER CORRECTOR COLOR PERFECTING BALM:
This features peach, blue and green color correctors
The green shade is great for redness and blemishes, Blue shade is great for dull skin and helping eliminate yellow undertones, and the Peach shade is amazing for hyperpigmentation, veins, and dark circles
This is a very heavy and thick formula and I find that a little bit goes a long way. I take some on my fingertips and blend on the back of my hand and apply with a damp sponge. A little bit goes a long way!
$32.00
IT Cosmetics Bye Bye Under Eye Corrector:
Available in 3 shades
Peach-Based Concealer that helps to neutralize and erase dark circles under the eyes, helps brighten darkness and dark circles.
Contains green coffee extract, cucumber, avocado, and aloe plus anti-aging peptides, niacin, hyaluronic acid and hydrolyzed collagen. It's skincare and makeup!
Infused with color-correcting, brightening pigments
You must have very hydrated skin to use with this product so make sure you've used a great under eye product to prep your skin for makeup application. This is a very thick product and I find it can crease easily on me. Sometimes I will blend this with my eye cream! If you apply it on its own, try warming it up on the fingers before patting into the skin or blending with a brush
Once I've corrected any darkness I'm experiencing under my eyes, I go in with a brightening concealer or illuminating product.  Sometimes I don't use concealer because I don't need it, so I'll use a product like the MAC Prep + Prime Highlighter.  On days when I do need a little bit more concealing, I'll use my favorite concealer, NARS Radiant Creamy Concealer.
My biggest piece of advice when using under eye products is to start with a small amount of product and work it into the skin. Obviously, you need to have a good hydrated base to start with, but I see so many people using so much concealer and you don't need that much product at all! I like to start off with warming up the product on the back of my hand and then applying with a brush, damp sponge or my fingers.
MAC Prep+Prime Highlighter:
Pen-style highlighter
Soft, sheer wash of color to the skin
Adds radiance to the complexion
Can use under makeup or on top to brighten the skin (I use this under my eyes and other areas to brighten)
$27.00
NARS Radiant Creamy Concealer:
22 different shade options available
Comes with a doe foot applicator
Medium to full coverage
Helps with imperfections, hides dark circles, and adds a radiant finish to the skin
Hydrates the skin and helps skin retain moisture
Features light-diffusing technology to help protect skin from damaging free radicals
Contains a mineral tone balancing powder that helps with imperfections and blurs the look of lines and wrinkles.
Features a botanical blend of ingredients such as magnolia bark extract, grape seed extract, and vitamin e.
If you want to use as a highlighter, select two shades lighter than your normal skin tone and if you want to use it to contour, select two shades darker
To finish my complexion routine, I normally will set my makeup with powder and a setting spray. This part is entirely up to your preference and your skin type.  I know that I have oily skin, therefore I have to set my makeup to make sure that it doesn't disappear if my skin gets oily throughout the day.  Also, I have found that it also depends on the foundation and under eye products I'm using.  Some don't require me to set them with powder because they hold up on their own.  I will say, if you have dry under eyes or dry skin, you can probably skip the powder.  You don't want it to crease on you and make your skin look older than it really is!
Laura Mercier Translucent Loose Setting Powder is one of my favorites! It's great for setting makeup and it won't flash back in photos! For me, it helps with my oil control and make sure my pores aren't popping up under my makeup! I plan on doing an entire post on this part of my routine and the whole "baking" phenomenon so stay tuned for that!
Laura Mercier Loose Setting Powder
Available in two shades
No-Flashback formula
Helps set makeup
$38.00
Sometimes, especially in the summer, I will use a makeup setting spray.  I honestly have quite a few that I rotate through, but I really do enjoy using the PIXI Makeup Fixing Mist.  A product like this does so much more than you probably think.  Not only does it set the makeup, but it also hydrates and balances the skin and helps you refresh your skin throughout the day! This is a must-have product for me.
PIXI Makeup Fixing Mist:
Prolongs makeup by helping it to not settle into fine lines and wrinkles, melt off face or moving
Features Green Tea and Rose which helps to comfort, hydrate and protect the skin
Hydrates and balances the skin
Sets Makeup
$15.00
In the video, you'll see that I finish my complexion with bronzing, blush and highlighting my skin.  I still keep it natural and radiant.  That's always my end goal! I am not really into shining like a disco ball, but if that's your thing, I say go for it!  I like my makeup to look radiant and healthy as that's my style! My next post will feature some of my favorite products to help "awaken" my skin and my complexion! I feel like obviously foundation gives the skin a nice look, but you need to add back color to your complexion so you have depth and dimension to your skin!
Covering redness and imperfections is super simple once you find the right products and the right techniques! I hope that watching my video will help you learn the simple techniques that I use to ensure that my complexion is radiant and flawless! If you enjoy these tips and the videos, let me know! If you have any questions, leave them in the comments below! Helping women feel more confident in their appearance and their beauty routine is something I so enjoy doing!