I was first introduced to Oka-B Sandals when I had just moved to Georgia. I worked at a spa in Alpharetta and the Oka-B Sandals were what we provided our guests to wear during their time at the spa and we sold them in the gift area of the spa. They were comfortable, easy to clean and guests loved them!  They were one of our top-sellers in the spa! Since then, they have so many more styles and have added flats, wedges and even necklaces to their product line!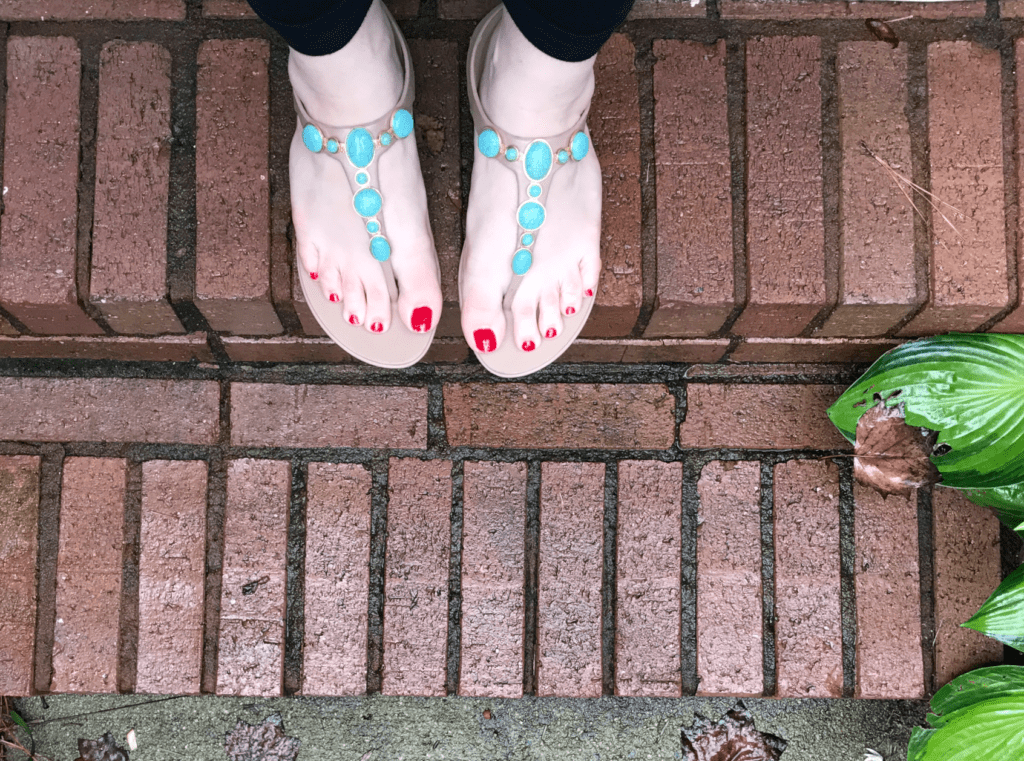 More About Oka-B And What Makes Them Different
Oka-B is more than a shoe, it's a lifestyle.  At Oka-B, we believe fashion and comfort should never be  mutually exclusive.  Look effortlessly chic while running through the airport in our sandals.  Conquer the boardroom or the PTA meeting in our flats and wedges.  Explore new wonders in our flops flips.
Each shoe is made with a strong, patented plastic blend that is machine washable and dishwasher safe.  And just in case anything does happen, each pair of shoes comes with the Oka-B 2-year warranty.
Located in Buford, Georgia, our factory allows easy distribution throughout the United States. This drastically reduces our carbon footprint since our shoes travel 93% less than the average imported shoe. I actually didn't know their factory was located so close to me!
The majority of shoes sold in the United States aren't recyclable, and most that claim to be are really just shoe redistribution programs. At Oka-B, we believe in closed-loop recycling to reduce the use of virgin material and to keep old shoes from becoming environmental waste. The average pair of Oka-B sandals made this year contain 15-25% recycled material.
There are so many features of the Oka-B sandal that I love, but I think what I love most about them is that they are waterproof, they're so lightweight and easy to travel with and they are slip resistant! Not to mention, they're eco-friendly and recyclable.  The actual shoe itself is made of a material called Microplast, which allows the shoe to be soft, lightweight and comfortable.   The Microplast is made from a recycled blend of plastics which offers durability and comfort!
You'll also notice tiny massage beads that are on the sandal.  That's because each shoe is designed with the principles of reflexology.  So the more you walk, the more the beads will treat your foot to a little massage throughout the day.  It's the little things like this that make Oka-B so special!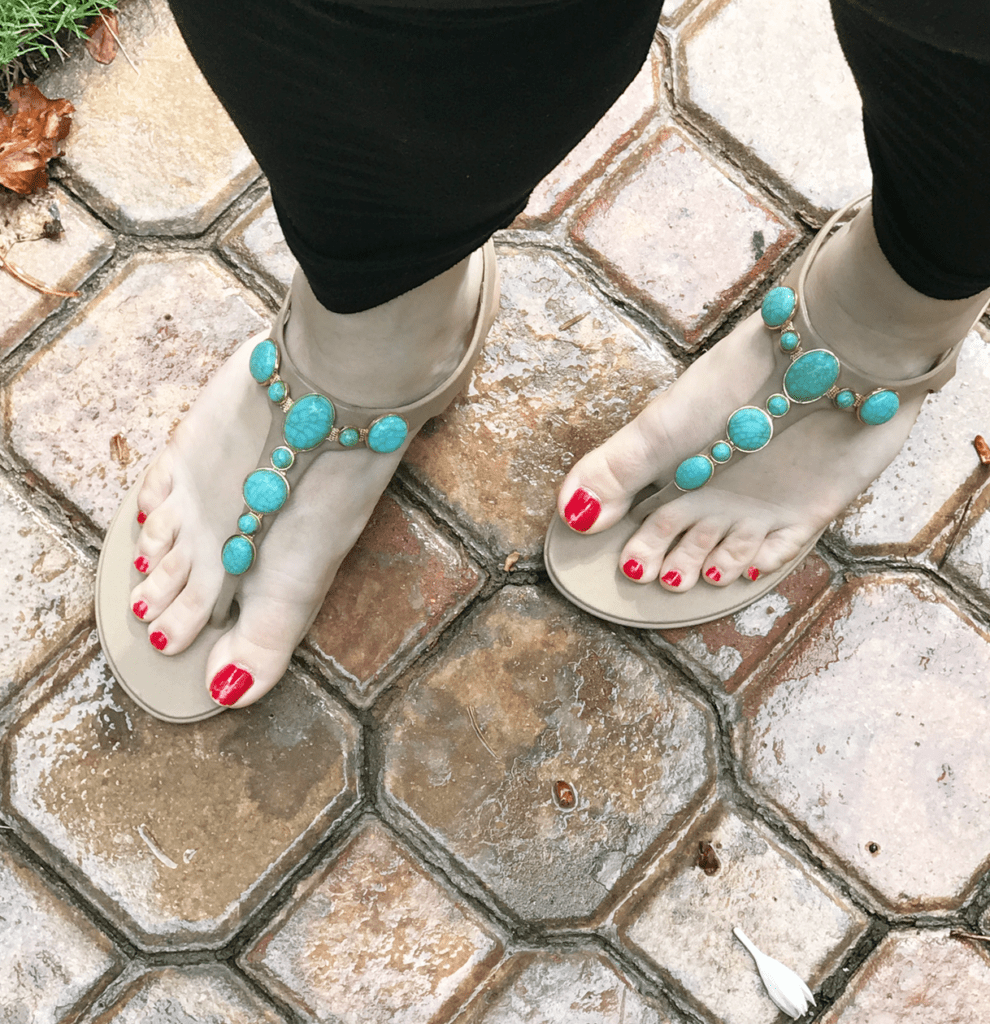 Oka-B Sandals
Isla $46.00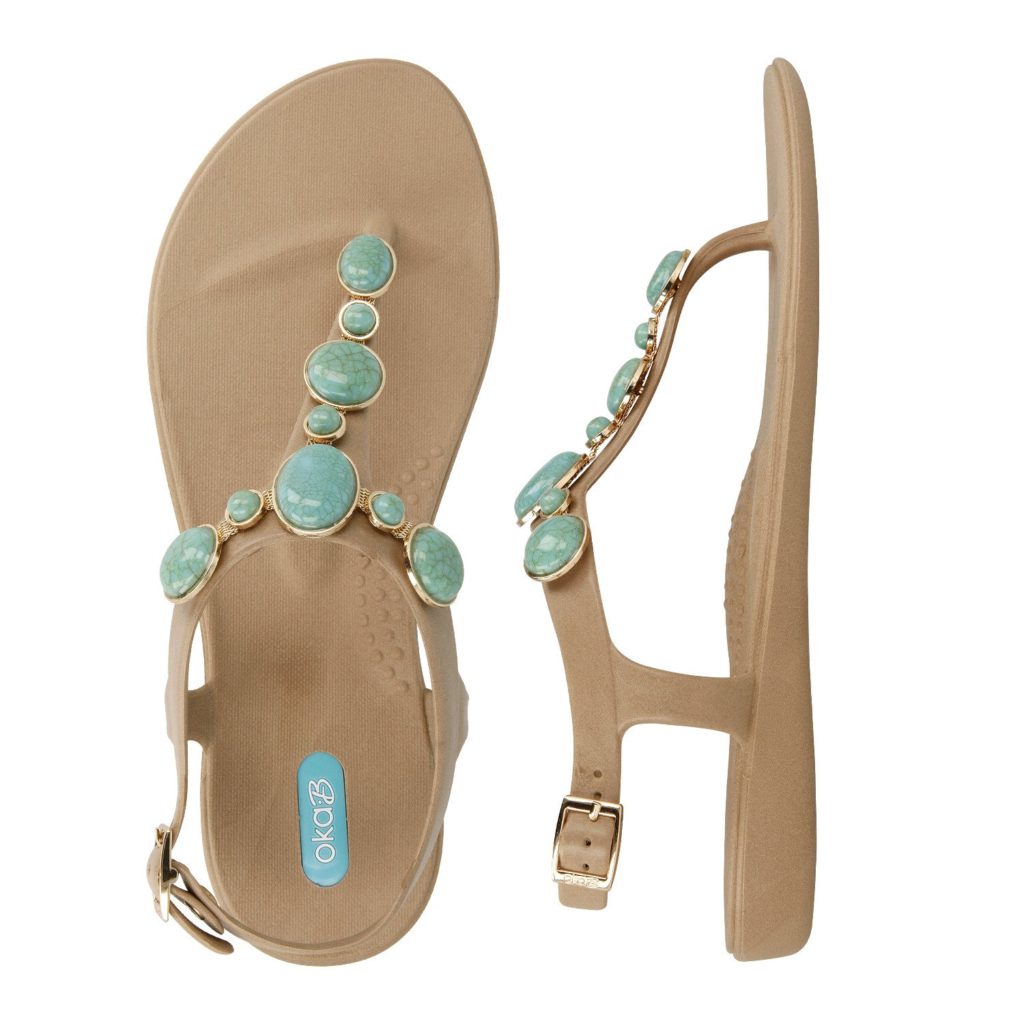 The Isla is a buckle strap sandal with a pop of turquoise.  I ordered these in the color  Chai, which is a perfect neutral beige. I wanted to pop of turquoise to really stand out against the shoe and I figured I could wear it with so many outfits.  The thing I love the most is that the turquoise is actually turquoise stones.  It's so chic looking when paired with so many different outfits, for so many occasions!  I can instantly take a casual outfit and bump it up with just these sandals! I ordered mine in a size 9 and I'm normally anywhere between an 8 and a half to a 9.  They're so comfortable!
Carson $36.00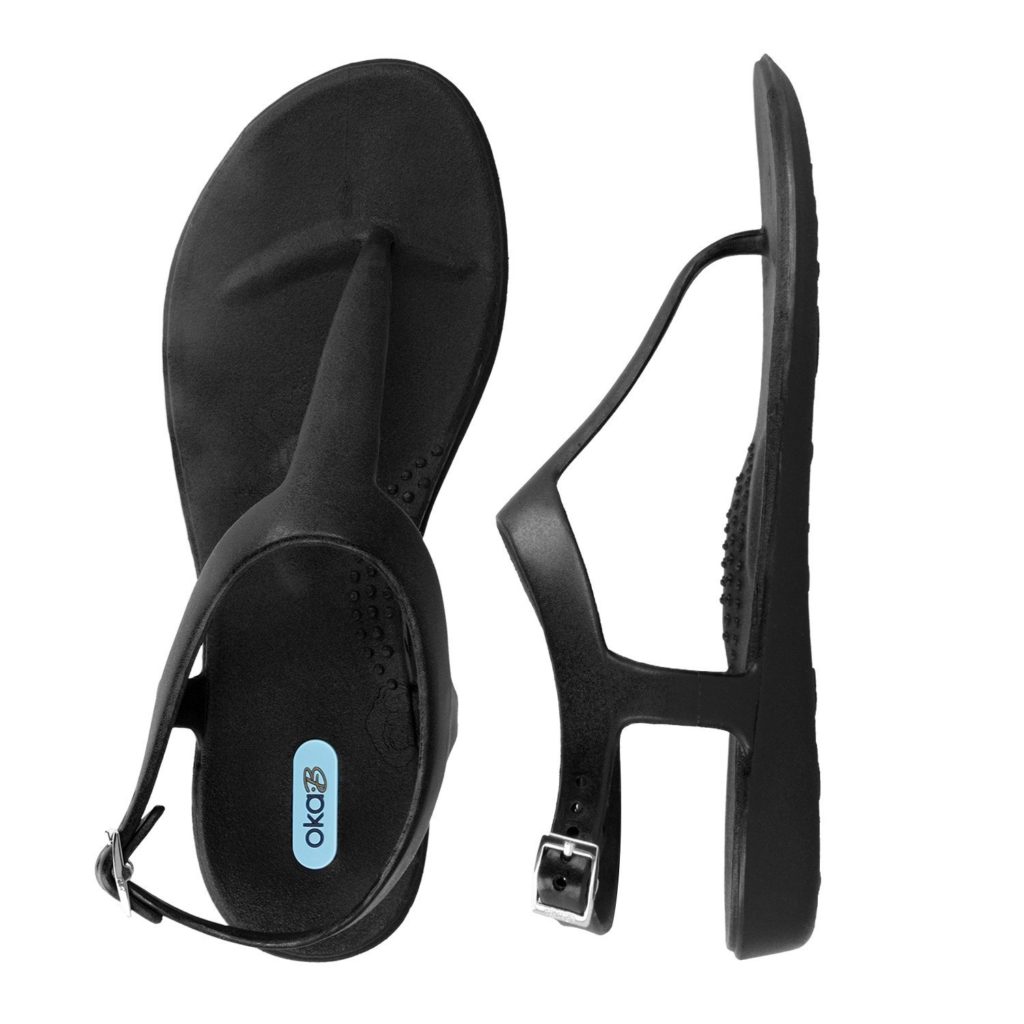 Oka-B Carson Sandal in Licorice 
The Carson I ordered in Licorice which I believe to be black, ha.  The cushioned footbed makes these so comfortable and these make the perfect sandals to wear for so many occasions.  Being that they are so comfortable, I find myself wearing these all of the time, with so many outfits.  Also, Oka-B shoes are water resistant, so if you're getting tons and tons of rain daily like we are, these are the perfect shoes to have on hand!
Throw Your Oka-B Sandals In The Dishwasher!
Yep, you read that right.  To clean and care for your Oka-B Essentialsandals, simply rinse them under tap water to remove any items before placing them in the dishwasher.  You'll want to put them in the top section of the dishwasher and select whatever cycle you prefer!  How many times have you been able to wash your shoes in the dishwasher?!?!
For your Adorned Sandals (ones with accessories) it's best to use soap and water on these.  So take a sponge and wash away!  Let them air dry when finished.  Clean-up couldn't be easier!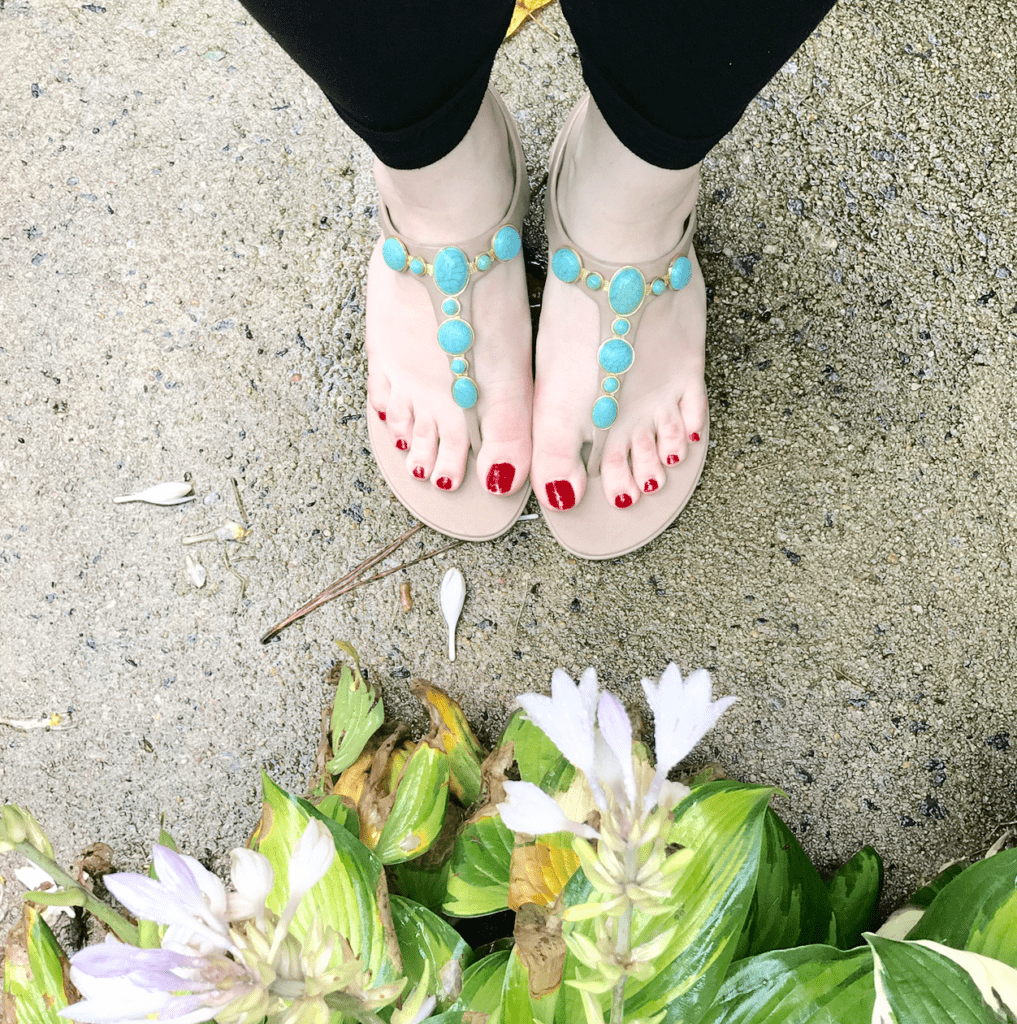 I've been so impressed with Oka-B shoes for so long and I don't see that stopping anytime soon!  These sandals are so awesome to wear and the fact that they work with so many outfits is amazing! I love fashion, but I hate uncomfortable shoes so having a brand like Oka-B available to me is fantastic!  Now that I know that they're a Georgia company, that makes me even more proud to support them!  Now I think it's time to order a pair of their ballet flats and see what those are like!


PR Samples provided for review purposes only