Did anyone else fall in love with the OG bareMinerals powder back in the day? Confession time; I still use and love it. It gives good coverage, it has an SPF included, and it just works with my skin. I saw a lot of ads for the new bareMinerals ORIGINAL Liquid Mineral Foundation and decided to give it a try. I was curious how the liquid foundation would be compared to the powder formula AND what exactly was the difference?!?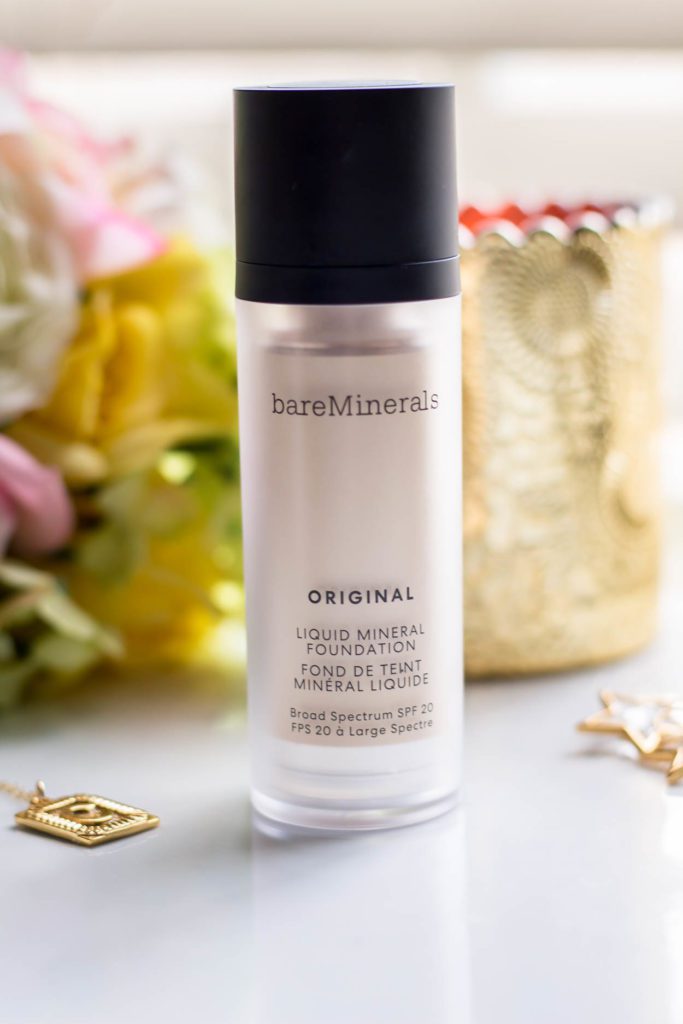 bareMinerals ORIGINAL Liquid Mineral Foundation
Vegan
Formulated with 88% naturally derived ingredients
Claims to help visibly improve skin texture, redness, and to reduce pore size over time
No silicones, talc, oils, or parabens
"Light as air"
Medium coverage
28 shades available
Luminous finish
Protects from UVA/UVB Rays (Mineral SPF)
Non-comedogenic (Won't clog pores)
Claims to be "So clean you can sleep in it)
PROS
Love the packaging (Airless pump bottle with a twist cap)
Does leave the skin with a radiant, luminous finish
Feels very lightweight, just like your skin
Buildable coverage (one pump for light to medium, two pumps for more medium coverage)
CONS
My color that i chose (which is the same color in the powder formula) is pretty close to what I'd consider my natural tone, BUT it's not perfect. I'd like to try another shade, BUT from what I saw the one below mine was possibly too light and the one above was a tad too warm for me. This did wear yellow on me, so I could possibly need a different undertone.
IF you have any dry spots, make sure that you really moisturize those areas before using this or I'm afraid you could end up with dry patches.
IF you're oily, I do find that I have to set this foundation. I like to apply with my fingers using the Dot, Sweep, and Press technique. Then I finish blending in with a sponge (pressing it into the skin) and setting with a finishing powder.
This does get dewy on me as the day goes on. This might not work for everyone, especially those with combo or oily skin types. I find that freshening up with powder helps it work with my skin type.
This did seem to pill on me in certain areas. I definitely think there is a learning curve in applying this and it could be that it didn't work with the eye primer I had on, but I noticed some little pilling happening around my under eye area.
The Original OG Powder vs The Original Liquid?!?
I think in terms of coverage, I'd have to say that they're similar, but there are differences. I think that the Original Liquid Foundation is more radiant on the skin than the Powder Foundation is. Just a tad. I also think that the Original Liquid Foundation has a tendency to break up on my skin around my nose area a bit faster than the Original Powder Foundation does. However, setting the liquid does help it last a lot longer on me.
The Liquid formula def has more ingredients, which I show below, but it said to be a "cleaner" version of most foundations on the market as it has 88% natural ingredients in the formula.
Original Powder Formula Ingredients
Titanium Dioxide 12.6%, Zinc Oxide 21%. Inactive: Bismuth Oxychloride, Mica, Iron Oxides
Original Liquid Foundation Ingredients
Titanium Dioxide 2.49% Sunscreen. Inactive: Water, Ethylhexyl Olivate, Amylopectin, Polyglyceryl-3 Diisostearate, Propanediol, Dipeptide-15, Squalane, Sea Salt, Disteardimonium Hectorite, Opuntia Ficus-Indica Stem Extract, Glycerin, Lauroyl Lysine, Magnesium Stearate, Aluminum Hydroxide, Stearic Acid, Hydroxyethylcellulose, Trisodium Edta, Phenoxyethanol. May Contain: Titanium Dioxide, Iron Oxid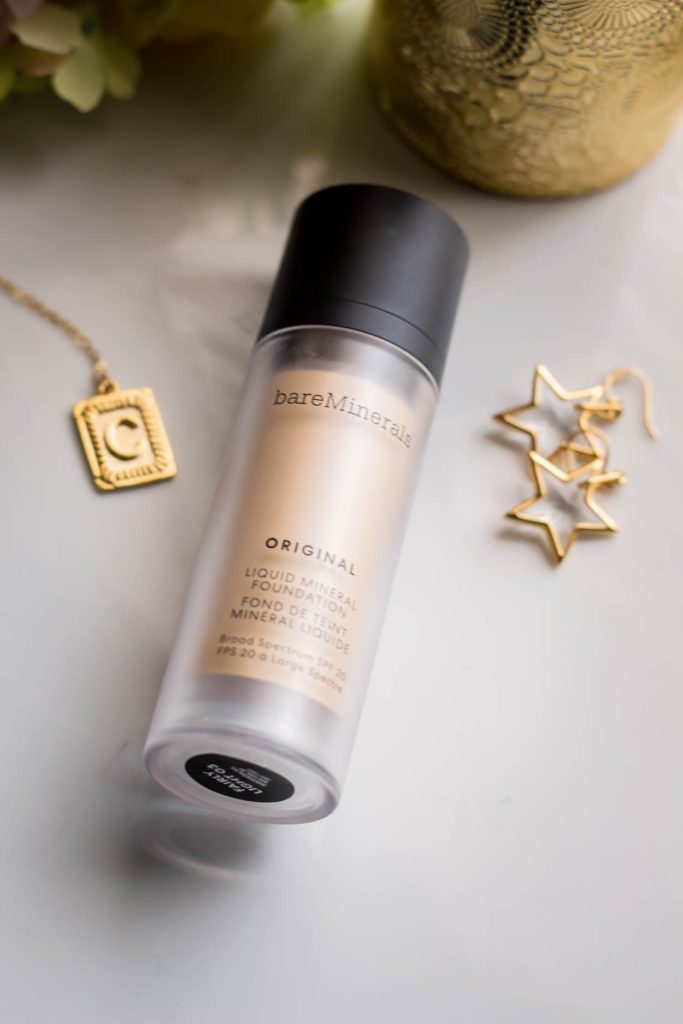 I did NOT try this foundation with their bareMinerals Smoothing Face Brush. I've seen quite a few people try it with this and have great results. I did try it with a beauty blender and the Heavenly Perfecting Brush because that's what I had on hand already.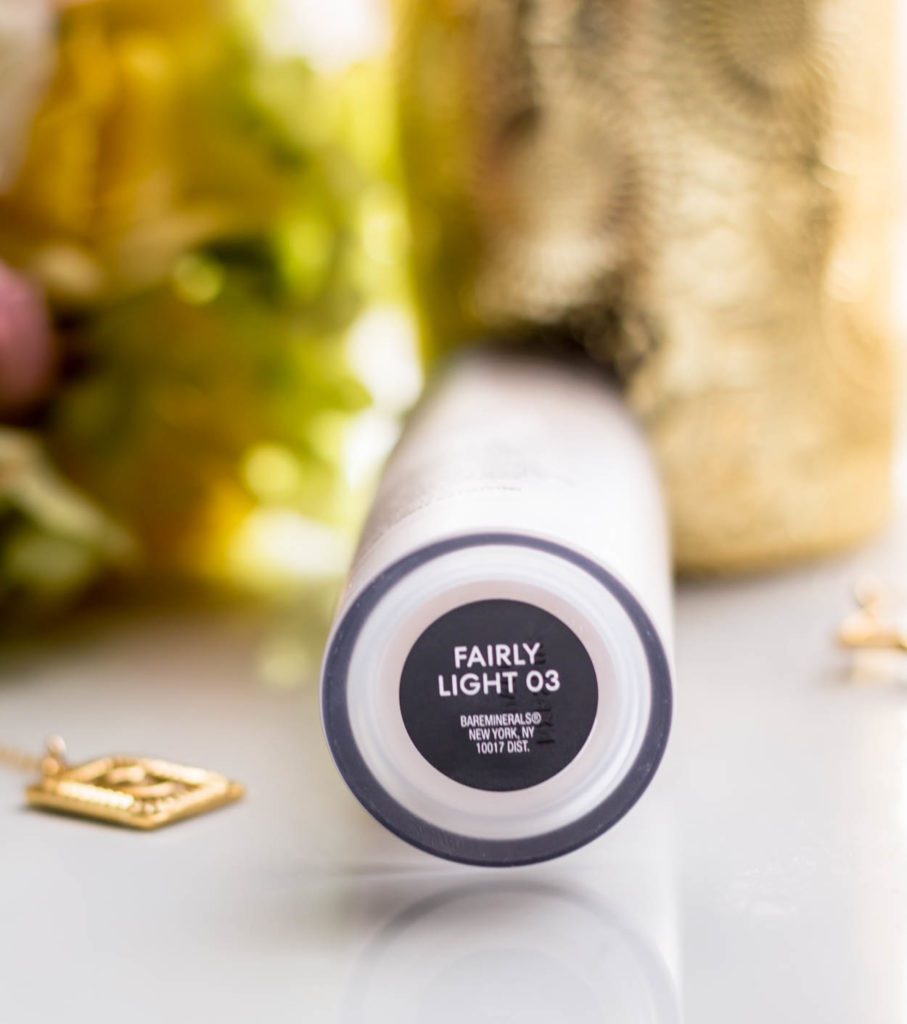 If you're looking for a new foundation, I'm not going to say to avoid this one or to buy it. I think that it's beautiful on the skin and my honest opinion is that I want to wear it more to give a more honest opinion. It took me some trial and error to figure out the best way to get this to work with my skin and I have a feeling a lot of us will feel that way.
If you enjoy using the original powder foundation, give this a chance and see if perhaps you enjoy this one more. It does look more radiant on the skin than the powder. If you're just finding yourself in the market for a new foundation, do some research on this one or see if you can get a sample to try or if at all possible, try to go to a store so you can see the colors in person as there are so many to choose from.