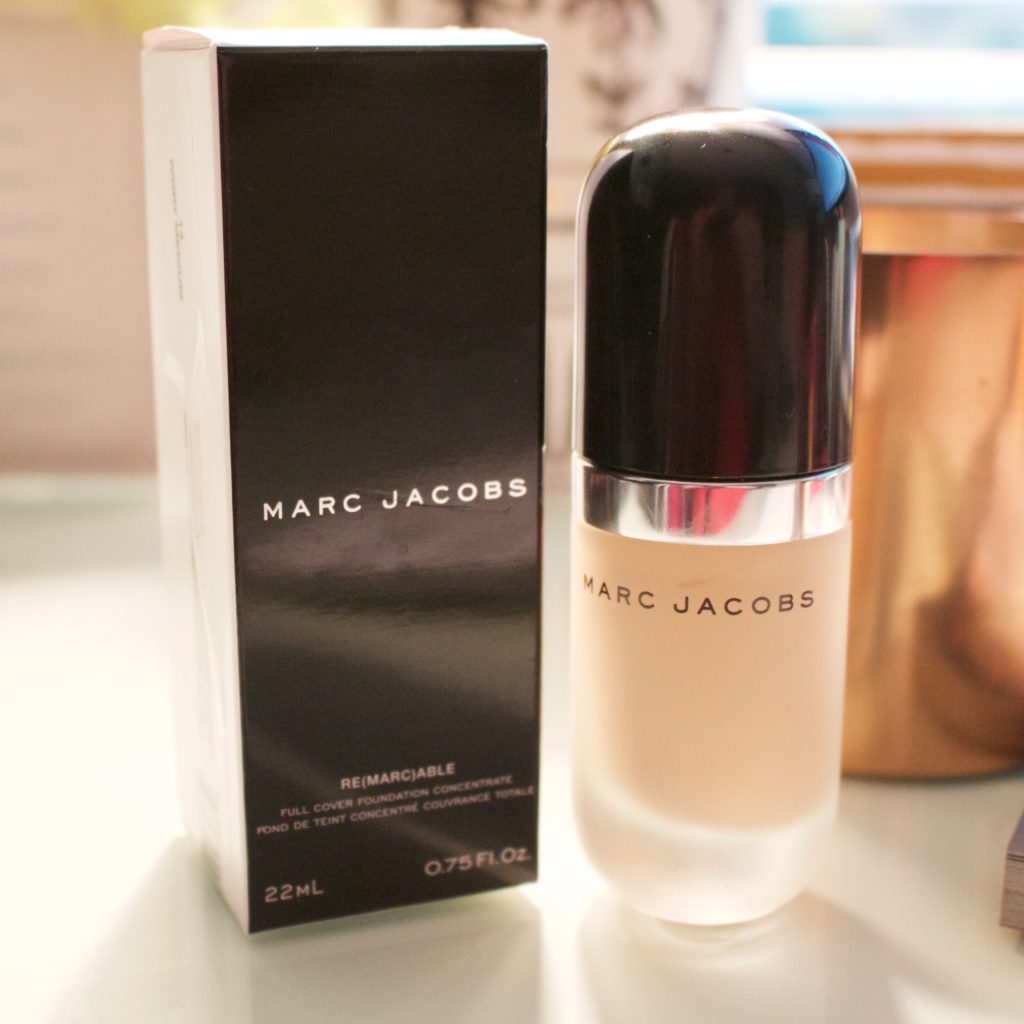 I get really excited when brands release new foundations.  It's not like the 34,985 other foundations I have aren't enough, it's just that the search for THE holy-grail foundation never ends.  Ingredients change, formulas are improved overtime and new technology is always being introduced in makeup.  So basically, my search will never end if I'm being honest.
Today's chat is going to be about the Marc Jacobs RE(MARC)ABLE Full Cover Foundation Concentrate. A brand new release from Marc Jacobs that had me very, very excited.  I don't know if it's the sleek packaging or the impressive products that keep me wanting more and more of his products, but this foundation was highly suggested to me and I thought I needed to give it a try. In the name of beauty, right?!?
The Marc Jacobs RE(MARC)ABLE Full Cover Foundation Concentraten is an oil-free , full cover foundation concentrate.  AKA Really pigmented foundation.  If you're looking for full-coverage, this might be for you.  More on that later.  It promises Instant results and all-day weightless finish.  The price of this foundation is $55.00 for .75 oz.  Not exactly a bargain, BUT the price is exactly what I'd expect from Marc Jacobs products.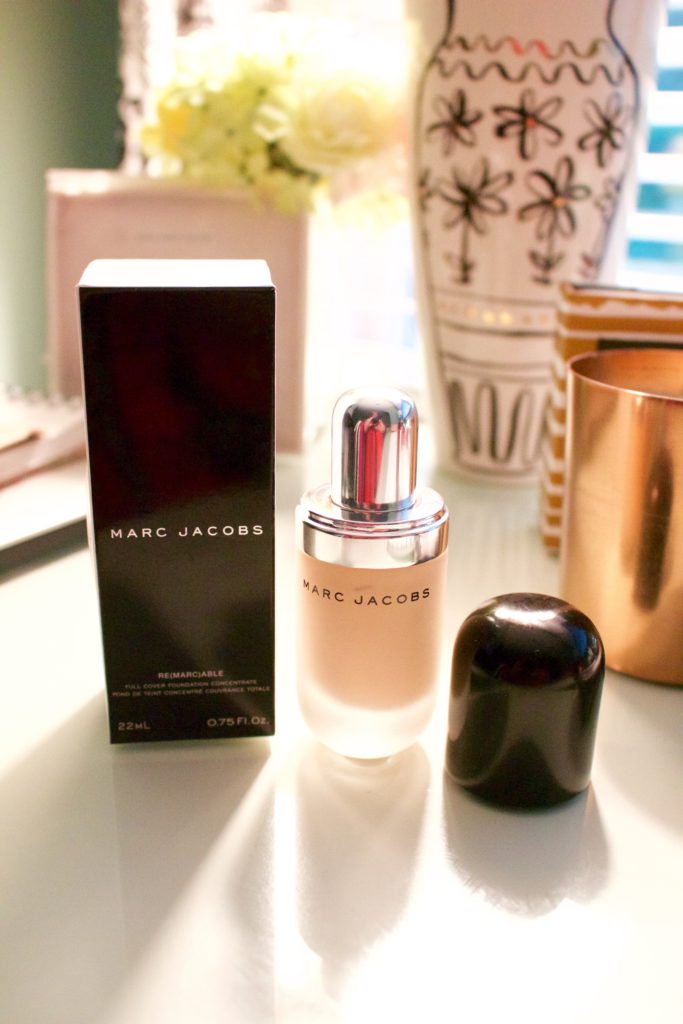 Packaging:
Gorgeous frosted glass bottle with a cap.  This doesn't have a pump, instead it's more of a wand.  You're supposed to dot this onto the face and then blend.  I'm not always a fan of this type of packaging.  I just instantly think of germs and bacteria since the wand is touching my face and then going back into the product.  That's just my opinion. The foundation is a beauty and it looks gorgeous on my makeup table.
Shade availability:
I believe I counted 22 colors which really makes me happy. Everyone should be able to find a match for their own skin type I'm hoping.  The color that was selected for me was Ivory Medium 14.  It works, but it does seem a bit yellow/peachy.  It's described as very fair w/ peach undertones.  I actually think that Ivory 10 might work better because it's for pink undertones.
Bottom Line. Does it work?
In my opinion, not so much.  I have tried this foundation several times.  With primer, without primer.  With makeup brushes and with makeup sponges.  I can't for the life of me get this foundation to work on my skin.  It emphasizes everything I don't want it to.  Dry spots and pores are easily visible and I feel like throughout the day, this foundation is separating on my face.  NO!!! This is not what I want from a foundation at all. Also, for a "full cover foundation concentrate" I thought it would be a lot more pigmented on the skin, but when I go to blend it into my skin, it doesn't seem like the one dot that they said to apply was enough.  Just me?!? In the three weeks that i've had it, I've tried over and over.  Sadly, this just isn't a product that I can use.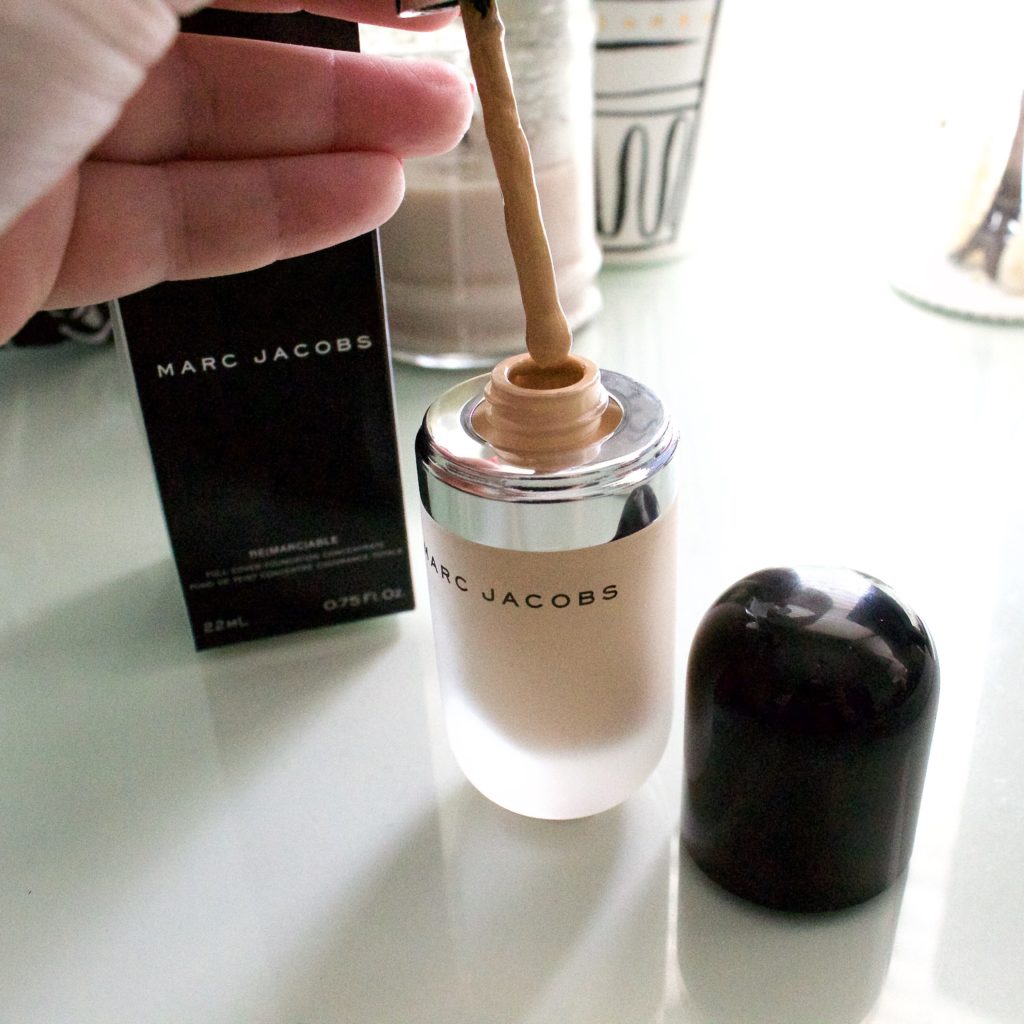 Marc Jacobs RE(MARC)ABLE FULL COVER FOUNDATION CONCENTRATE $55.00 available at Sephora and online at sephora.com  

Affiliate Links Included.