I read a lot of beauty blogs, magazines and a lot of companies websites to always make sure I am up to date on new products. I also take into consideration readers suggestions and I kept hearing about this L'Oreal product that was supposed to be like a magic eraser for the face.  Who wouldn't want to erase fine lines, wrinkles and pores?   So, naturally, I had to pick it up.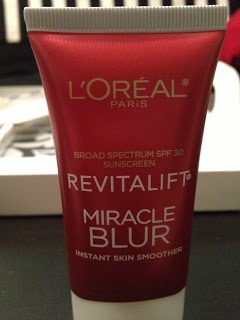 The L'Oreal Revitalift Miracle Blur  is a product that is to be applied before makeup to give you a smooth canvas to work with.  It features Opti-Blur technology that will diffuse light on the skin and basically hide any imperfections, lines, wrinkles and pores on the skin.  It also will give you sun protection as it features SPF 30.   The texture of this product reminds me a lot of a Smashbox primer I have used previously.  It's a very cushiony texture, almost feels like a silicone/gel,  but it leaves your skin very soft and smooth.  This is supposed to be ok for any skin type to use,  but I was a little concerned with the oily areas on my face.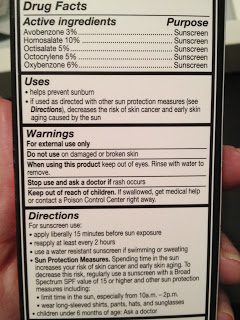 You use this like a primer.  Apply it after  your skincare routine, but before makeup.  My first couple of tries resulted in this product coming right off after I applied any sort of foundation or concealer.  After talking to L'Oreal on Twitter, I asked for help because I couldn't figure out what I was doing wrong.  They suggested applying a very thing layer of product and waiting at least 5-10 minutes before applying any makeup.  This seemed to really do the trick!  When I wore this, it did "erase" a lot of the enlarged pores I have,  but I'm not sure about very deep lines and wrinkles.  Maybe with time, they will get better while using this product.  I did like that it acted as a really nice primer for my face and it gave me SPF protection.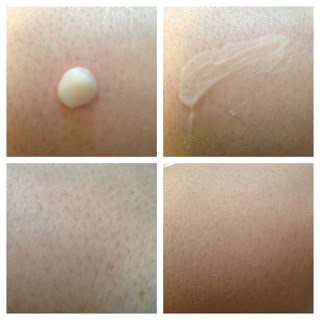 Notice the texture.  Very thin, smooth.
Left: Without product Right: With Product
Do I still think $19.99 is a good value for this product?  It depends. If you are someone who, like me, does have a lot of issues with enlarged pores, fine lines and wrinkles, then yes, this is a good value.  If you don't really have any of those issues, then I wouldn't spend $19.99 to only get the benefits of the SPF.  In my opinion, this is very similar to quite a few more expensive primers that I have used, probably about double the price.  L'Oreal is still continuing to impress me and I will continue to use this product to see if any of my minor lines wrinkles and pore size change.
To purchase this product or for more information, click here. L'Oreal has one of the best websites I have ever used as far as beauty products.  Not only do they have product information, but they have a lot of ways you can save information, review products you've tried and learn a lot of tips and tricks.  I suggest checking it out today! You might even see some coupons pop up if you complete your profile, etc.