I love it when y'all ask me beauty questions. Sometimes they're so good I'll share the questions on here because I know they'll benefit others. Today, we're going to talk about Lightweight Foundation options. Nothing too heavy, but options that still give you coverage. I'm going to share foundations with different finishes and textures, but all will be a lightweight to possibly medium finish.
Your Beauty Questions, Answered
Why A Lightweight Foundation?
Have you ever worn a foundation and just felt like it was basically a mask? That your skin couldn't breathe? That it looked cakey and very obvious that you're wearing makeup?!? If you answered yes to any of those, a good option for you might be to try a lightweight foundation. It will still give you coverage, but will feel light on the skin. Almost like you're not wearing makeup. Afterall, that is the goal when it comes to makeup, right?
1.


Luxury Lightweight Foundations

If luxury beauty brands are what you're aiming for, then I have quite a few in mind. PS, Sephora has another sale happening where you shop now and you'll save 15% off later. Here are a few lightweight foundations that I can suggest:
This foundation has been on my radar for quite some time. It's basically supposed to be like your skin but better when applied. Not heavy at all.
This features Ceramides so they keep the skin hydrated. This is like a light coverage and sheer wash of color for the skin. I'd say this is considerable to a tinted moisturizer.
To me, this is like a drink for the skin. It's really hydrating and gives a natural look to the skin. Nothing heavy, but still moisturizing.
I've used this tinted moisturizer for a long time and just really enjoy the finish of this product. I don't find it heavy at all and I love the finish of the product.
This has quickly become one of my favorite foundations and it's currently on sale at Sephora which has me slightly scared this will be discontinued. It is a little more coverage than a lightweight but still feels like I'm wearing nothing.
NARS Sheer Glow Foundation has long been a beauty favorite for me. The one thing I will say is I HATE the packaging. It doesn't come with a pump, but you can buy one. The finish of the foundation is beautiful and not super heavy feeling on the skin.
This is one of those foundations that EVERYONE in the beauty community talks about and it's for a reason: it's really good! The finish of this leaves your skin looking radiant, but still skin like.
2.
Drugstore Lightweight Foundations
A foundation doesn't have to be expensive to be a good option. Drugstore products have really come a long way. There are even cruelty-free drugstore options available. Below are a few that I think are good options. Both lightweight to medium coverage.
This features Coconut Oil, Organic Jojoba Oil, Organic Aloe Vera, and Cactus Flower. This really hydrates the skin and locks in moisture. You're left with an airbrushed complexion.
A GREAT hydrating foundation that features hyaluronic acid. It's more of a gel texture, but still not heavy!
For one, this has an SPF 50! This is a lightweight foundation, that also hydrates. Great for aging skin, but also for those who need a bit of radiance for their complexion.
I was surprised how nice this foundation is because the price point is so low! This is a foundation that is more of a light to medium coverage and leaves your skin looking very natural.
3.
Cruelty-Free,Clean, and Lightweight Foundations
A lot of people are very into the cruelty-free, clean beauty options that are available. I applaud you for that. If you're looking for something along those lines, I think one of these might be a good option for you!
While you can build coverage with this product, it isn't' heavy feeling at all. This is the type of foundation/skin tint that will cover your skin, but will still allow your freckles to show through.
I'm a big fan of RMS. This is the foundation that you want if you're looking for a natural finish. It is buildable and you might need to set it with powder, but it's a beautiful finish.
This features Babassu, Sunflower Seed, and Hyaluronic Acid so it's hydrating. A really nice foundation that features an SPF as well!
The Skin Serum Foundation features Aloe and Plant-Based Squalane, which will help hydrate and keep the skin moisturized. It will also leave your skin looking illuminated.
A foundation that feels more like a tinted moisturizer. It contains prickly pear which will hydrate the skin. Will leave your skin looking radiant and dewy!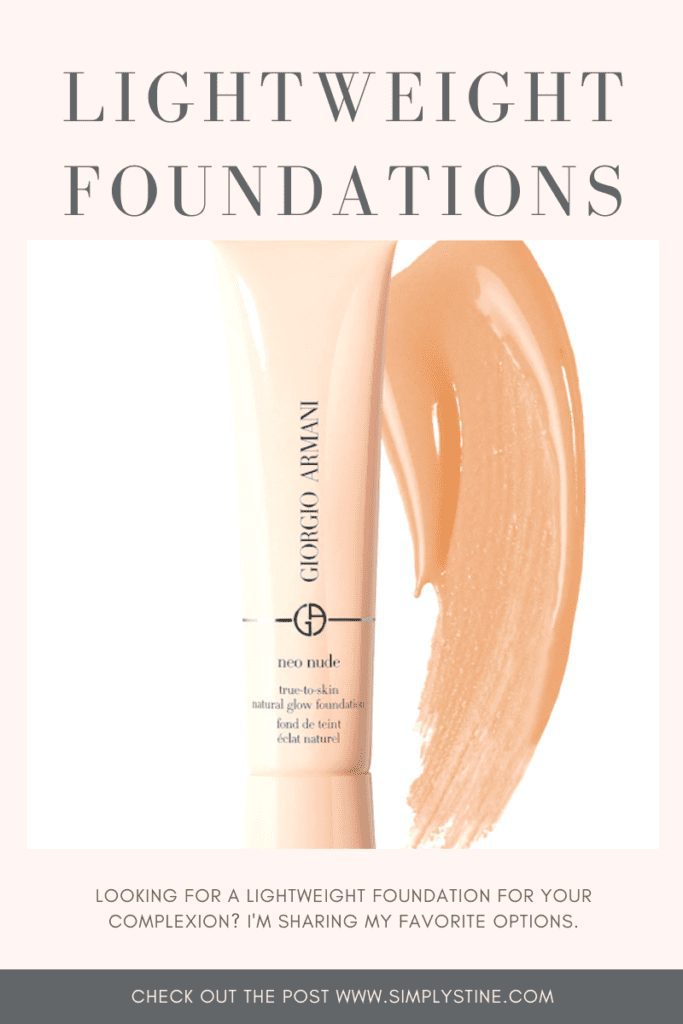 Shop The Post