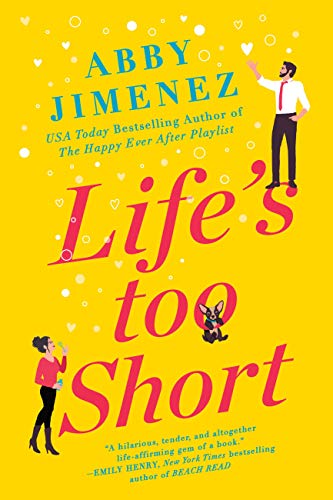 When Vanessa Price quit her job to pursue her dream of traveling the globe, she wasn't expecting to gain millions of YouTube followers who shared her joy of seizing every moment. For her, living each day to its fullest isn't just a motto. Her mother and sister never saw the age of 30, and Vanessa doesn't want to take anything for granted. 
But after her half sister suddenly leaves Vanessa in custody of her baby daughter, life goes from "daily adventure" to "next-level bad" (now with bonus baby vomit in hair). The last person Vanessa expects to show up offering help is the hot lawyer next door, Adrian Copeland. After all, she barely knows him. No one warned her that he was the Secret Baby Tamer or that she'd be spending a whole lot of time with him and his geriatric Chihuahua. Now she's feeling things she's vowed not to feel. Because the only thing worse than falling for Adrian is finding a little hope for a future she may never see. 
Life's Too Short Review
So I'm assuming you've read The Happy Ever After Playlist already. If not, you can still read this book. Yes, it's a part of the series, but you can read each book as a stand-alone book. You might just not understand some of the context of what the author is sharing. Anyways, let's chat about Life's Too Short by Abby Jimenez.
Life's Too Short by Abby Jimenez was not my favorite of the series, but 100% worth reading. It's about two entirely different people, Adrian and Vanessa, coming into each other's lives at the exact moment they needed to. This book deals with mental illness, death, addiction, and health issues. So as with any Abby Jimenez book, know that this heavy, but it's also an adorable rom-com that will make you laugh as well.
Read and Listen To Life's Too Short by Abby Jimenez