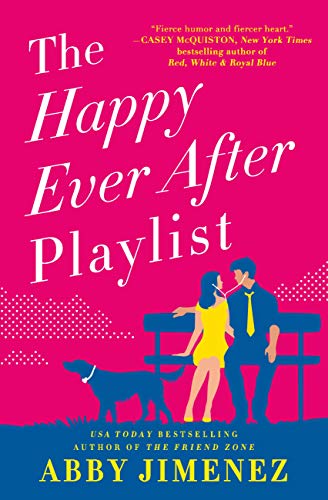 Two years after losing her fiancé, Sloan Monroe still can't seem to get her life back on track. But one trouble-making pup with a "take me home" look in his eyes is about to change everything. With her new pet by her side, Sloan finally starts to feel more like herself.
Then, after weeks of unanswered texts, Tucker's owner reaches out. He's a musician on tour in Australia. And bottom line: He wants Tucker back. Well, Sloan's not about to give up her dog without a fight. But what if this Jason guy really loves Tucker? As their flirty texts turn into long calls, Sloan can't deny a connection. Jason is hot and nice and funny. There's no telling what could happen when they meet in person.
The question is: With his music career on the rise, how long will Jason really stick around? And is it possible for Sloan to survive another heartbreak?
The Happy Ever After Playlist Review
The Happy Ever After Playlist is quite possibly one of my favorite romance books that I've ever read/listened to. In fact, I love this book so much (honestly the audiobook is incredible) that I've listened to it more than once. This is a story of loss, but it's also a story about healing and grief. This book is very heavy at times and it's a great look at what it's like to go through the stages of grief and what it's like watching someone you love go through all of it.
Sloan and Jason wow'ed me from the beginning. I loved them. They made me laugh and made me cry. I also loved reading about Kristen and Josh in this story as well. You'll remember them from the first book in the series, The Friend Zone.
Each chapter starts with a title of a song that pairs with the chapter. Each song is fantastic and is a great playlist. Just an FYI!
Can you read this book on it's own and not read the first one? Yes, but you'll lose some perspective of the story, especially of Kristen and Josh.