Today I want to talk about the Kiehl's Magic Elixir. This hair product is straight up magic for a dry scalp! Do you have issues with dry scalp? I sure do. My scalp gets irritated and inflamed very easily. It's mostly triggered by weather changes, but also certain ingredients in hair products seem to irritate it a lot. It gets dry, flaky, and sometimes my scalp is so irritated it's red and patchy. NO GOOD!
Also, let's chat about my hair for a moment. I'm a bottle blonde. That means I'm bleaching it and it's being processed about every 5-6 weeks. That can be super damaging for a scalp. I've realized that I needed to help hydrate not only my scalp, but also my hair. This is where the benefits of oils really come into play.
Why I Love Using Oils On My Scalp
Since adding oils to my hair routine, I have noticed such an overall improvement in my hair and scalp. My scalp, even if it does have a freak out moment, seems to calm down quicker. I used to have red patchy areas all over my scalp when the weather would change or when I'd have a reaction to a product I was using. Even if I do, when I use the Magic Elixir, it helps to calm my hair down. Honestly, the rosemary oil feels incredible!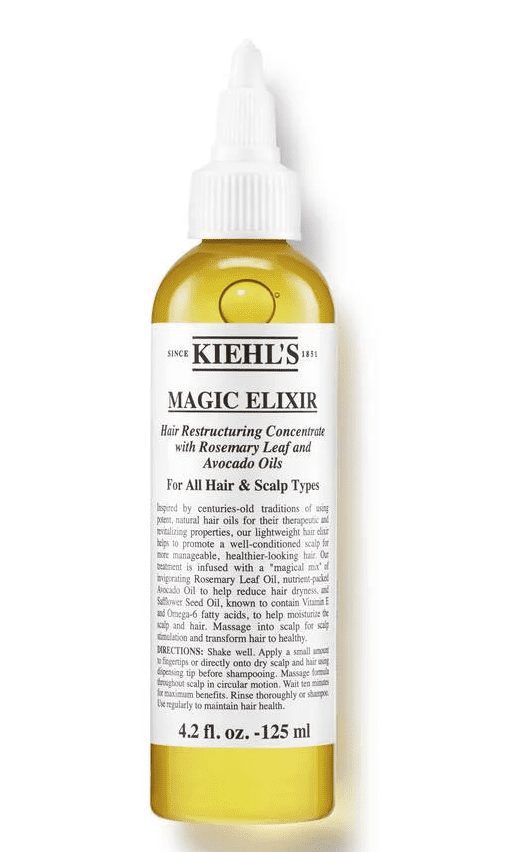 Oils Help To Hydrate, Smoothe and Invigorate The Scalp and Hair
The Kiehl's Magic Elixir contains three oils that really make this a stand-out product from others I've used:
Rosemary Leaf Oil (Invigorating)
Avocado Oil (Most moisturizing of any fruit)
Safflower Oil (Contains Vitamin E and Omega-6 Fatty Acids)
This product is hydrating, but it's also great for smoothing the hair, as well as invigorating and stimulating the scalp. It's meant to be used as a pre-shampoo treatment. Basically that just means, apply to a dry scalp and rub into the scalp. Let sit for ten minutes and then shampoo your hair. I'd follow up with a conditioner as well if your hair is on the dry side.
How To Apply The Kiehl's Magic Elixir
How to Apply:
-Apply a small amount to fingertips or directly onto dry scalp and hair using dispensing tip before shampooing
-Massage formula throughout scalp in circular motion
-Wait ten minutes for maximum benefits
-Rinse thoroughly or shampoo

Can I Use Oils If I Have An Oily Scalp
One of the things that really used to freak me out, was applying oils to my scalp. If already have an oily scalp, the thought of adding even more oil just didn't make sense to me. However, after research and talking to my hair stylist, I realized that my hair can be oily, but also dehydrated.
I'm applying this product to my scalp to help calm my dryness down. Dandruff can be tricky to deal with. I sometimes have a dry scalp, but my hair gets oily so quick. I know, I know. Trust me though. Applying this pre-shampoo treatment and allowing it to soak into my scalp calms my irritation down and doesn't in any way add to my hair being extra oily. Just make sure to rinse all of the elixir out of your hair!
Benefits of An At-Home Hair Treatment
If you struggle with a dry scalp or you'd just like to incorporate a good hydrating hair treatment into your hair routine, give the Magic Elixir by Kiehl's a try! The bottle will last you quite a while and I think you'll love the way this makes your scalp feel! I use it once a week, but if I'm having a bit of a scalp emergency, I'll use this two times. IT really makes the biggest difference in my scalp!
Shop The Post