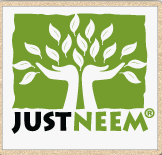 I love a good beauty product, but I love it even more when I find a company that not only has tremendous products, but also has a fantastic story behind their brand. Let me introduce to you, JustNeem, a company based in Carey, North Carolina.  Their website states that they pride themselves on being a certified B-Corporation. What is a B-Corporation you might ask (I know I did),  it's when a company uses the power of business to solve social and environmental problems.  They use the profit from their business to support job creation, economic development and Neem tree planting in Sahara Desert of Mauritania, West Africa.  Not only do they do good for others, but their products are made with the finest cosmetic raw grade materials and contain naturally grown Neem and other naturally grown ingredients. Their Neem comes from their own Neem Orchards in the deserts of Africa.  All in all, this is a GOOD company with amazing products!
I was sent some products to try and they didn't disappoint.  I'm being honest and admitting to the fact that I had never heard of Neem before.  So I did some research on their website (it has tons of information for you to read) and I learned that the Neem Tree is very beneficial to our skin.  The Neem tree and its leaves, fruit, seeds and bark contain medicinal quality ingredients. Neem seemed like something I'd want to put on my skin! It's anti-viral, anti-fungal, antibacterial, analgesic, anti-inflamatory and antimicrobial. Wow!
The first product I tried was a sample of the Wind and Sea Soap.  It had an excellent smell and left my hands very soft. This is a best-selling product for JustNeem and I can see why! You can use this on your face and body.  It's made with Aloe Vera, Neem leaves and a special blend of essential oils. This is a natural glycerin soap and it's naturally antibacterial. It's a very soft scent, but I loved it. Even my husband liked it and used this product. That right there is saying a lot! This product retails for $5.50 and comes in a 4.2 oz bar.
The second product I tried was the JustNeem Green Tea Body Lotion. This body lotion not only smells fresh, but it leaves my skin so soft! It contains Neem and a blend of Jojoba and Coconut Oil. The website stated that this product would be excellent for someone with dry skin or anyone who suffers from eczema. I loved this scent and I think it would be a perfect choice for anyone who doesn't love heavily scented products. It's also available unscented if you don't want any scent at all!  It's not a heavy moisturizer (think of a thick, body butter), but it did make my skin feel incredibly soft. This product normally retails for $13.00 but it's 20% off right now!! (Sale won't last forever!!)
My favorite product that JustNeem sent me to try was the Body Polish.  I loved it! I'm a huge lover of Body Polishes and I own a ton of different kinds from different companies.  It's one product that never gets old and I use them all of the time.  This body polish features a blend of Sunflower, Coconut and Grapeseed oils along with sugar.  It exfoliated my skin nicely and left my body soft and moisturized. I liked this exfoliant because I didn't feel greasy after using it. This product retails for $15.95.
I was also sent a Cuticle Care Pen.  This is something I now keep on my desk in my office and I find that my cuticles are much softer and look so much better. This pen features Neem extract, Jojoba Oil, Mango Butter and Vitamin E. This is perfect for anyone who has brittle, dry, weak nails. Also great for anyone with a nail fungus. It's so easy to use and isn't messy at all! This retails for $9.50.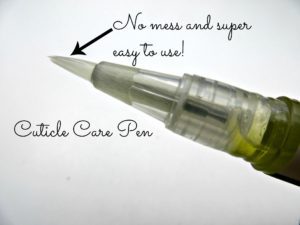 I loved the products that were sent to me and I think this company is going to be featured in my holiday gift ideas!  It feels good to support a business like this! Keep your eyes out for some more reviews from this company because I have written down other products I'm interested in trying out,  including a skincare mask and some bath teas.
For more information on where to purchase JustNeem, click here to find a retailer near you (they are carried at a Whole Foods by my house), or feel free to order directly from JustNeem.  There website has a ton of useful information on ingredients and what all the company has done to support others. It's a very inspiring company that I'm glad I found!
I was not paid to write this review.  I was provided products to try, but all thoughts and opinions are my own.