June was a great month of reading. If I had to pick one book that was my favorite, I'd have to go with Half Blown Rose. I LOVED the audiobook narration so much. I feel like the only way to experience this book is by listening to it as the french language is just beautifully spoken in this one.
Did you miss my May Reading List?
Reading Referral Links
My Reading Referral Links (Some have discounts when using my link! I get a small commission or free months on my account)
Kindle Unlimited (This is where I get all my indie authors from (aka romance/smut)
Audible (Amazon's Audiobook Subscription)
Libro.fm (My preferred audiobook subscription! Helps support independent bookstores!)
Scribd (A new to me subscription that has so many options: e-books, audiobooks, magazines and more)
June Reading List
Synopsis:
The Kingsley family is American royalty, beloved for their military heroics, political service, and unmatched elegance. In 1967, after Joseph S. Kingsley, Jr. is killed in a tragic accident, his charismatic son inherits the weight of that legacy. But Joe III is a free spirit–and a little bit reckless. Despite his best intentions, he has trouble meeting the expectations of a nation, as well as those of his exacting mother, Dottie.
Meanwhile, no one ever expected anything of Cate Cooper. She, too, grew up fatherless–and after her mother marries an abusive man, she is forced to fend for herself. After being discovered by a model scout at age sixteen, Cate decides that her looks may be her only ticket out of the cycle of disappointment that her mother has always inhabited. Before too long, Cate's face is in magazines and on billboards. Yet she feels like a fraud, faking it in a world to which she's never truly belonged.
When Joe and Cate unexpectedly cross paths one afternoon, their connection is instant and intense. But can their relationship survive the glare of the spotlight and the so-called Kingsley curse? In a beautifully written novel that captures a gilded moment in American history, Emily Giffin tells the story of two people searching for belonging and identity, as well as the answer to the question: Are certain love stories meant to be?
My Review:
This book is a sort of retelling of JFK Jr and his wife. Think lots of money, politics, scandals, and more. If that's your thing, this will make a great summer book! There were a lot of similarities reading this and it really gave me Kennedy vibes. Summers on the coast, fame and what all comes along with that. I enjoyed this book a lot! Part romance, part family drama, etc.
⭐️⭐️⭐️⭐️
🌶
Synopsis:
Winslow Covington believes in life, liberty and the letter of the law. As Quincy, Montana's new chief of police, she's determined to prove herself to the community and show them she didn't earn her position because her grandfather is the mayor.
According to her pops, all she has to do is earn favor with the Edens. But winning over the town's founding family might have been easier if not for her one-night stand with their oldest son. In her defense, it was her first night in town and she didn't realize that the rugged and charming man who wooed her into bed was Quincy royalty.
Sleeping with Griffin Eden was a huge mistake, one she's trying to forget. He's insufferable, arrogant and keeps reminding everyone that she's an outsider. Winslow does her best to avoid Griffin, but when a woman is found dead on Eden property, the two of them have no choice but to cross paths.
As clues to the murderer lead to one of Quincy's own, Griffin realizes Winslow is more than he gave her credit for. Beautiful and intelligent, she proves hard to resist. For him. And the killer.
My Review:
I had never read anything by this author, but several people on Bookstagram and Booktok always suggest her books. Obviously, I had to see what the hype was about. I enjoyed this book. It's a romance, there's a serial killer involved. Trigger Warnings: Suicide.
⭐️⭐️⭐️⭐️
🌶🌶🌶
Synopsis:
Memphis Ward arrives in Quincy, Montana, on the fifth worst day of her life. She needs a shower. She needs a snack. She needs some sanity. Because moving across the country with her newborn baby is by far the craziest thing she's ever done.
But maybe it takes a little crazy to build a good life. If putting the past behind her requires a thousand miles and a new town, she'll do it if it means a better future for her son. Even if it requires setting aside the glamour of her former life. Even if it requires working as a housekeeper at The Eloise Inn and living in an apartment above a garage.
It's there, on the fifth worst day of her life, that she meets the handsomest man she's ever laid eyes on. Knox Eden is a beautiful, sinful dream, a chef and her temporary landlord. With his sharp, stubbled jaw and tattooed arms, he's raw and rugged and everything she's never had—and never will. Because after the first worst day of her life, Memphis learned a good life requires giving up on her dreams too. And a man like Knox Eden will only ever be a dream.
My Review:
Knox Eden. I love you. I read this book so quickly!! We've got a single mom who is new to the town, a hot chef who happens to be working with her at the hotel his family owns, and of course another who did it. I felt for Memphis and all of her struggles. She was a single mom, with no help from a partner or her family. We learn why as the story continues. As far as Knox goes, he's just perfect. Plain and simple.
A great story and I can't wait for the third book to come out, Garnet Flats.
⭐️⭐️⭐️⭐️
🌶🌶🌶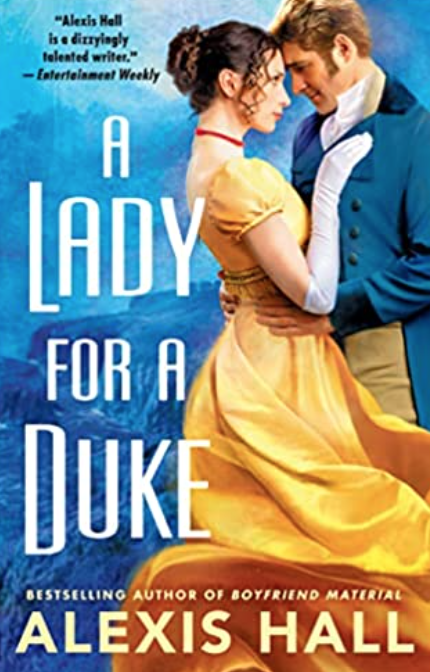 Synopsis:
When Viola Carroll was presumed dead at Waterloo she took the opportunity to live, at last, as herself. But freedom does not come without a price, and Viola paid for hers with the loss of her wealth, her title, and her closest companion, Justin de Vere, the Duke of Gracewood.
Only when their families reconnect, years after the war, does Viola learn how deep that loss truly was. Shattered without her, Gracewood has retreated so far into grief that Viola barely recognises her old friend in the lonely, brooding man he has become.
As Viola strives to bring Gracewood back to himself, fresh desires give new names to old feelings. Feelings that would have been impossible once and may be impossible still, but which Viola cannot deny. Even if they cost her everything, all over again.
My Review:
Libro.fm gifted me a complimentary audiobook of this and it took me a while to finish it, but let's just say that Alexis Hall did it again! I'm still waiting for Husband Material to come out, which I can't wait to read. Anyways, this story involves a trans love story and I think this is something we should see more of in stories! More representation to everyone! It's a historical romance. Think Bridgerton vibes. There are open door scenes (think explicit) and I laughed and cried.

I felt parts of the story were a bit slow and Gracewoods sister drove me nuts, but I will say that the representation and the fact that this was a queer HEA made me so happy! I just don't see a lot of those stories being published. The audiobook was great and I really enjoyed it!
Trigger Warnings: Addiction, PTSD, and more dealing with being misgendered
⭐️⭐️⭐️⭐️
🌶🌶🌶