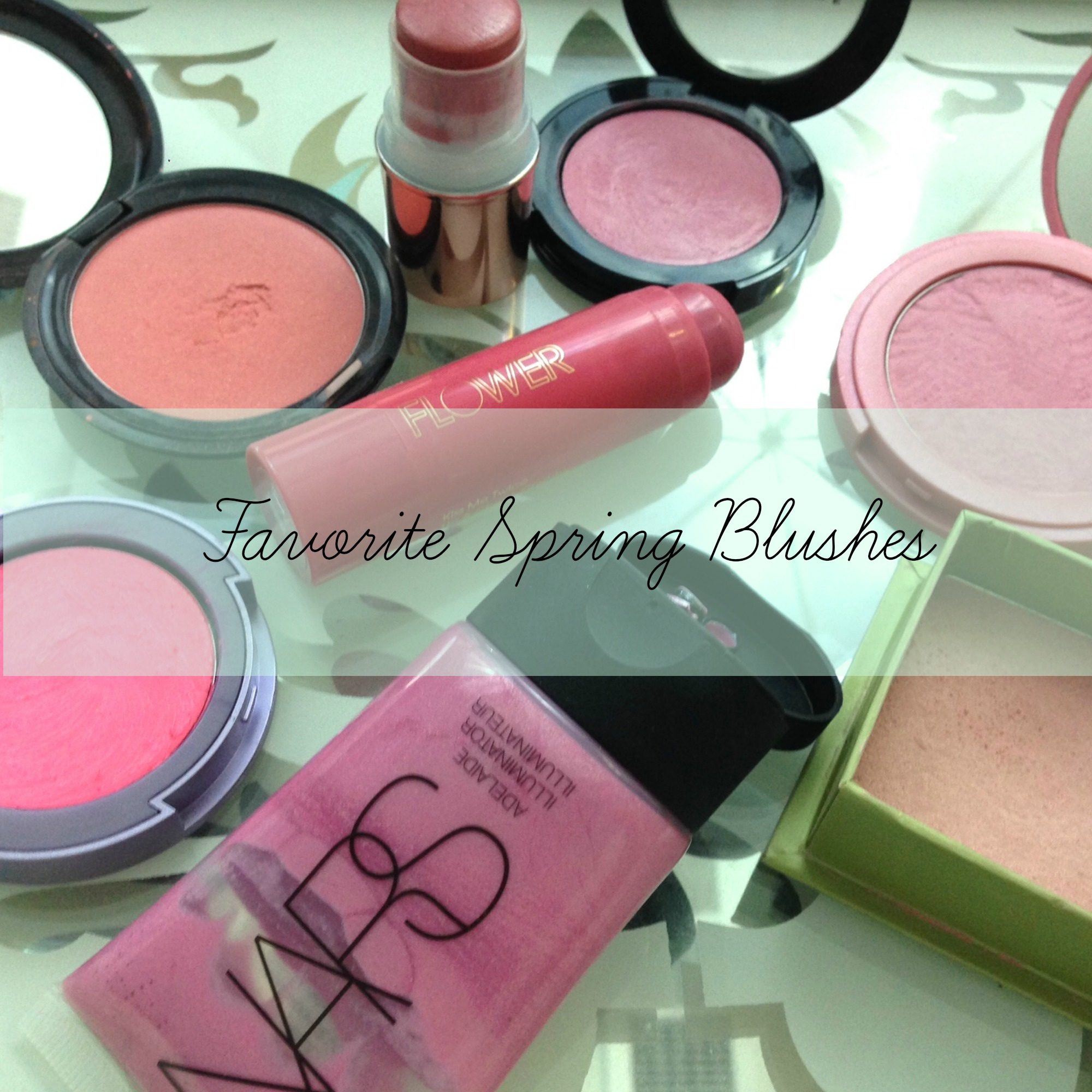 Spring is here folks (well, for some of us!!)  and that means it's time to start playing with some brighter colors and one way I like to do that is by wearing pops of colors on my cheeks. It's crazy how adding a small amount of color on your cheeks can make such a drastic difference in your look.  I always wear a blush, BUT I love to add a little bit more color when Spring and Summer comes. I like a really pigmented, bolder color sometimes paired with a more nude or less "drastic" eye.  Below are some of my favorite Spring blushes. What gets them to "favorite" status?
Subtle, but noticeable color
Soft shimmer is a good thing
Matte, but very pigmented
Basically every shade of pink
Long-Wearing
Cream Formula
1. Benefit Dandelion ($28.00)
The perfect blend of mauve and pink for my skin tone. I sometimes use this as an actual bronzer to brighten up my complexion. I love this color year round, but there's just something about it that has me grabbing it more and more this time of year.
2. tarte Amazonian Clay Long-Wear Blush (Dollface) ($26.00)
tarte nailed it when they created this line of blushes, but most importantly this shade! Dollface is my go-to pink. It's such a gorgeous shade to give me that perfectly pink flush. I also love this because it's extremely long wearing and lasts me all day.
3. Bobbi Brown Pot Rouge for Lips and Cheeks (Pale Pink) ($26.00)
I love a good multi-tasking product and that's exactly what this Bobbi Brown product does. I can use this on my lips and my cheeks. It's a cream formula that can be built up in color and I adore the formula.
4. Stila Custom Color Blush (Coral) ($20.00)
This is your one of a kind blush that will react to your pH levels to create the perfect blush for your complexion! When I first saw this color I was like WOW!!! It's actually gorgeous on the cheeks and not as bright and bold as it looks. As much as I love pinks, it's nice to have a nice coral color to wear.
5. FLOWER  Kiss Me Twice Lip & Cheek Chubby (Think Pink) ($9.98)
These are found at Walmart (exclusively) and I can't love this product anymore! It's so creamy and extremely pigmented and under $10.00. Say what?!? Yep. I adore Flower Beauty products and this is my go-to fuscia, pink shade for both my lips and my cheeks. It's a twist top product that is easy to throw in my purse and take with me on the go. I say this every time, but try Flower beauty if you haven't. It's AMAZING!!
6. Josie Maran Argan Color Stick (Pink Peony) ($22.00 and up)
This product features Argan oil and gives a great subtle color, with a dewy finish. I ordered a kit from Josie Maran and this was one of the products that was included. One thing I don't love about this is the smell. It reminds me of vick's vapor rub.  Other than that, it's a great product for when I want just a small amount of color and a dewy look.
7. NARS Adelaide Illuminator ($30.00)
This is technically an illuminator, BUT it's also great for adding a pop of color on top of a more subtle blush. I also add this to my lips for a bit of shimmer. Use this sparingly as a little bit goes a long way. Such a fantastic product for a night out!!
8. Urban Decay/Revlon (Revlon $7.00 and up)
Sadly, I don't think this urban Decay blush is available anymore, BUT I did find an alternative and it's another drugstore goodie! The Revlon Cream Blushes are really good. I especially love the shade Flushed. I love the Urban Decay blush that I have because it's a cream formula and I love those because they can be built up in color or worn in a very subtle way. Same thing for the Revlon Cream Blush. Plus, it's way cheaper than the Urban Decay.
Have fun and change up your blush color that you normally wear and see what a difference it can make with your look!  It's fun to add a pop of color on your cheeks and brighten up your complexion!
Post  contains affiliate links. All thoughts and opinions are my own. All products were purchased by Simply Stine.