Ok. Ok. I am WAY behind in picking up most of the newish releases from Too Faced Cosmetics. I'm especially behind in picking up the Too Faced Chocolate Palette! Recently HSN had a special called the Too Faced Better Than Chocolate Natural Body Essentials .  I was able to get  this special bundled deal for under $60.00!  It was at that moment that the words BUDGET  (what's that?!) seemed to disappear from my brain and I immediately placed an order.  I am so happy that I did because this package was well worth the money!  Now, this special is no longer available. I KNOW! Huge bummer, but I'll always post about these on my Twitter, Facebook and Instagram as soon as I hear about them so make sure you are following me! I still wanted to talk about these products because you can still purchase these products individually and so far, I'm really enjoying them.  So what did the packaged bundle include? Take a look!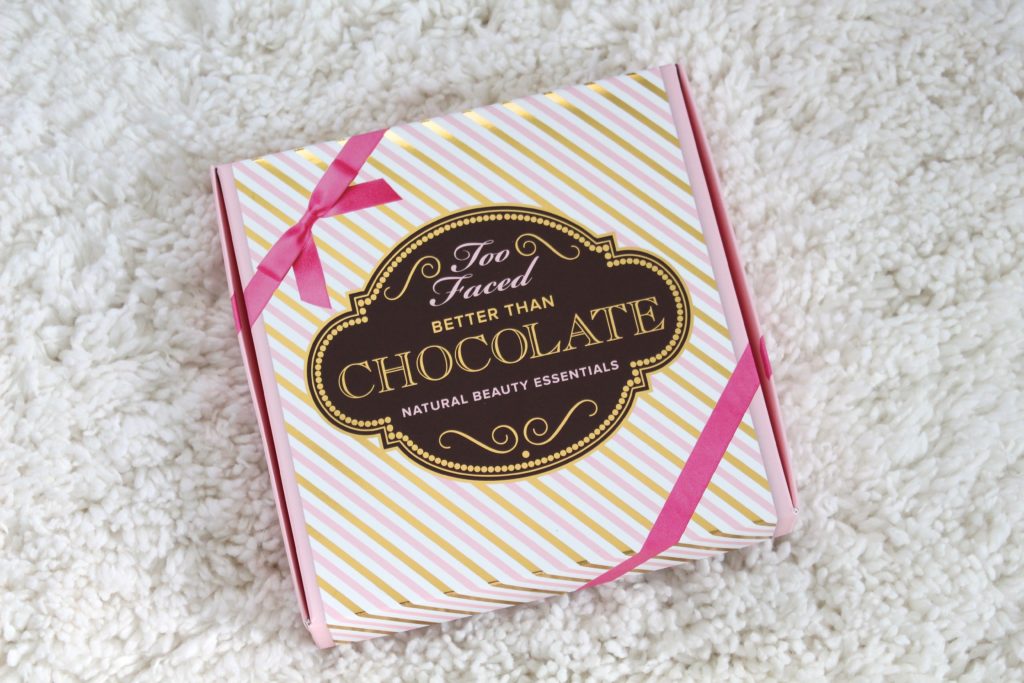 This is how the Too Faced Better Than Chocolate Natural Beauty Essentials came packaged.  Super cute because this was before Valentine's Day and this would have made a fantastic gift!  I'm sure maybe one of you out there either gifted this or received this. I gifted this to myself, ha!  It contained the following products from Too Faced Cosmetics: Too Faced Better Than Sex Mascara, La Creme Lip Cream, Chocolate bar Eyeshadow Collection and the Shadow Insurance.  The only product I had already tried out of this was the Too Faced Shadow Insurance which is my Holy-Grail Eye Primer.  So I was excited to see how the rest of the products worked out for me.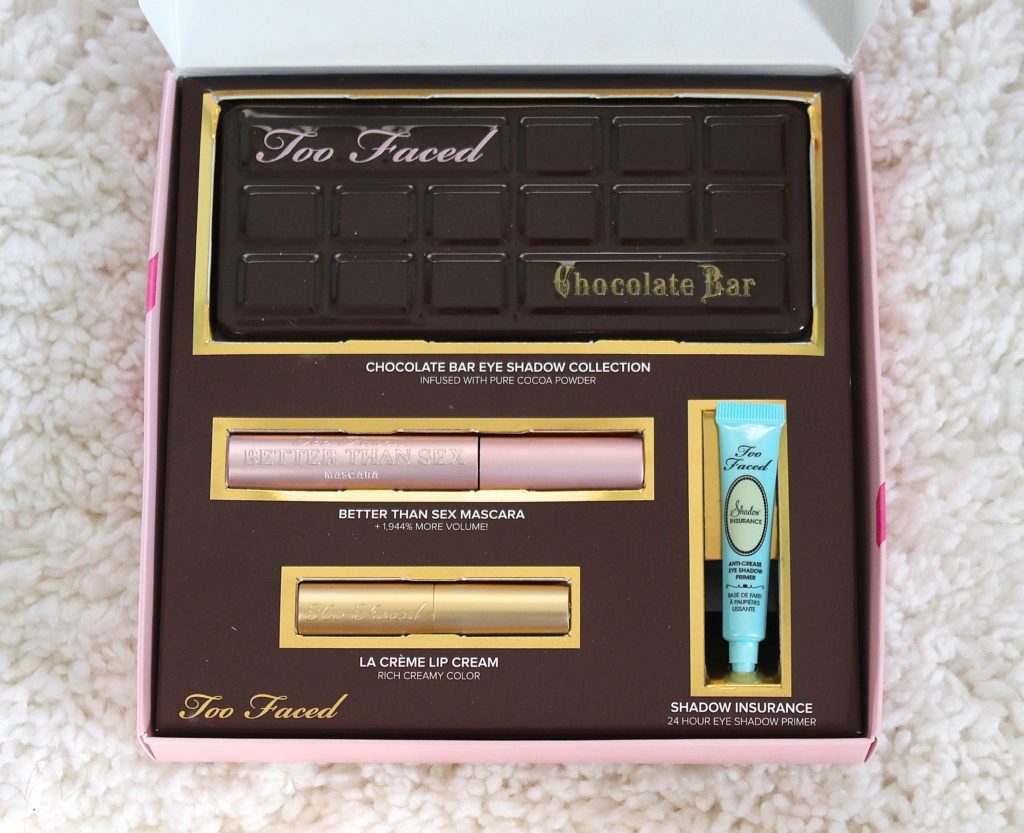 First up was the La Creme Lip Cream.  Talk about beautiful, simple packaging, but let's also not forget about the color!! A perfect rosy, nude lip color that works perfectly on my lips.  The color I got (which I'm assuming was in each of the packaged bundles) was Nude Beach.  It's moisturizing and creamy and I love that this is a color that I can wear easily and without all of the fuss of a difficult lip color.  No mirror needed for application.  This lipstick normally retails alone for $22.00.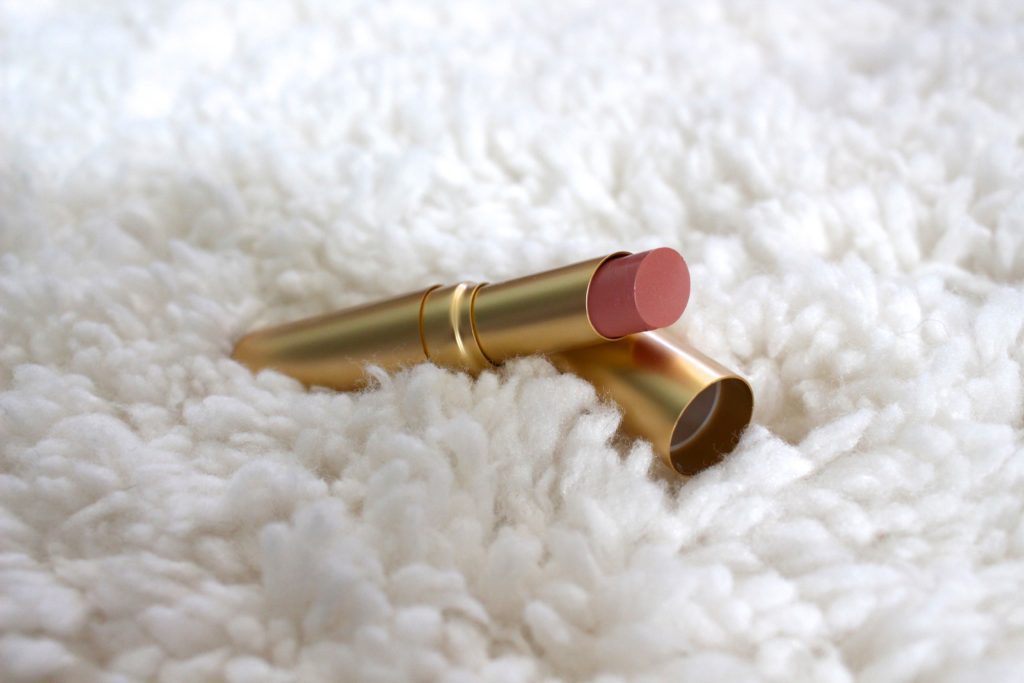 Next we have the Too Faced Better Than Sex Mascara. We've all heard about it, but have you tried it?  I'm talking about the mascara people, ha!  This collagen-fueled formula is said to give you the lashes that you've been longing for.  So far I've used it a couple of times, but I still want to keep using it.  I don't hate it, so that's a start!  I love that it's a very deep black shade and it does give my lashes some major length and volume.  I just want to wear it a couple more times before I talk about it more. This mascara normally retails for $23.00.  Here are some facts from Too Faced about the Better Than Sex Mascara:
Film-forming Polymer for smudge-proof, all day wear
Acacia Senegal Tree Extract to nourish, thicken and lock curl in place
Unique Peptides for the deepest, intense black possible
1,944% more volume*
100% saw longer lashes**
100% saw dramatic volume**
93% saw base-to-tip curl**
8 out of 10 say it's the best mascara they've ever used**
3.4 out of 10 say great lashes are better than sex**
3.1 out of 10 agree that this mascara is so good, it's better than sex**
Vegan Friendly
*results observed in a clinical study.
**results observed in a consumer study.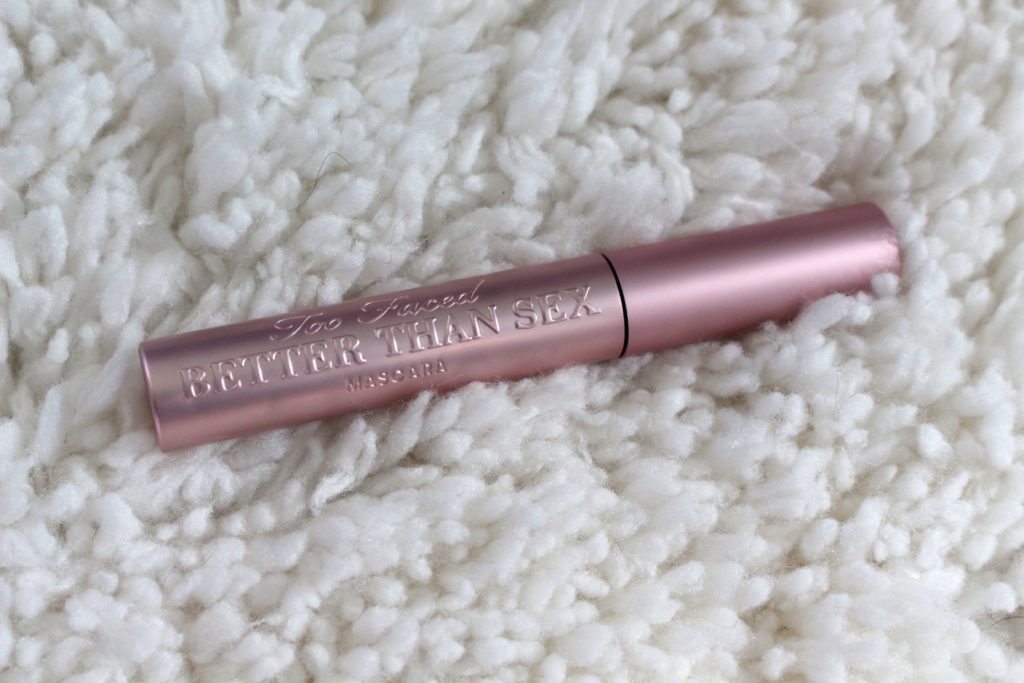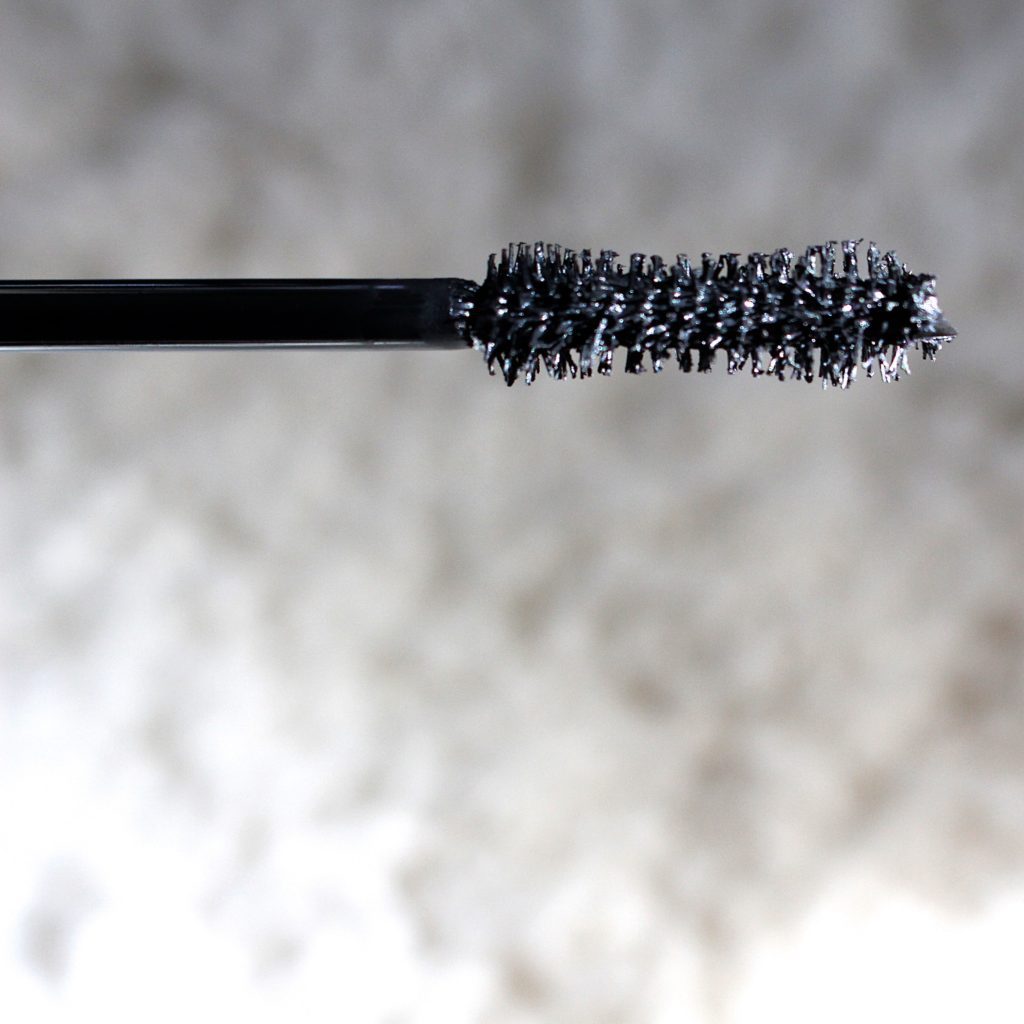 Now let's get to my favorite product!  Is their anything better than a fantastic eyeshadow palette filled with tons of colors for you to play with? Why yes, yes there is.  Thanks to the Too Faced Chocolate Bar, we now have amazing pigmented, colorful eyeshadows, that contain antioxidant-rich cocoa powder!  They smell like chocolate folks!! So if you're looking to get your chocolate fix in, you will love this palette!  (It's not overwhelming and the scent doesn't last, but it does smell super yummy when you open up your palette!)  The Too Faced Chocolate Bar Palette contains 16 matt and shimmer shades of natural browns, pinks and plums.  It's gorgeous and it's perfect for every skin tone! I love palettes like this that are A) A great value (this normally retails for $49.00 B) Is completely wearable daily.  PS If you love this palette, then you'll also be happy to know that there is also a Too Faced Semi-Sweet Chocolate Bar Palette available! It's a warmer version of the original palette that has bronzy, mocha shades with a pop of blue added in!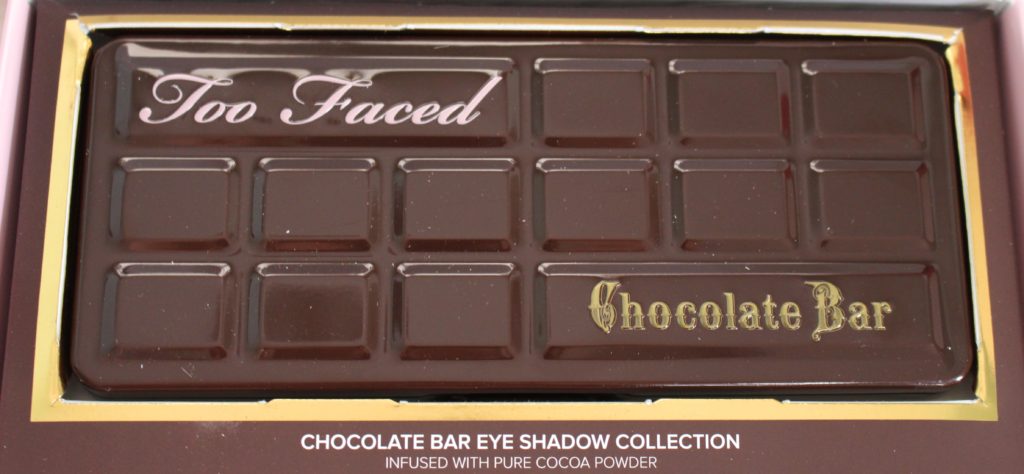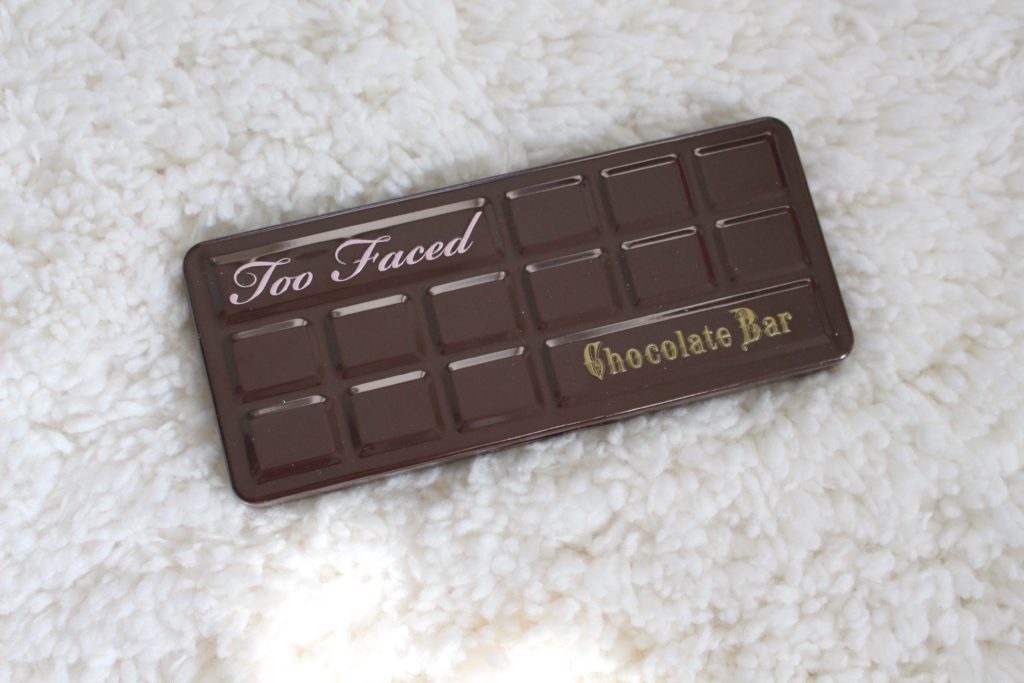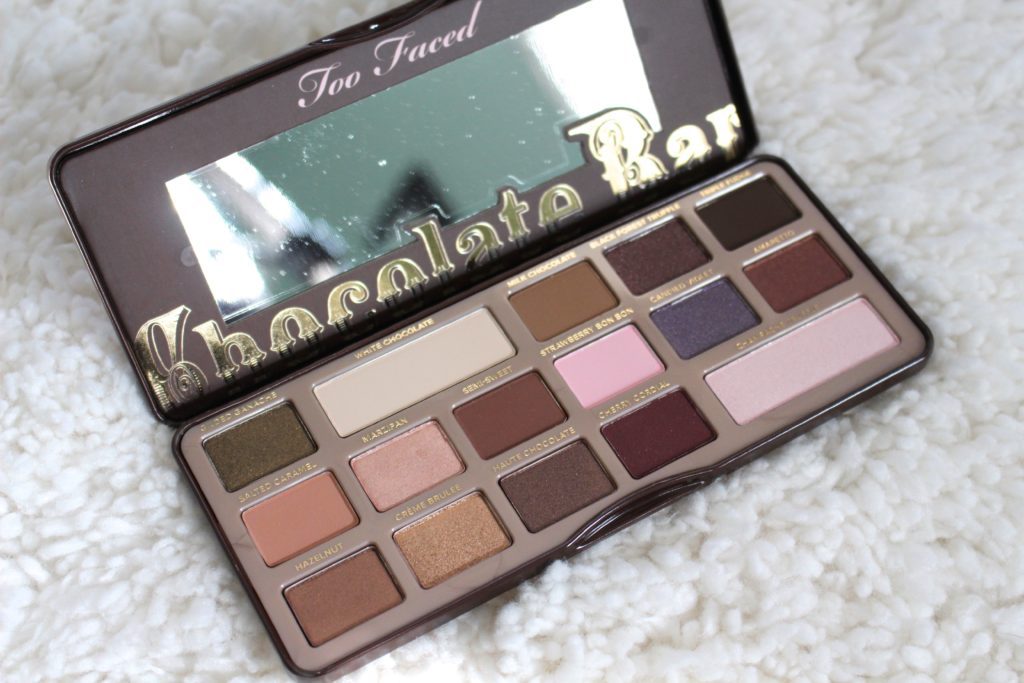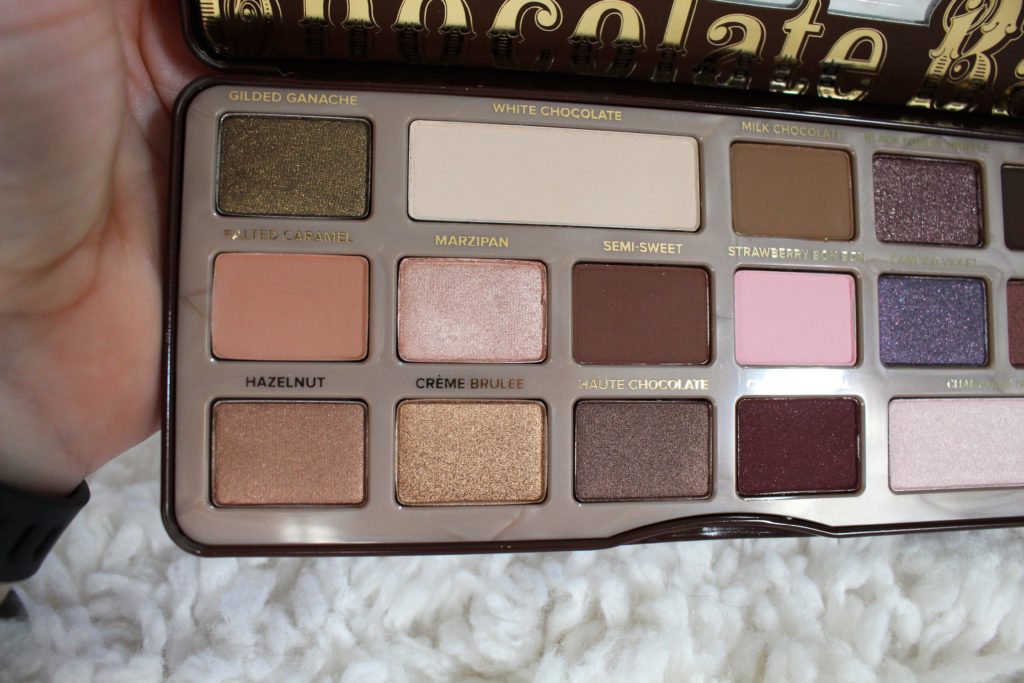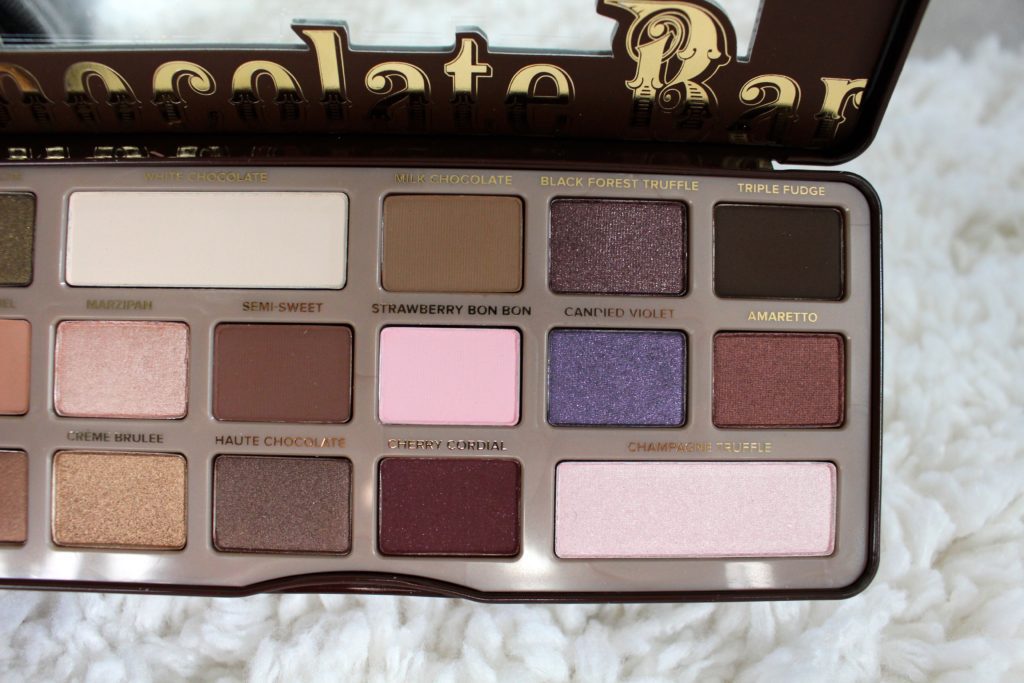 Last but certainly not least, is my favorite eyeshadow primer ever invented.  Seriously, nothing stays on my eyelids unless I use the Too Faced Shadow Insurance.  Like I said before, this is my HOLY-GRAIL primer.  It makes sure that my eyeshadows don't crease on me and it ensures that the true color of the shadows is showing up on my eyelids.  I love this stuff.  A tiny dab of it will keep your eyeshadow looks locked in place all day!  They make other versions of this primer, but this original is still my absolute favorite!  If you have issues with your eyeshadow creasing and not lasting, seriously give this a try! The Too Faced Shadow Insurance normally retails for $20.00.  A tube of this normally lasts me at lest 6 months to a year at least!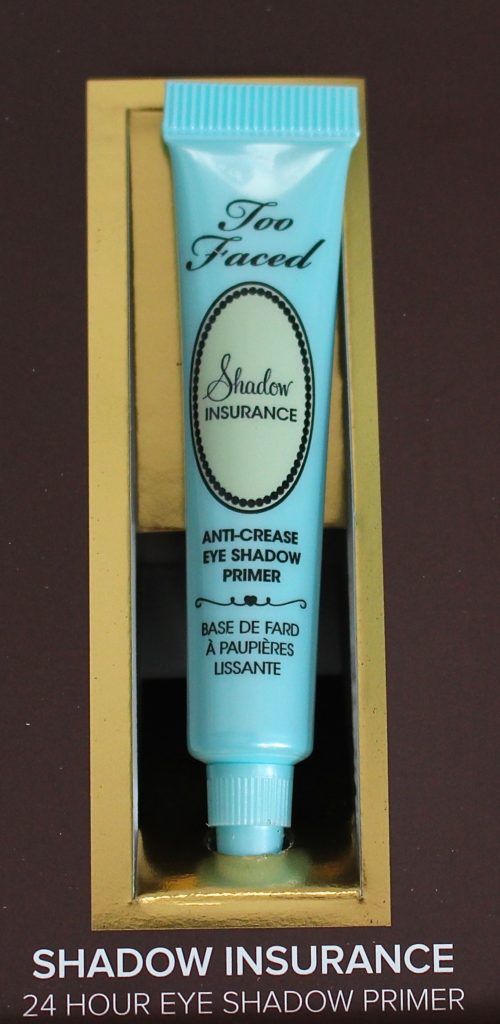 I think that the Too Faced Better Than Chocolate Natural Beauty Essentials was a total steal for the value (Normally this would cost me $114.00) and I got free shipping from HSN when I purchased this.  Deals like this are a GREAT way to try out a product line you are curious about.    I hate that it's not available right now, BUT you can still get all of these Too Faced products available individually!  Even better, right now at TooFaced.com they are having a 20% off sale with the code ONETRUELOVE and they offer FREE SHIPPING on all orders over $50.00!  Would you like to see a look with me using these products?  Let me know in the comments below!
Affiliate links included.  This is not a sponsored or paid posting.  All thoughts and opinions are my own.